Hey everyone!
Sorry for the lack of timely posts today. It was one of those days at work :( I was in tears most of the day and got taken a strip off of me for something that wasn't my fault. I won't get into it because I just want to forget about it for now and try to begin the weekend on a good note. It's honestly not worth anymore of my time to dote on it now that I am home and on my own time. Here's to the weekend!
I hope everyone is having a fantastically healthy and fun Friday! :) Anyone have any fun or interesting plans for the weekend??
We are having family over tomorrow evening and into Sunday! We are quite excited about it. I still need to figure out the menu! That is definitely on the agenda this evening. I haven't had a chance all week to even think about it yet. Thats what tonight is for, I guess! :) That, and cleaning, groceries, and hopefully What Not To Wear (anyone else watch that show??). I love Clinton :D
Ok, I am officially obsessed with Amy's California Burgers!!! I think I have had them 3 times this week!!!! Tonight I cooked up some spinach and threw it on top and it was even more amazing this way. Oh and Eric LOVES them!!!
I brought out some Neal Brothers organic salsa in medium- oh la la!!! :D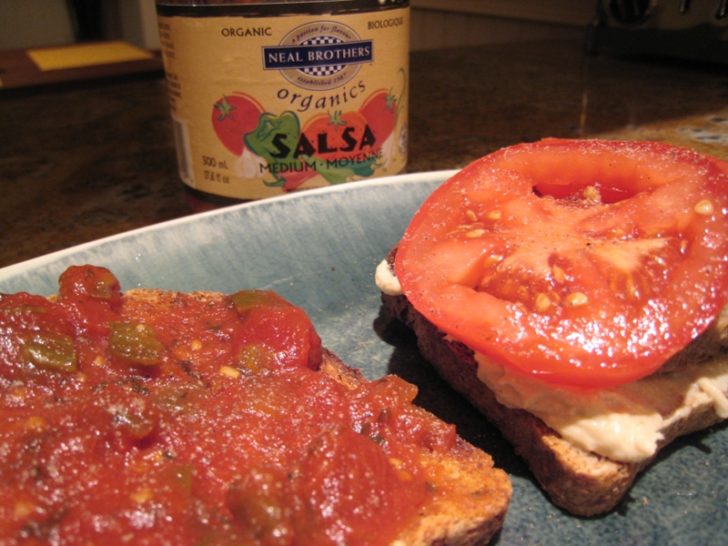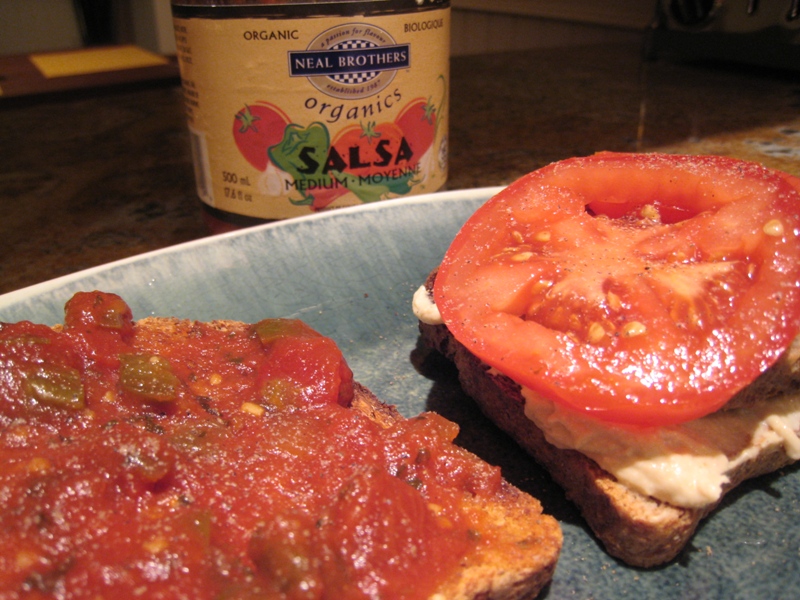 The star of the show and one that I decided needs to make more frequent appearances in my life:
Organic baby spinach!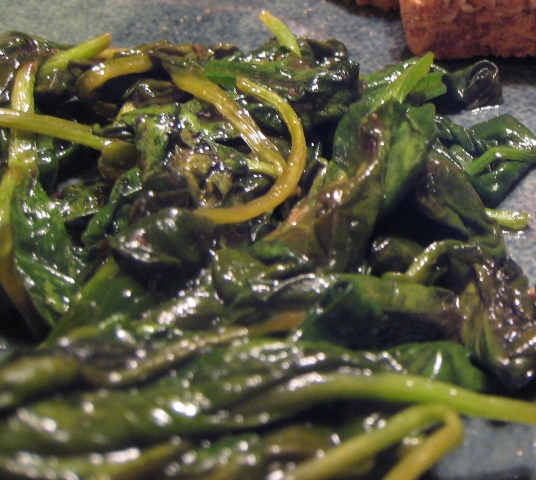 Can we say drool-worthy?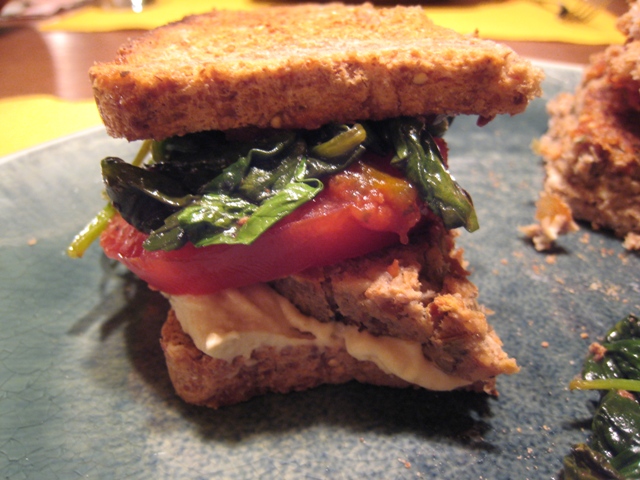 Other mentionables:
Hummus slathered on the bottom piece

Neal Brothers Organic Salsa in Medium

Cooked baby spinach in a vinagrette

Organic tomato slices (2)

Freshly ground pepper
Oh and of course toasted Ezekiel bread!!!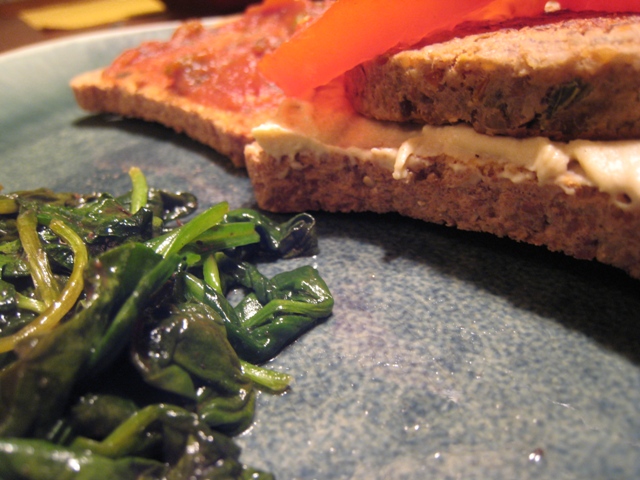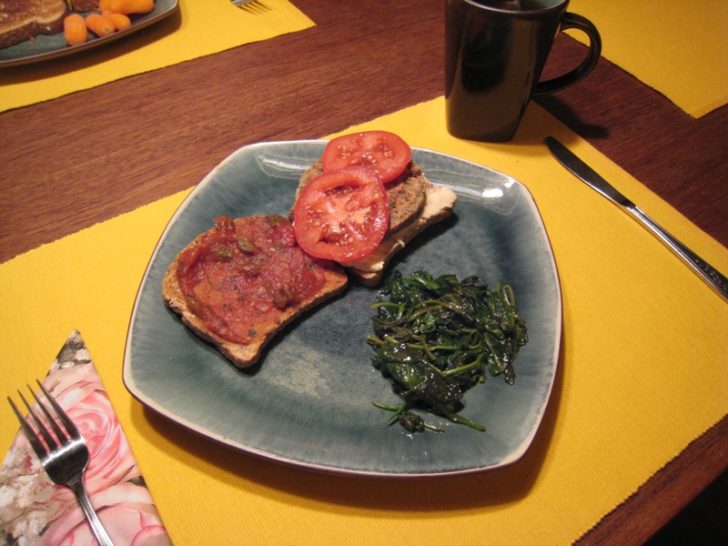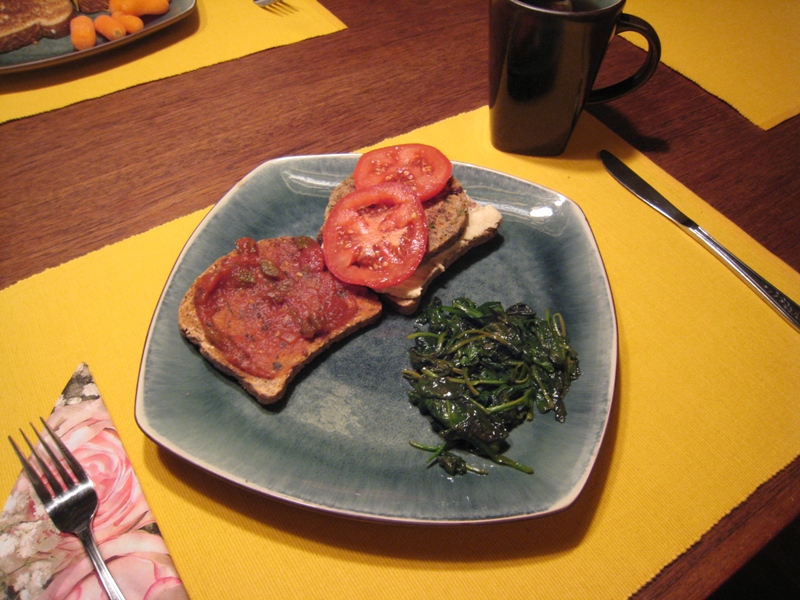 Afterward I had 1/3 of my favourite Honest Foods Country Square– Farmer's Trail Mix!!!!
Delicious!
~~~~~~~~~~~~~~~~~~~~~~~~~~~~~~~~~~~~~~~~~~~~~~~~~~~~~~~~~~~~~~~~~~~~~~~~~~~~~~~~~~~~~~~~~~
Ok guys, I've gotta get cracking on my to-do list:
Cleaning

Create meal plan for tomorrow

Make grocery list accordingly

Grocery shop

BLOG!

What Not To Wear???
~~~~~~~~~~~~~~~~~~~~~~~~~~~~~~~~~~~~~~~~~~~~~~~~~~~~~~~~~~~~~~~~~~~~~~~~~~~~~~~~~~~~~~~~~~
Stay tuned for more Friday night fun!!!
Saturday night's menu ideas
Beating the Freshman 15: Part 4
Also this weekend:
Pictures of weekend entertainment, dinner and desserts!
FAQ Installment
polls
More on my Power Yoga DVD review
A really funny yet pointless video of celebrity Sketchie
and more!
PS- Keep those awesome contest entries coming in!!! I want to see your afternoon power snack!!! Don't be shy- this is your chance to win a fabulous and *glowing* loot bag! :D
And….I'M OFF!!!!!!!
~~~~~~~~~~~~~~~~~~~~~~~~~~~~~~~~~~~~~~~~~~~~~~~~~~~~~~~~~~~~~~~~~~~~~~~~~~~~~~~~~~~~~~~~~~
Men spend their lives in anticipations,—in determining to be vastly happy at some period when they have time. But the present time has one advantage over every other—it is our own. Past opportunities are gone, future have not come. We may lay in a stock of pleasures, as we would lay in a stock of wine; but if we defer the tasting of them too long, we shall find that both are soured by age.
Charles Caleb Colton