Good afternoon wonderful Oh She Glows readers!
Time for a fabulous food review…
This was my first time trying out Honest Foods Granola Planks!!
Naturally, I was quite excited because all I have heard about them is good stuff.
Up first, The Blueberry Vanilla Crackle flavour!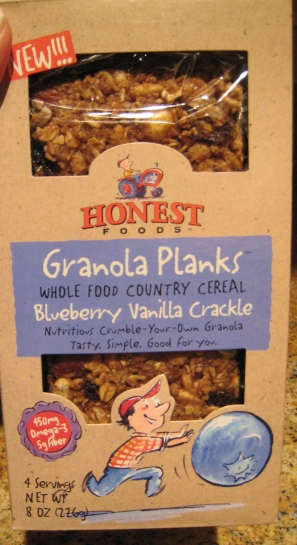 You can't really tell from this picture, but the bar is huuuuge! :D 1 serving is half the bar. I have actually been nibbling away at mine all week!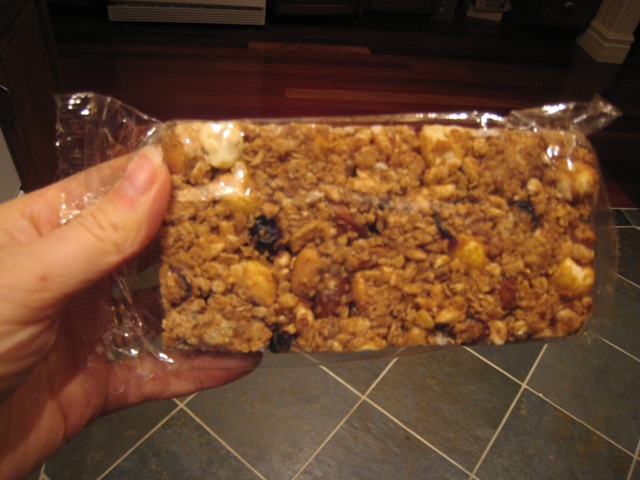 Oh wow.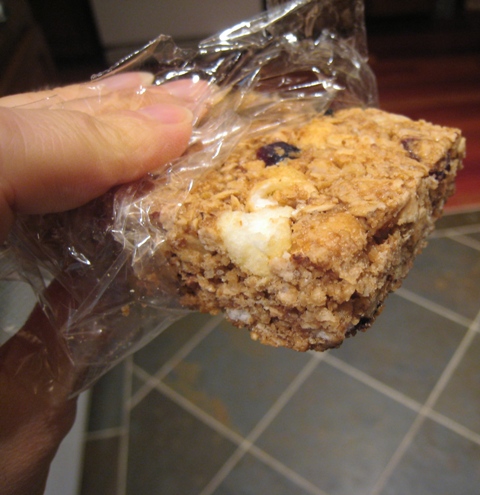 Let me just tell you this bar smells amazing!!! If you are a big vanilla fanatic like me, you will go nuts over this bar!!!
Taste test?
It was awesome!! Very crisp and firm, a very nice contrast to the soft Honest Foods country squares.
This would be awesome chopped up over cereal or oatmeal. It would give such a nice crunch! In fact, I am going to do that soon.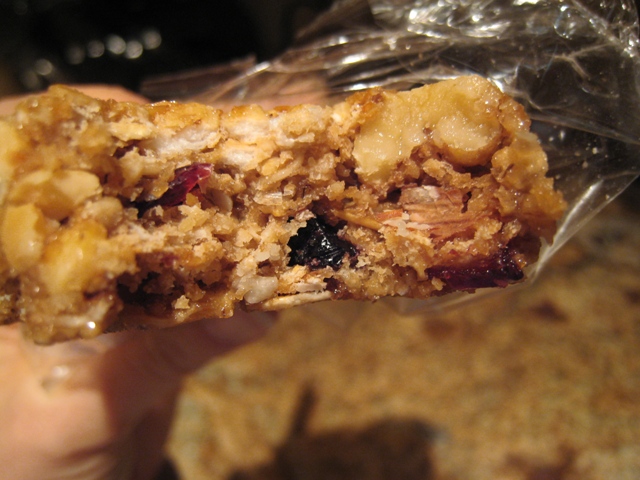 Don't worry, there will be an upcoming giveaway of these wonderful Honest Foods Granola Planks in the near future!
That is, unless I eat them all….hahah….only kidding of course! :D
~~~~~~~~~~~~~~~~~~~~~~~~~~~~~~~~~~~~~~~~~~~~~~~~~~~~~~~~~~~~~~~~~~~~~~~~~~~~~~~~~~~~~~~~~~~~~~~~~~~~~~~~~~~~~~
How am I doing with my injury?
I will admit, it has been tough. Getting injured is a real test of patience as many of you who have been injured know! I never thought that I would be at risk for an injury like this, but then again, most of us don't!
We all tend to think that we are invincible until something happens that sets us back for a while. I know I was careful from the beginning in taking rest days (I usually ran no more than 4-5 days per week), however I now know I should never have run on it last Monday feeling the pain that I felt. It wasn't major, but by the end of the run it sure was.
My emotions have been all over the map at first, although I have been doing better in the past couple days. At first, it seems like your world is coming to an end now that you don't have the release that you have been so happy with for the past what seems like forever. I sulked for several days, I cried, and I threw my hands up in frustration when it hurt to walk and just be mobile.
But it gets better. I am probably better than most though; my pain has improved fairly quick and I haven't been on painkillers for 2-3 days now. I'm sure I would not fare this well if I was more severely injured!
The only thing I am frustrated right now is not knowing still what is wrong. The X-ray did come back normal, however, I still do not have a bone scan appointment. I talked to the receptionist today and she said it could be a month because the hospital is so backed up! I know everyone says Canadian Health Care is so great, but I would honestly love the option to foot the bill myself if it meant that I could have a bone scan done asap! My damn injury will probably be healed by the time I even get a bone scan done.
A couple movements that I do cause pain- mostly it is when I raise my left knee upward as when putting on a pant leg or socks. This is pretty much the only time that I feel pain. This pain has been slowly improving each day.
I have an appointment with my Sports Medicine Doctor on Monday, so I plan to ask her a list of questions as to what I should be doing in the meantime. She has given me the go ahead to do non-impact exercise (like the elliptical), if it doesn't cause me any pain. While that would be nice, I am still going to just wait out the week and see. No sense rushing into it. I figure I have gone a week and gotten over the hardest part- the initial shock to the system and lack of endorphins.
I will admit, I have had to stop reading some running blogs for the time being. It was really getting me down. I have found it to be more positive in my recovery, to focus on others things to keep me busy. For example, I have been pouring tons of time into this blog and making it better. I have done giveaways and more videos and finally got crankin out the FAQ's (we're on FAQ 13 now can you believe it!). Honestly, most of this could probably not have gotten done had I not been devoting an extra hour or two each day to the website. So that has been positive. I have also had time to research pursuing a Nutrition & Wellness Specialist certification (stay tuned for the books tonight!), among other things.
One of the things I was worried about aside from not getting to run the half marathon, was that I wouldn't hit my goal of 1,000 miles run for the year. In fact, it was stressing me out! It made me re-think the goal all together to be honest. In many of my Road to Health series, I talked a lot about how numbers had been so negative for me in the past (the scale, calories, weight, etc), and now it seemed like this goal of running 1,000 miles over the 2009 year was becoming quite stressful as well.
It made me question whether this was a healthy goal to set on myself or whether it was not. Certainly, things come up like injury and travel and there is nothing that we can do about it. Is it then ok for me to feel like I failed at a goal because of this? I don't think so. I am not saying that I am not going to make my goal, because I don't know how the injury will turn out. Who knows, maybe I will decide that running is too hard on my body and I will find a passion in yoga?? I don't know. I love running so much, but I have to put my health first. Which is why I am reevaluating everything right now.
I have also heard that people become can become very injured after running a half marathon or a marathon…they limp to the finish line. Is that something I really want? Do I want to run a race only to be injured for 2 months? I'm sure many of these people simply didn't train right, but I'm some of it was just bad luck too.
All of this will be something I think about very hard when it comes time to start exercising again.
It is not my intent to discourage anyone about running- many of you know how much I love it and how much it has improved my well being. I guess the biggest thing I have learned through all of this is to listen to your body.
If you wake up and are dreading getting on the machine or hitting the road, there is probably a reason for that. If I recall, the morning of my injury I didn't want to run very much. I felt tired and draggy.
That was my body trying to discourage me from running!
Our bodies are very smart and I think we should listen to them more instead of being stubborn and running just because we set a goal of 20 miles that week.
Moral of the story: Be good to your body. It's the only one you've got.
~~~~~~~~~~~~~~~~~~~~~~~~~~~~~~~~~~~~~~~~~~~~~~~~~~~~~~~~~~~~~~~~~~~~~~~~~~~~~~~~~~~~~~~~~~~~~~~~~~~~~~~~~~~~~~
See you tonight for Part 3 of Beating the Freshman 15, as well as the books for my Nutrition and Wellness certification!
PS- The results of the Freshman weight gain poll are in: About 38% of you said you gained more than 15 pounds while at college/university. I hope that my series will help others in need of some positivity and healthy ideas.
PSS- Don't forget to enter the next giveaway if you haven't already! Contest ends Thursday!
It is of practical value to learn to like yourself. Since you must spend so much time with yourself you might as well get some satisfaction out of the relationship.
~Norman Vincent Peale