Good afternoon!
Oh my gosh I have been freezing at work all day!! The heat broke over the weekend and it was just fixed this morning, so the building has been an ice cube all morning. The heat is slowly coming out, but we are all here sitting in our coats and gloves on (which makes for slow typing!). I can barely feel my toes- they are frozen!
Since I have been frozen, I have been dreaming of a nice hot soup.
I decided that I am going to make this delicious looking Bean Soup with Kale tonight for dinner!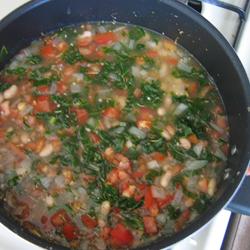 I found this recipe on All Recipes submitted by USA WEEKEND columnist Jean Carper.
I already have some modifications planned for this recipe:
I am going to use red lentils instead of the white beans.

I am also going to use grape tomatoes instead of the plum tomatoes.

I am also going to add organic carrots and possibly a red pepper to get in some more veggies.
I hope it warms me up!!!
Do you tend to make modifications to recipes when cooking? Or do you tend to stick to the recipe?
~~~~~~~~~~~~~~~~~~~~~~~~~~~~~~~~~~~~~~~~~~~~~~~~~~~~~~~~~~~~~~~~~~~~~~~~~~~~~~~~~~~~~~~~~~~~~~~~~~~~~~~~~~~~~~
Without further ado, I present to you my sister's next installment in her Get Your Body Back 2009 Challenge: Week 4!
Missed these?
Having a baby…..It's a truly life changing event.  People can share their stories with you and try to explain the many things that you will feel throughout your pregnancy and during motherhood, but until you experience it, you will never fully comprehend it.  It is the most fulfilling and meaningful journey in life, as far as I am concerned.
As I mentioned in one of my previous guest posts, losing baby weight is not always as easy as we want it to be.  This is certainly the case with me after my second child.  You can look at it two ways I have decided.  Embrace the body you have now, or spend forever feeling down about yourself.  I have decided to embrace the body I have now and chose to live a healthy lifestyle.  After all what really matters is that I am being healthy, getting proper exercise and eating right.  Sure, there are always going to be the people who have a baby and wear their "skinny" jeans home from the hospital, but that is not realistic for every body!
Being a mom of two and working two jobs doesn't always make healthy meals and exercise easy to fit in.  The key to succeeding at this is simple: Plan Ahead!  Making a list at the start of each week as to what you are going to eat makes it far less tempting to order in.  Preparing and making sure that you have all of the required groceries on hand certainly helps too!  I was watching a show a while back (probably Oprah) where the guest came on to talk about preparing meals for the week ahead.  This lady actually prepared her meals for Monday-Friday on Sundays and had them ready to go each day so that when she came home from work, pretty much all that had to be done was heating the food up.  I can't say that I am that organized, but I sure would love to get there! 
The point is, being healthy is more than fitting into your old jeans or reaching the "perfect" (and sometimes unrealistic) number on the scale.  It is a lifestyle.  It is about improving your life.   It is not something that you can do for a couple of months and then quit and go back to your old ways.  It requires constant upkeep and determination.  I know a lot of people that have new years diets or bathing-suit shopping diets.  The problem with these is that they are often only temporary.  The person usually goes back to their original weight or sometimes even more, a few months down the road.  The reason that people cannot maintain that weight loss is because it is not a lifestyle change.  In order for it to work, it has to be something that you can live with….permanently.  Depriving yourself for weeks at a time will only lead you back to the vicious cycle of yo-yo dieting.  I know this because I have been there.
I am really proud of myself now.  I am proud that I am making improvements in my health and that I am setting a good example for my boys.  My three year old always asks me why I go to the gym and what do I do there!  I tell him that mommy goes there to exercise and get stronger so I can be healthy and be more fun to play with.  He tells me all the time that I am so fast and so strong J  lol
Here is the low down on my week of workouts:
Jan. 12:  Rest day
Jan. 13:  Awesome Strong class (55 mins. Of weight training) and 30 minutes at level 7 on the elliptical
Jan. 14:  35 minutes at Level 7 on the elliptical
Jan 15:  Strong class again and 30 minutes at Level 7 on the elliptical
Jan. 16:  40 minutes at Level 7 on the elliptical
Jan. 17:  Urban Stong class (weight training with cardio in between sets..LOVE this!)  with a 10 min. warm up on the elliptical
Jan. 18:  40 min. at Level 7 on the elliptical
I feel great.  I really look forward to my workouts now.  It gives a break from the sometimes hectic real world.  It is a great way to relieve stress and even on my busiest days, I now try to fit in some type of exercise.  Starting next week, it will become more difficult for me to fit in as many workouts because I will be back to working 6-7 days a week, but I have been planning ahead and trying to find ways to squeeze them in.
Stay tuned for my next post 2 weeks from now when I will update you on my progress and include a couple new photos.
Have a great week J!
~~~~~~~~~~~~~~~~~~~~~~~~~~~~~~~~~~~~~~~~~~~~~~~~~~~~~~~~~~~~~~~~~~~~~~~~~~~~~~~~~~~~~~~~~~~~~~~~~~~~~~~~~~~~~~~~~~~~~~~~~~~~~~
Ange back. :D
Wow Kristi, your posts are so inspiring! What a kick butt week you had for your workouts!!! I am so proud of the progress you have made :D I loved your comment about planning meals ahead. I really need to do this more. I mentioned in a previous post that I usually don't plan my meals ahead and I often just throw something together. Well, this can be good for coming up with new recipe ideas, but it doesn't always work because I realize I should have bought more items from the grocery store if I DO decide to make a certain recipe. I think one of my goals is going to be planning at least a few dinner's worth of ideas on the weekend, and then plan my grocery shop accordingly!
What cute comment from my nephew! :) You are instilling such a positive example in your boys. Good for you!!!!
I am looking forward to the picture updates in your next installment!
~~~~~~~~~~~~~~~~~~~~~~~~~~~~~~~~~~~~~~~~~~~~~~~~~~~~~~~~~~~~~~~~~~~~~~~~~~~~~~~~~~~~~~~~~~~~~~~~~~~~~~~~~~~~~~~~~~~~~~~~~~~~~~
Don't forget to enter the Honest Foods and Neal Brothers contest!! Contest closes on Thursday!
PS- Eric and I finally watched last week's Office episode last night!! It was hilarious!!!!!!!!!!!! (31 miles!!!!! 31 miles!!!!)
And because I needed a laugh….
I'm in trouble because I'm normal and slightly arrogant. A lot of people don't like themselves and I happen to be totally in love with myself.
~Mike Tyson
hahahahahaahaha