Hey guys!
Back from our errands today :) Whew. We went to this farm shop, but it was closed so that was a bit disappointing! I'll have to go another day. We went into town and got some great goodies: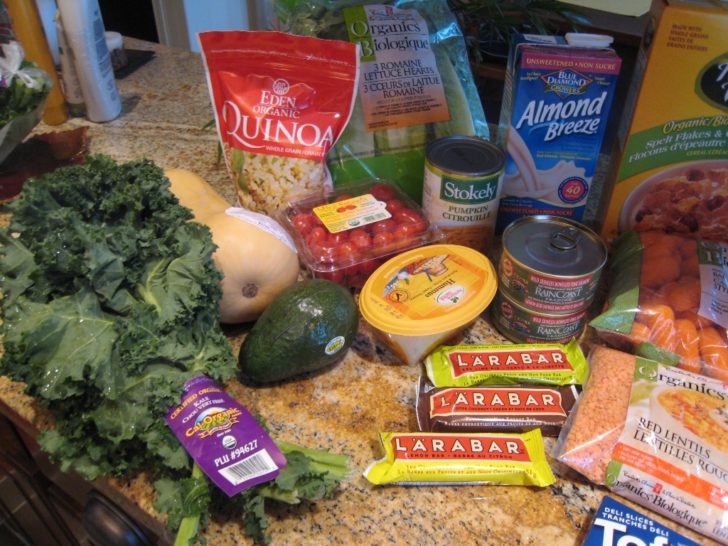 The loot: bottom, left to right
Organic Kale (my first time trying!!)
Avacado
Lemon, Choco, Key Lime Larabars
Organic Red Lentils
Butternut Squash
Hummus
Raincoast Trading Skinless Boneless Salmon
Organic Baby Carrots
Organic Grape tomatoes
canned pumpkin
Eden Organic Quinoa
Organic Romaine
Almond Breeze Milk
Health Valley Spelt Cereal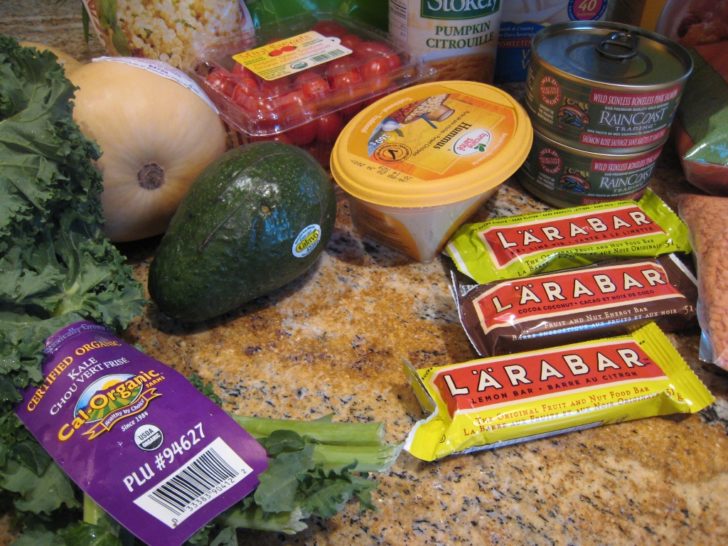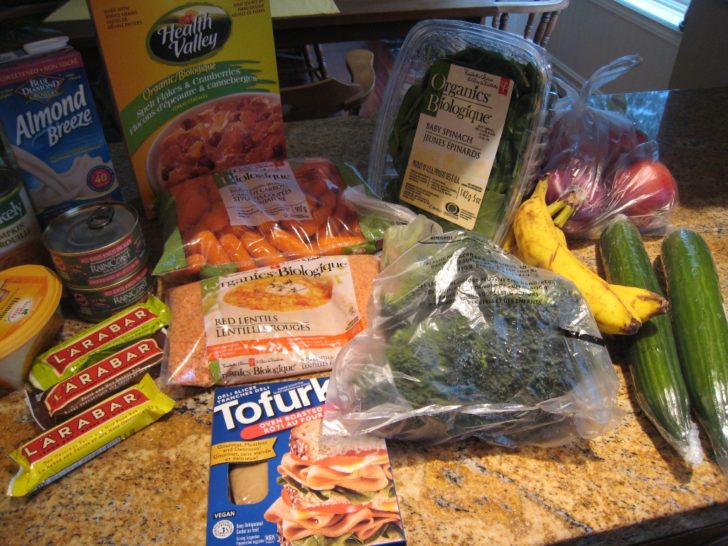 Tofurkey
Organic Broccoli
2 cukes
Organic Bananas
Organic baby spinach
organic gala apples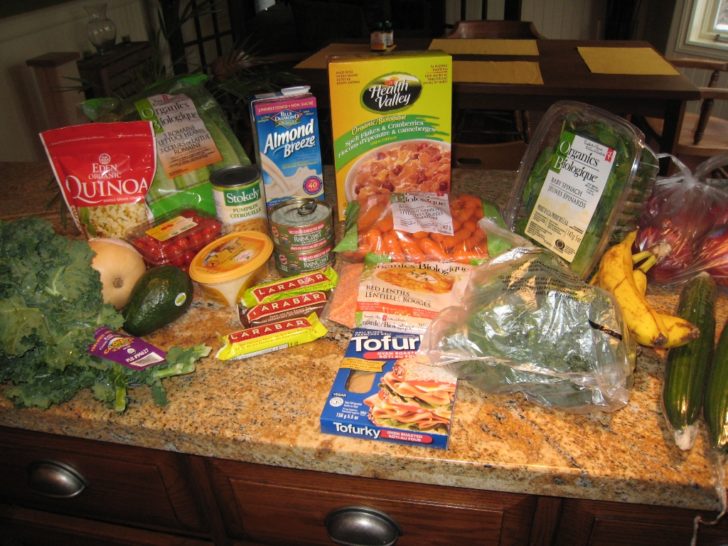 Plus Eric got some of his 'eats' (not shown). We got our order for about $100 bucks, which is usually the norm for both of us on Sundays. We usually spend another $10-15 mid-week on food we run out of. We don't buy any lunches or dinners out so we allow ourselves to splurge when it comes to grocery shopping. Many of our coworkers spend about $10-20 per lunch, 5 days a week! I can't imagine doing that. They also buy coffee 1-2 times day which we never do.
I am always asked the question about how to afford buying organic, and I think a big part of it is just choosing consciously what you want to spend your money on.
Would you rather buy your lunch and order pizza once a week or invest in quality food to last through the week? The choice is personal, but one that can be made consciously if you stop and look where your money is going.
Of course we do go out for dinner now and then, don't get me wrong- for special occasions, like birthdays and whatnot. But it's not the norm. It used to be when we were in university (time and space was limited), but not now that we have a fully equipped kitchen. I enjoy preparing food almost (almost!) as much as eating it, so that helps too.
Buying organic whole foods, has also made us cut corners a bit in other areas of our lives. For me, it was shopping. I used to spend my money quite frivolously on clothing, but not anymore!
Do you make a conscious effort to buy organic, or other specialty foods (vegan, gluten free, etc)? Why or why not?
Have you had to find ways to cut back and save in other areas of your life? Did you learn any money saving tips in the process?
Last year when Eric and I got engaged, we put ourselves on a huge budget overhaul. We started tracking every single penny that we spent and we wrote it down on the fridge. Each week we would tally up how much we spent, and try to cut back a bit more each week. This goal included absolutely everything from food to entertainment to clothing. If we were around $80-90 by the end of the week we considered it a success. We started renting movies instead of going out to one, and often opting out of buying a new clothing item or gadget just because we wanted to.
The thing that really gets us now is our gas bill! Commuting to and from work is a huge expense for us now. We probably spend about $80-100 in gas alone per week! Ouch!
~~~~~~~~~~~~~~~~~~~~~~~~~~~~~~~~~~~~~~~~~~~~~~~~~~~~~~~~~~~~~~~~~~~~~~~~~~~~~~~~~~~~~~~~~~
Stay tuned tonight for a super Goddess-filled healthy post:
My first attempt at a Goddess drink
My experience with weight gain in university and my advice to fellow students
Quotes
Pictures
Fun!
By the way- check out this awesome review by Diana of my Flax & Oat Breakfast Power Muffins! mmmmm looks great Diana!
~~~~~~~~~~~~~~~~~~~~~~~~~~~~~~~~~~~~~~~~~~~~~~~~~~~~~~~~~~~~~~~~~~~~~~~~~~~~~~~~~~~~~~~~~~
Most success springs from an obstacle or failure. I became a cartoonist largely because I failed in my goal of becoming a successful executive.
~Scott Adams