Hey guys!
I am a bit down in the dumps tonight. :( Had sort of disappointing news at the Sports Medicine Doctor's office today. She told me what I already suspected:
It's not a groin strain.
I had a feeling. You know when you just know your body? I knew it wasn't my groin. It feels more related to the bone. The pain is very precise on a certain point. I am so glad I trusted my gut and got a second opinion. I find in the ER, the doctors are so rushed and don't bother to give you a proper assessment. A second opinion, especially with someone specialized in the field, is always good.
Anyways my doctor today knew right away that it wasn't a groin strain. She said she doesn't know if it is a fracture- it either could be just a weird injury without fracture to the pelvic area, or it could be a fracture. She doesn't suspect it is a full out fracture because she thinks I would be less mobile than I am now. That was slightly reassuring, but I still am worried. :(
I went to a walk-in clinic and got an X-ray. The technician wouldn't tell me anything because she wasn't the one that looks at them. Strange. Anyways, I should know about that X-ray tomorrow I hope. Then I am going to get a bone scan at the hospital in 2 weeks. My doctor says it won't be necessary if I am feeling better by then (which she is hopeful for), but I will likely go anyways just because it is good to know.
So my emotions have kind of been all over the map today. I get frustrated with the pain and tear up every now and then. I am trying to stay hopeful, but I will be honest, I am feeling a bit depressed.
We picked up some used crutches for $15 bucks….Eric was trying them out :)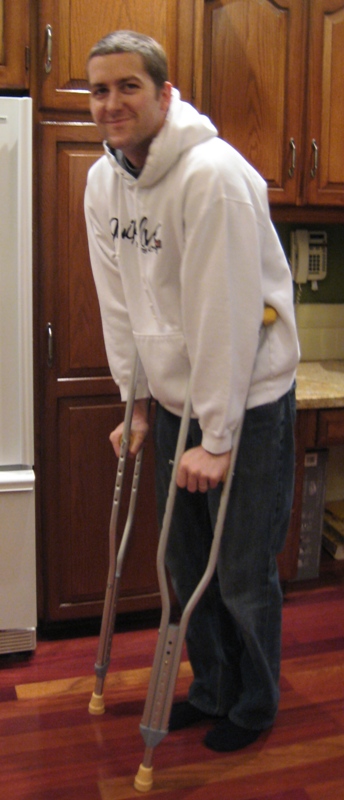 I also bought myself a new shirt to try and cheer myself up. It was on sale for 11 bucks. Not bad :)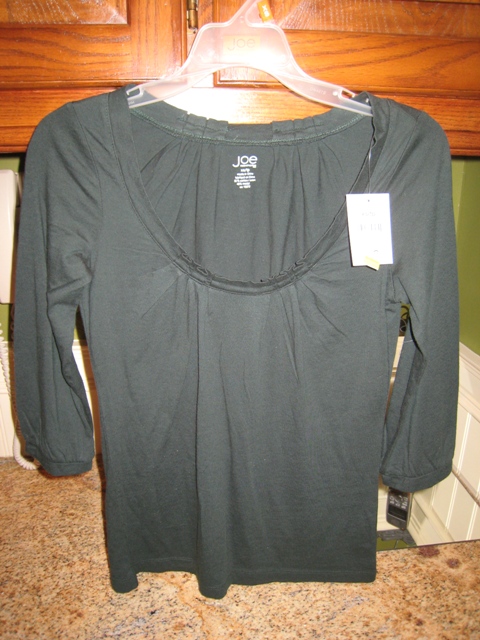 Dinner tonight was a rainbow of nutrients: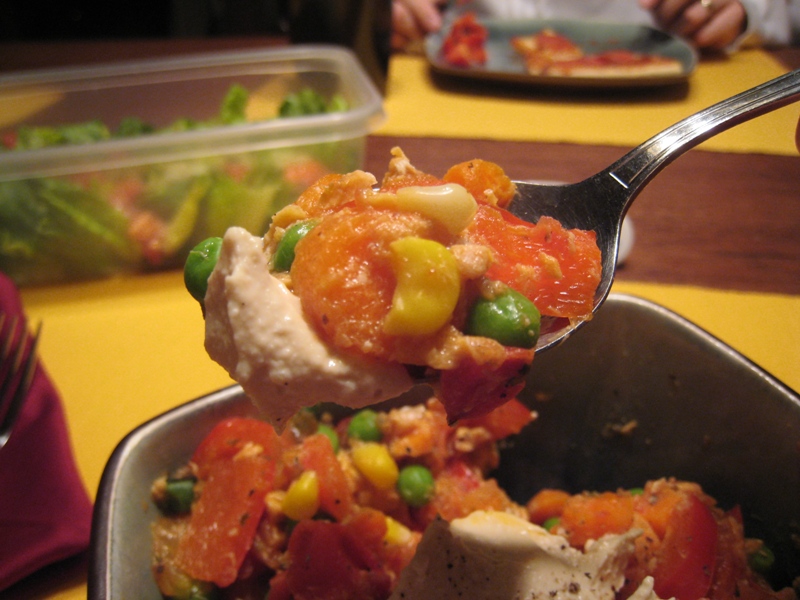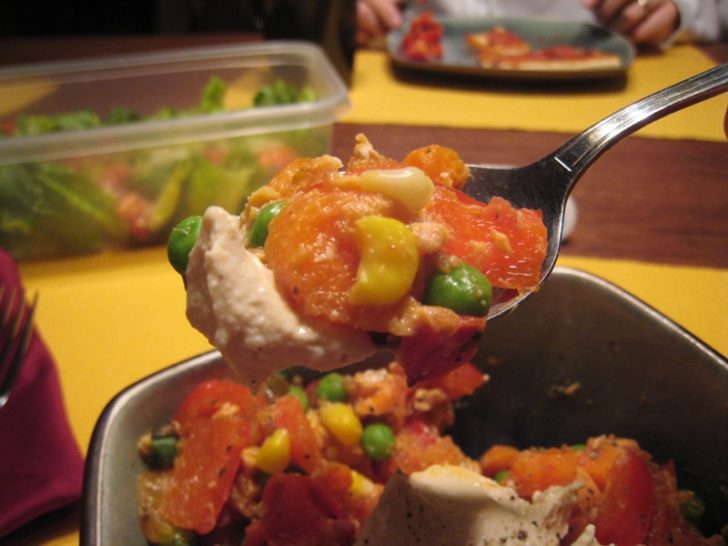 It tasted awesome. I will be sharing my recipe with you tomorrow night! Key word: Salmon!
~~~~~~~~~~~~~~~~~~~~~~~~~~~~~~~~~~~~~~~~~~~~~~~~~~~~~~~~~~~~~~~~~~~~~~~~~~~~~~~~~~~~~~~~~~
Now as promised a recap of the fashion at the 2009 Golden Globes…
Vanessa Hudgens looked awesome in this nude gown. Her hair gave the overall look a more relaxed and young feel. Thumbs up!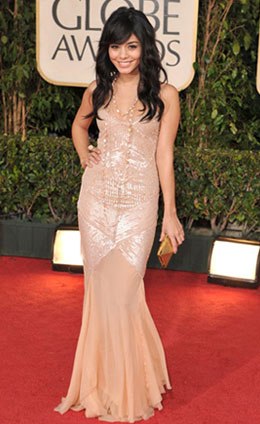 Marissa Tomei…what can I say? Pirates of the Caribbean called and they want their dress back! Thumbs down.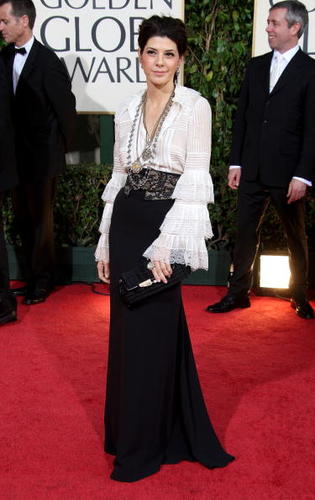 America Ferrera…I don't care who sketched this dress, it ain't the best. The length cuts off her legs. It's not horrible, but it could be much more flattering. I've seen her in much better. Thumbs down.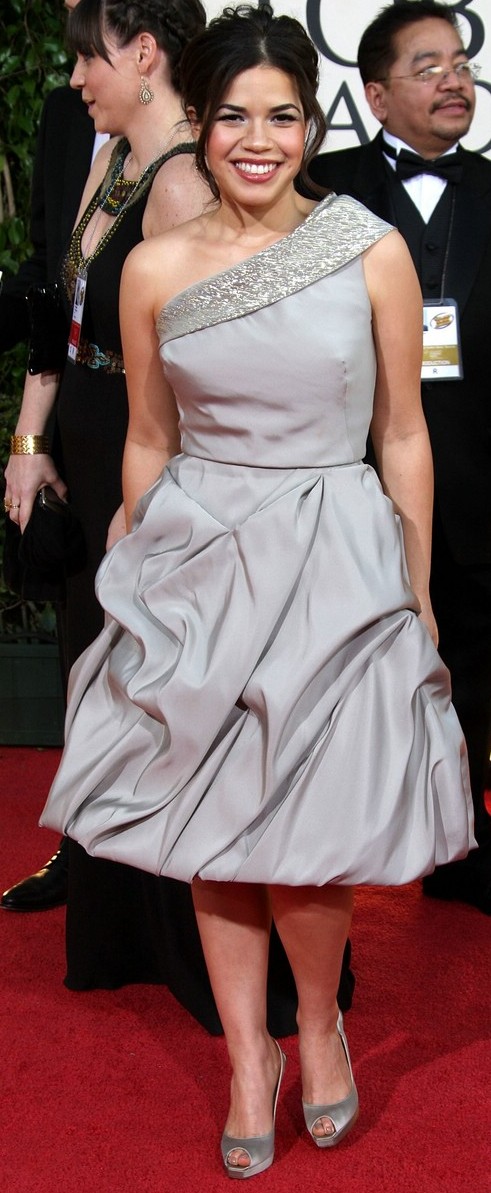 Oh Salma Heyek….the Belle of the Ball showing the younger ladies how to work it. I could not take my eyes off of her when she was on the screen. That's how I knew she really rocked it. Now that is a flattering dress- accentuates the chest, narrows the waist, flows over the hips. Thumbs up.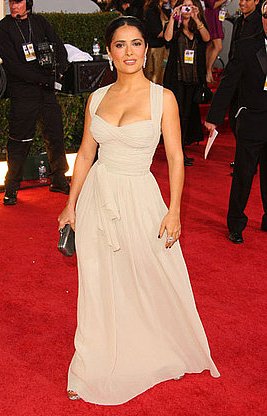 Angelina Jolie…why, why, why? This dress does nothing for you. It is shapeless and ages you by about 15 years. I would love to see her in a bright and form fitting dress. Now that would look amazing. Thumbs down.

Remember this? Amazing.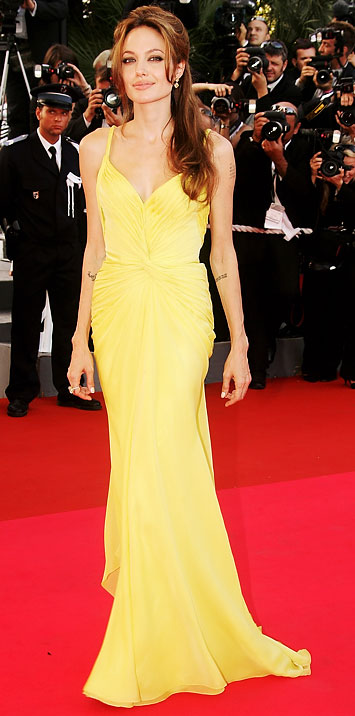 Eva Longoria…I am convinced from the knees up, but I just don't like the mermaid style gown. I love, love, love the top half though. I heard she was voted best dressed by E Online, but I just don't agree. I think Salma  or Olivia won hands down.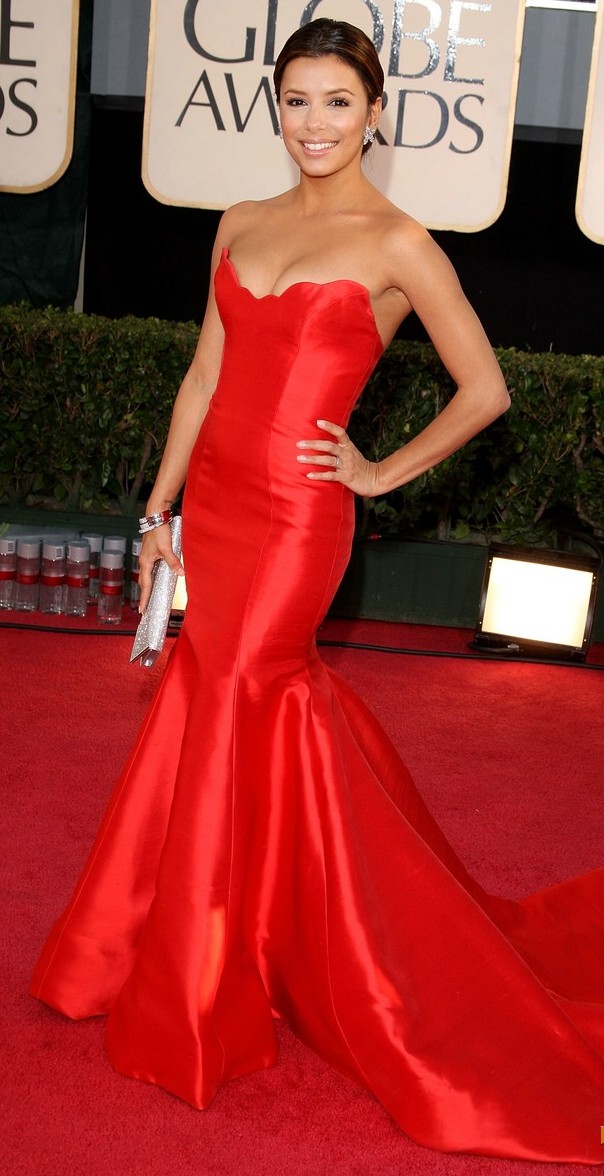 Demi Moore…The dress is ok, but not my favourite on her. The shape could be a bit more flattering, and I am not crazy about the choker style top. Not dazzling, but not bad either. So-so.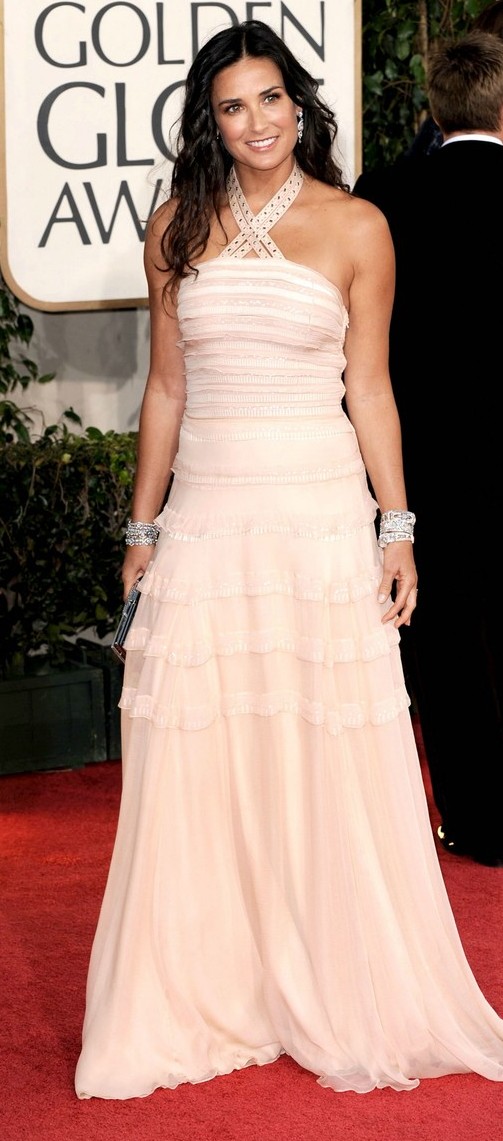 Olivia Wilde…the perfect picture of pretty. I love this dress almost entirely. I am not crazy about the bottom of it, but I think overall she looks beautiful and graceful. A nice contrast from some of the more absurd and dark gowns. Thumbs up!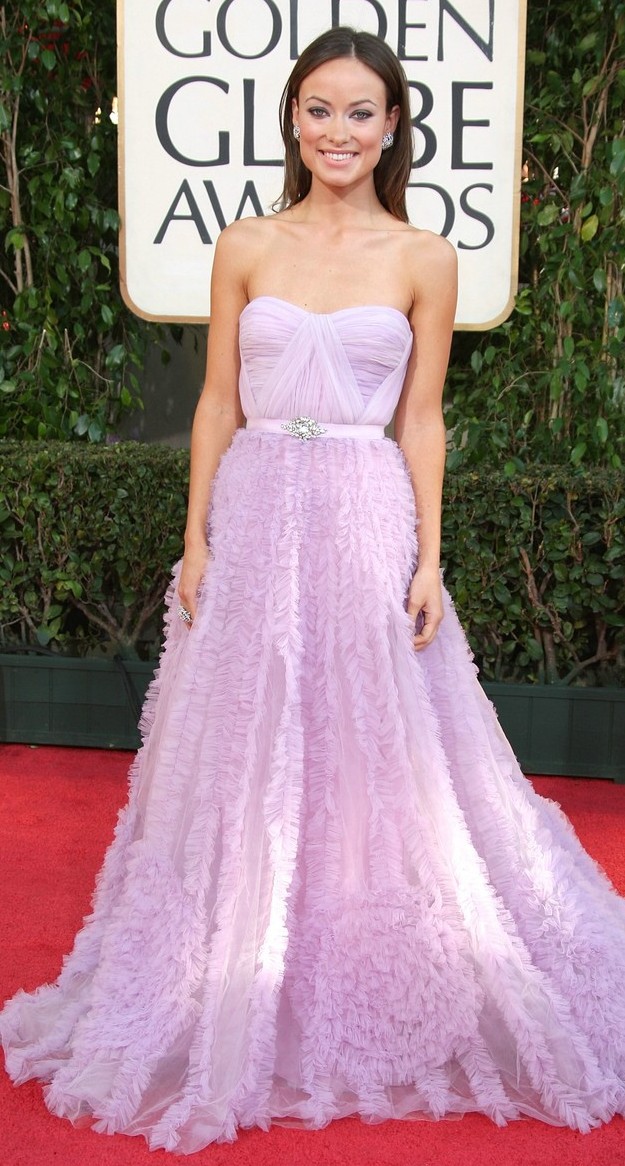 Renee Zellweger…I actually didn't mind the dress until I saw the Spanks/bra top underneath! I love Renee's hair and makeup here. That she nailed. The dress just isn't working. I was in the kitchen when she came on the red carpet and Eric yelled, "Oh my god, come look!!!!" lol.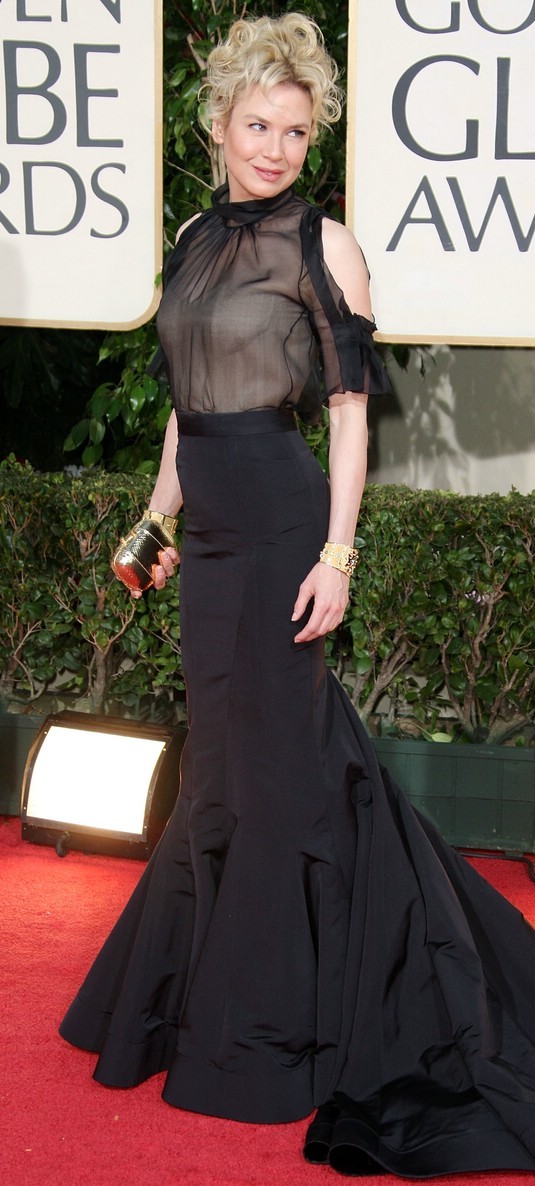 Stay tuned tomorrow for the rest of the Golden Globe recap! Vote tomorrow for best and worst dressed!
~~~~~~~~~~~~~~~~~~~~~~~~~~~~~~~~~~~~~~~~~~~~~~~~~~~~~~~~~~~~~~~~~~~~~~~~~~~~~~~~~~~~~~~~~~
Don't forget about the Honest Foods contest if you missed it earlier! Contest ends Saturday Jan. 17th at 4pm EST.
Also check out my new Recipe page! All my recipes are now easily accessible! I am working on making everything on the website much more streamlined and easier to find.
Well guys, I better go get some more rest. I hate rest! I am not a restful person! But, alas, I must…
It is really hard for me not to be moving all the time. Luckily, I have this website and amazing readers to keep my mind busy and prevent me from going stir crazy!
Stay tuned for lots of exciting stuff….including 2 more up and coming contests, my dinner recipe, a recap of new stuff on Oh She Glows, more Golden Globes, and what I might be getting certified in very soon!
~~~~~~~~~~~~~~~~~~~~~~~~~~~~~~~~~~~~~~~~~~~~~~~~~~~~~~~~~~~~~~~~~~~~~~~~~~~~~~~~~~~~~~~~~~
"The truth will set you free. But first it will piss you off."
~Gloria Steinem
hahaha…ain't that the truth!!!! :D