Good morning everyone!
Edit: Check out my new recipe page!
Well, I wish I could report that I am feeling better, but I think I am in more pain that I even was yesterday. I could barely get out of bed this morning. I had nightmares last night :( But I also had some exciting dreams about the contest giveaway on the blog! teehee.
I am such an active person so this is really getting me down. I was cursing under my breath as I pushed myself up from bed this morning.
I walked straight downstairs and called a local Sports Medicine Doctor because I want to make sure that I don't have something more serious than a groin pull. Luckily, I was able to get an appointment today at 1:40pmand Eric is going to work from home today and drive me over since I shouldn't really drive.
I emailed my boss last night saying that I would probably work from home today on next week's presentation that I have to give, but I emailed her today and told her I would be taking a sick day. I didn't get a good sleep last night and I just can't see myself focusing on a presentation. So I thought I would be honest and just take the day off to rest. I'm sure she will respect my honesty.
Breakfast this morning was dedicated to 'getting my body back' and I don't mean shedding the baby weight! lol. I am going to focus on making my meals extra healthy so that my body can repair itself quickly.
I don't know about you, but having raw veggies at breakfast isn't rather appealing. I had to force down this gorgeous and nutritious organic yellow pepper because I knew that it would help: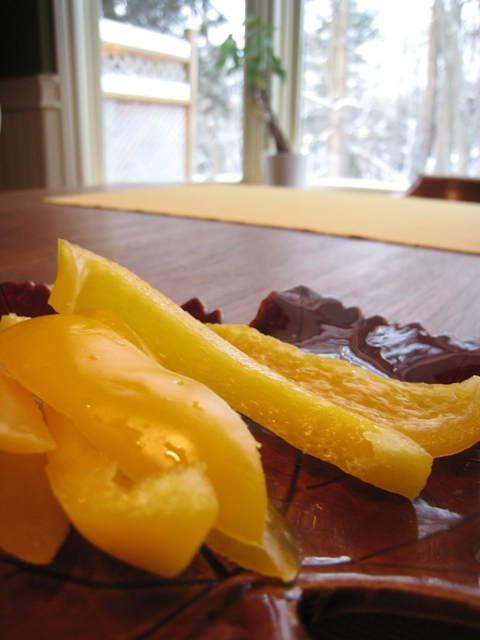 What's in Yellow Peppers you ask?
You've probably heard of beta-carotene, which is a primary nutrient responsible for the bright orange and yellow colors in foods. A related nutrient is alpha-carotene. Both alpha- and beta-carotenes provide health benefits in their own right. In addition, the body converts them into vitamin A. One of the vital ways that vitamin A benefits the body is by maintaining the linings of the organs (e.g. eyes, respiratory tract, urinary tract, and intestinal tract). When these tissues are healthy, bacteria have difficulty growing and viruses are prevented from attacking and making us sick.

Diets rich in alpha- and beta-carotenes have been linked with lower risks of certain cancers and a lower risk of heart disease. These antioxidants are also key players in the health of the immune system, eyes, skin and bones.

Obtained from: The Diet Channel
Blech. Ok it wasn't that bad. But I honestly woke up with no appetite so I had to force this veggie down. I just kept telling myself that the rest of the breakfast would get better…
Up next: vitamins (L. vita, life + amine)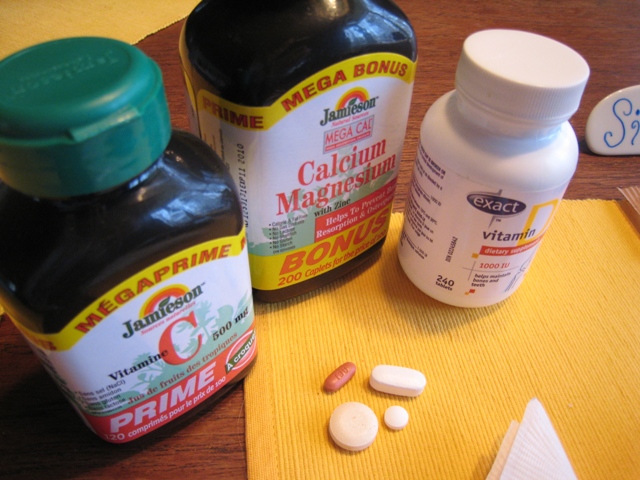 After choking some food down, I had an Ibprophen, Vit C, Calcium/Magnesium, and Vitamin D.
Let's build and repair those bones and tissues!
I thought I would be cheeky this morning and try to make myself smile. I got out a Christmas gift- table setting name tags- and put it to good use: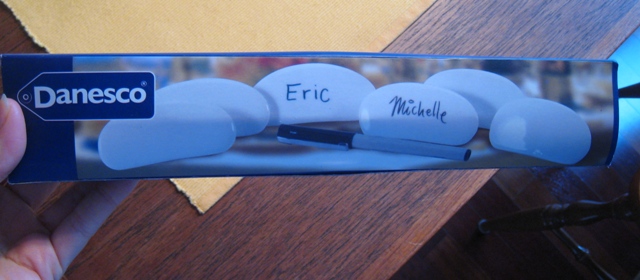 Eric….who's Michelle??? :D
My 'main course'was a piece of Ezekiel bread, toasted, with 'Twice the Fruit' reduced sugar Strawberry jam.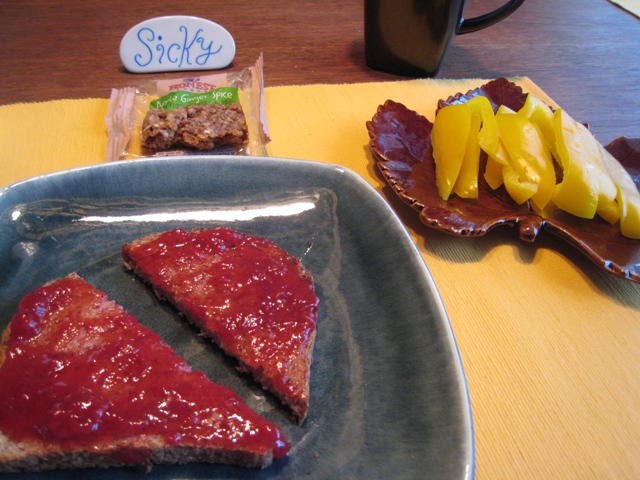 Dessert was, you guessed it, an 1/2 Honest Foods Country Square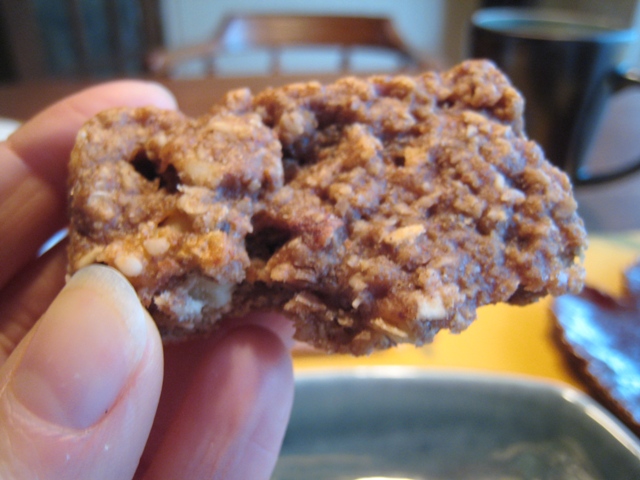 The spread, with English Toffee super-magic-healing tea: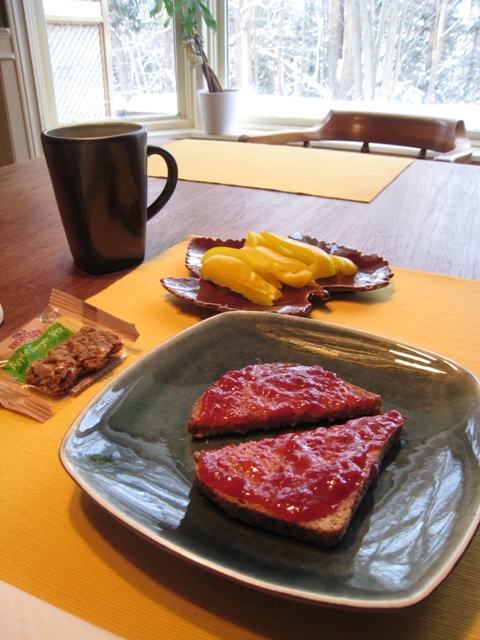 Stay tuned today for:
1st Official Honest Foods contest giveaway!
A video review of my first Honest Food taste test!
Best and Worst dressed at the Golden Globes & polling stations
A review of new features on Oh She Glows
and more…..
Poll of the Day:
Over every mountain there is a path, although it may not be seen from the valley.
~James Rogers