Hey guys…
Sorry to be such a downer, but I am not doing well.
It has been the only time where I am ever ever been thankful for a desk job.
Sitting is the only thing I can do right now. It hurts to much to move, walk, or lean a certain way. Even sneezing hurt :( I was starting to get nervous that it could be something serious, so I called the free health number that our province has and I spoke with a nurse.
She was an absolute delight. So friendly and put a smile back on my face. I swear nurses need to get paid more. But anyways, back to the topic, she asked me a bunch of questions and then determined that I should go see a doctor within 4 hours. Which sorta made me all anxious because I am at work and I hate telling my boss that somethng is wrong because of a silly mistake and now I need to leave work.
But, I kept fighting that voice in my head and convinced myself that my health is much more important than any job. Anyways, I called Eric and being the amazing person he is, said he could pick me up anytime this afternoon and take me to the hospital. I am so lucky to have him, he is someone that I know I can rely on for anything. There was never a doubt in my mind that he wouldn't be able to be there for me. It's a nice feeling.
So, anyways, I just got out of a meeting in work, and Eric should be here in about 30 mins. I have a ton of work to do, but I am trying not to think about it. Work will always be there. My health will not, right?
Something that made me laugh today:
In my meeting, I said "I feel like an 80-year woman today…" and one of my co-workers said, "Well, you still look like an 18-year old so don't worry about it!"
haha..she is one of my funny/crazy coworkers who can always put a smile on my face. :) Everyone has a coworker like that right! She is like the Steve Carell of the office. haha.
Then I went to make myself a nice, hot, and soothing English Toffee tea, and I realized that I couldn't bend down to put the water in the kettle (our kettle is on the floor because we have no desk space!). So anyways I asked my coworker to put the water in the kettle for me, and he jokingly said,
"Geeze, I'm going to have to update my job description…I'm going to add pouring Angela's water into kettle and pouring Angela's tea for her..."
[Earlier in the day I had asked him to bend down and open a lower filing cabinet drawer for me. lol] I honestly am not abusing my injury either- I literally couldn't do it! lol.
Anyways, I have been promising this Nature's Path cereal review so here we go…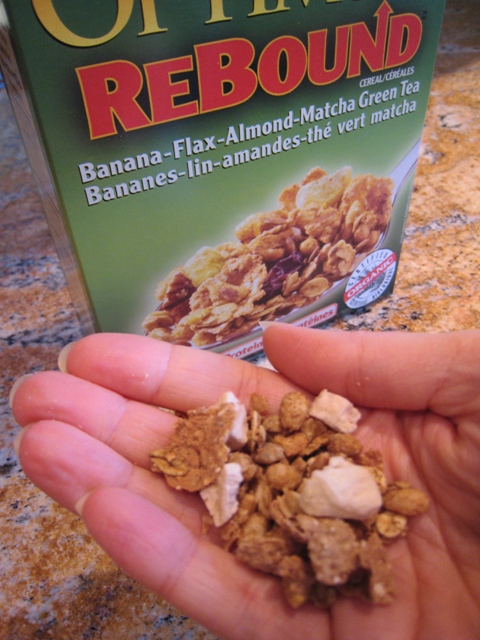 I bought this cereal last week because I had so much success with the Pumpkin-flax flavour. Well, I don't know what they did with this one, but it was awful. I hate saying this about a NP Product because I LOVE them, but I was not a fan of this cereal at all.
And I know exactly why too- it is the green tea flavour. It is very strong in this cereal and I know that is why I don't care for it. All I could taste was the green tea! Blech.
Now I used to be a huge green tea drinker (before I cut out caffeine) and let me tell you, I drank the strongest of all green teas- Japanese Sencha, loose leaf, infused for 10-15 mins. It was hard core. But I just don't want to eat something that tastes like green tea I guess! I will be buying the pumpkin flax flavour again, but not this kind.
This cereal has dried banana in it- that I was a bit taken a back by. Something just doesn't seem right about freeze dried fruit.
I never have been a fan of the dried strawberries in cereal either. Honestly, are any nutrients preserved when processing a fruit like that? I doubt it. Geeze, reports say now that it takes so long for produce to get from the farm to the grocery store that many of the nutrients are lost before fresh fruit even makes it to the shelf! I doubt this dried banana bits has any nutrients left in it. More likely they have 'sucked the life out of it'…
Ok this review is getting a bit foul. More foul than I intended. But I am grumpy and in pain, so I guess its allowed. ;)
If I mix it into my Spelt cereal it is not as bad, so I might just do that because I don't waste food. Especially expensive food! Maybe a sprinkle of cinnamon on top would mask the taste? :P
~~~~~~~~~~~~~~~~~~~~~~~~~~~~~~~~~~~~~~~~~~~~~~~~~~~~~~~~~~~~~~~~~~~~~~~~~~~~~~~~~~~~~~~~~~~~~~~~~~~~~~~~~~~~~~
Ok, I should wrap this up. Eric will be here shortly and I need to finish up my work tasks before I go. I am also bringing some work to work on at home in case I have to stay in bed for a day or two this week.
Off to the hospital….hopefully it won't be a 5 hour wait like last time! I am just hoping that it isn't serious and going to sideline all my hard work. *sigh
This quote helps me today in particular…
We all make mistakes. I will certainly learn from this one. I have been pretty careful about taking rest days, but I know I should have listened to my body more this morning. I won't be making this mistake again!
I'm not afraid of storms, for I'm learning to sail my ship.
~Louisa May Alcott