It arrived last night.
The Voice Recorder! :D
I was sooo excited. I tested it out immediately and left myself some creepy/funny messages and played it back to Eric. He won't admit it but I made him giggle. :D
I started off by saying, in a serious voice,
"Angela here. It was a long and cold night…….*long pause*…. My thoughts drifted to my blog and what I would post in tomorrow morning's entry. I pause as I ponder to myself…."
Then you just hear Eric making fun of me in the background and then I start laughing and snort uncomtrollably.
No I am not uploading this one to the website! lol.
So naturally, I was super excited when I brought my new voice recorder with me on the treadmill this morning! Every time a new idea or thought crept into my mind, I recorded it (albeit in a winded voice!).
I recorded 12 things just on the treadmill! LOL
 The bad thing? I injured myself this morning. :( I had a slight nagging pain after doing either my yoga or 30-day shred on the weekend, and I didn't listen to my body this morning. I thought I would be fine so I ran. BIG MISTAKE. Now I have an even worse pain (upper, inner thigh- almost the crotch/butt area if you can believe it) and I can barely walk! I am hobbling along. NOT good. I will not be running until this is healed. :(
Please I urge you- do not run (or exercise) when you have even a bit of pain– it's not worth it! I will be doing light stretching until I feel better to run again….*sigh.
My workout:
3 mile tempo run, 6.5-7.0 mph, incline 3%
Duration: 29 mins.
Max heart rate: 172 bpm (88% of max)
Avg Heart rate: 158 bpm (81% of max)
Feel the burn: 253 kcals
It was not a fun workout– by the end I was in pain and had to stop!
My breakfast: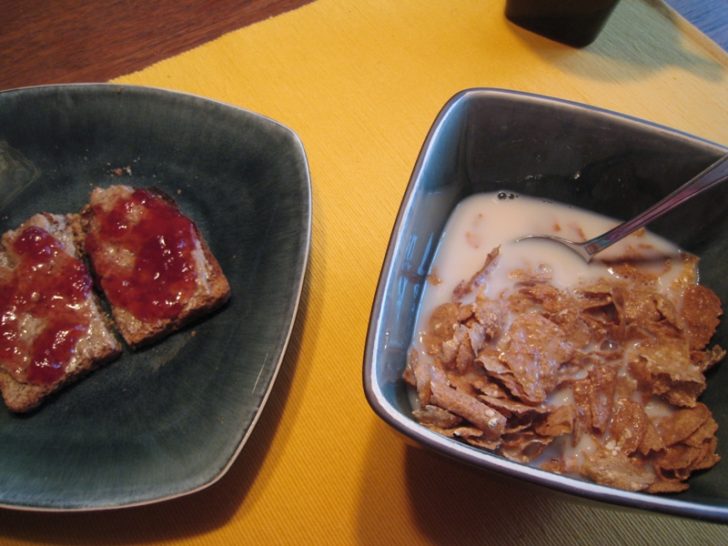 Health Valley's Spelt cereal, Almond Breeze, and toast with strawberry jam and Maranatha's Almond butter (raw) :) yum!!
Stay tuned for inspiration in all forms later today!
Best and Worst dressed at the Golden Globes, polls, etc
Food reviews
Recap of marathon training so far. My struggles, successes, etc!