Morning!
Some of you got close with guessing that I made a soup last night for dinner! I actually made Squash and Chickpea Moroccan Stew. I obtained this recipe from Smitten Kitchen's website, and I adapted the recipe to suit my own needs. Deb adapted this recipe from Aida Mollencamp from the Food Network.
It. was. freaking. fantastic.
Healthy, savoury, spicy, and sweet. This recipe delivers! It is sooo healthy- everything in it is healthy and good for you! It is the perfect dinner time meal when it is cold outside. It really warmed us up!
Squash and Chickpea Moroccan Stew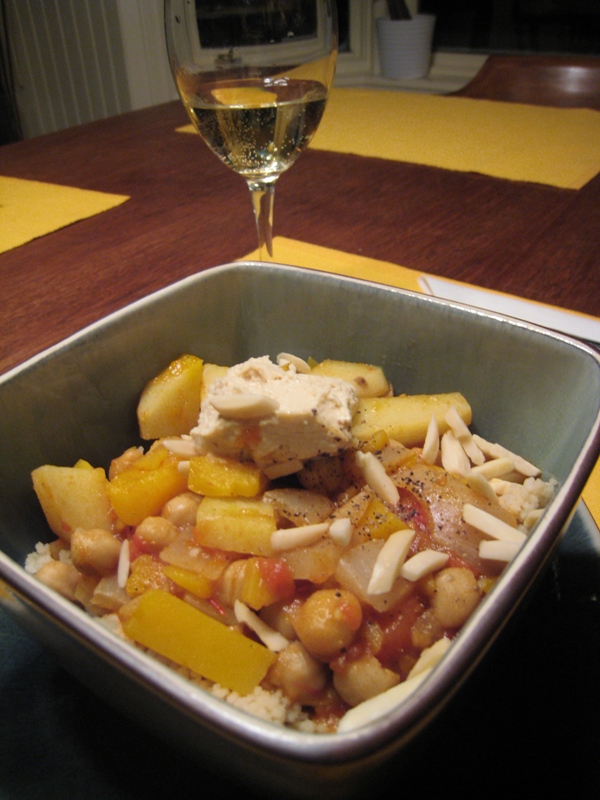 Ingredients (my version)
1 Tbsp. olive oil
1 medium yellow onion, small dice
4 medium garlic cloves, small dice
1/2 tsp. cinnamon
Freshly ground black pepper (to taste)
1/2 pound butternut squash (about 1/2 of medium sized squash), large dice
1 large red potato
2 cups low-sodium vegetable broth
2 cups cooked chickpeas, drained and rinsed
1 (14-ounce) can diced tomatoes, with juices
Pinch of saffron threads (optional)
Steamed couscous, for serving
Toasted slivered almonds, for garnish
Hummus or yogurt, for garnish
Directions:
1. Heat olive oil in a 3-4 quart dutch over or heavy-bottomed saucepan with a tight fitting lid over medium heat. When oil simmers, add onion, garlic, and cinnamon, and season with freshly ground pepper to taste. Cook, stirring oaccasionally, until spices are aromatic and oions are soft and translucent, about 5 mins.
2. Add squash and potaties, season with freshly ground pepper, stir to coat, and cook until just tender, about 10-15 mins. Add broth, chickpeas, tomatoes, and their juices, and saffron. bring mixture to a boil then reduce heat to low. Cover and simmer until squash is fork tender, about 10 mins.
3. Remove from heat and serve over couscous garnished with toasted almond, hummus/ or yogurt.
4. Try not to burn your tongue as you try to shovel the food down because it tastes so good! :D (I'm not pointing any fingers at Eric! haha)
~~~~~~~~~~~~~~~~~~~~~~~~~~~~~~~~~~~~~~~~~~~~~~~~~~~~~~~~~~~~~~~~~~~~~~~~~~~~~~~~~~~~~~~~~~~~~~~~~~~~~~~~~~~~~~~~~~~~~~~~~~~~~~~~~~~~~~~~~~~~
See you guys later for exciting:
FAQ's
Workout re-cap
Running fall-back week
A Nature's Path food product review
A reader's Jouney to Health story
and much more…
~~~~~~~~~~~~~~~~~~~~~~~~~~~~~~~~~~~~~~~~~~~~~~~~~~~~~~~~~~~~~~~~~~~~~~~~~~~~~~~~~~~~~~~~~~~~~~~~~~~~~~~~~~~~~~~~~~~~~~~~~~~~~~~~~~~~~~~~~~~~
I have always believed, and I still believe, that whatever good or bad fortune may come our way we can always give it meaning and transform it into something of value.
~Hermann Hesse