Morning everyone!
I was still a bit sore this morning so I decided to start my day off with a bit of yoga! I did some stretching and yoga poses this morning. They felt. so. good. I can't believe that I had been neglecting my flexibility for so long! I am seriously getting hooked.

I went onto the free website called Yoga Today and I did 15 mins. of their video for 'Skiers and Snowboarders' for all levels. It felt good to stretch out all my stiff muscles!
Breakfast was delicious this morning:
I chopped up an apple, sprinkled with cinnamon and microwaved for 1 minute. Then I melted a Tbsp. of Almond butter in the microwave (alone) for about 15 seconds. I stirred it up and mixed it into the apples. Then, I sprinkled it with some crunched up Spelt cereal (1/4 cup?) on the apple AB mixture and mixed it up. I poured in some Almond Breeze (maybe a couple tbsps) and stirred. It was like a mini healthy apple crisp!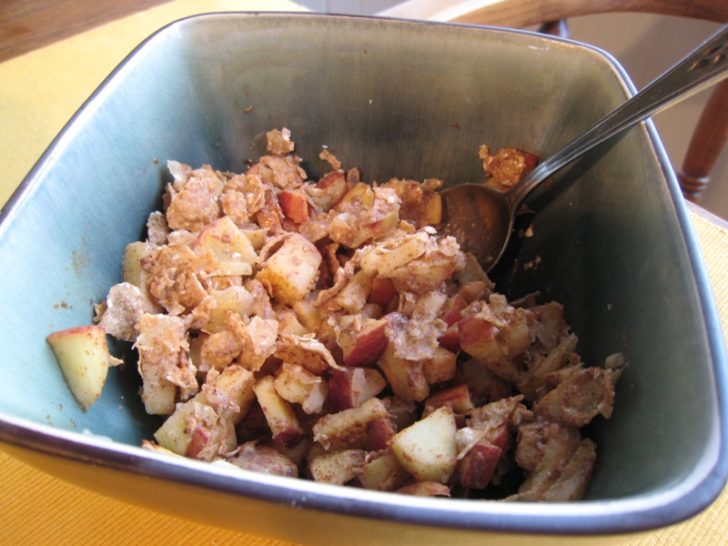 ~~~~~~~~~~~~~~~~~~~~~~~~~~~~~~~~~~~~~~~~~~~~~~~~~~~~~~~~~~~~~~~~~~~~~~~~~~~~~~~~~~~~~~~~~~~~~~~~~~~~~~~~~~~~~~~~~~~~~~~~~~~~~~~~~~~~~~~~~~~~
Now, for week 3 of Kristi's 'Get My Body Back' Challenge 2009:
Missed these?
Kristi: Ok, I admit it.  It does get easier.  Working out that is!  I have noticed over the last few weeks that my cardio is slowly improving.  It sure isn't fun getting back into it after not working out in about 4 years!  The first few times running the track or hitting the elliptical, I thought I was going to D-I-E.  There is no other way to put it.  I was out of breath, sore, and weak.  I growled at the "gym rats" that sped past me J  My body was craving rest and giving up would have been oh-so easy.  But, I didn't and I won't.  There is no way I am going through this again! 
The Workouts:
Jan. 5:  Jillian Michael's 30 Day Burn – Level 1 (20 minutes)
Jan. 6:  Rest Day (This was the day before my son's 3rd birthday, so my free time was spent decorating his cake and the house etc. so I chose this day as an off day) 
Jan. 7:  Jillian Michael's 30 Day Burn – Level 2 (20 minutes)
Jan. 8:  35 minutes on the elliptical, interval training at level 7    
Jan. 9:  35 minutes on the elliptical, interval training at level 7
Jan. 10:  30 minutes of cardio (running and walking the track) followed by my FAVOURITE weight training/cardio class, Urban Strong (55 minutes).  I was completely exhausted after this!
Jan. 11:  30 minutes on the elliptical, interval training at level 7
Jan. 12:  Today is a well deserved rest day!
So, as I told you a couple weeks ago, I bought the Jillian Michael's 30 Day Burn dvd.  For those of you thinking of buying it, the best place to get it is at Costco.  I saw it there in a box set that also includes a yoga for weight loss dvd and another workout dvd by the other trainer on the Biggest Loser, Bob Harper (all for $19.99).  My 30 Day Burn alone was $14.99. 
As for the dvd itself, I must say it is a decent 20 minute workout.  Jillian keeps you going non-stop for the full 20 minutes.  There are no breaks or rest periods, which I guess is the whole point if you only have 20 minutes to work out.  It has to be tough!  Level one was challenging, but I noticed a big difference when I did Level 2.  I haven't yet had time to do Level 3, but I am a little scared!
I can see the dvd getting boring very fast, but I am not too surprised because this is usually the case with me and any workout dvd.  I do think that it is a great alternative for the days that I cannot get to the gym because of my work schedule and watching my boys.  I will most likely only be doing this dvd a couple of times a week as I much prefer the variety at my gym.
I am very excited for this week!  Tuesday and Thursday mornings (for the next few months), I have my two boys enrolled in playgroups at the recreation centre where I work out.  This will allow me two mornings a week to get to the gym for some high intensity workouts!  I love working out in the morning!  I always find that if I leave it to the end of the day that I am usually too tired or I make excuses.    
Over the last couple of weeks, I have noticed that my knees are very sore when I choose to run instead of opting for another form of cardio.  This is one of the main reasons that I usually work out on the elliptical.  Does this happen to any of you, or am I just getting old?  J  I find there is minimal pressure on my joints when I use the elliptical, plus this way I can tune in to the tv!
I was curious the other day so I weighed myself.  I should not have!!!  It only made my heart sink a bit.  I don't know what I was expecting to see.  My weight hasn't changed at all.  Then, I got to thinking about it all and I came to the realization that the scale is just a number.  It is not a reflection of my muscle mass versus fat or a tally of my progress.  More importantly though, it does not reflect how I have felt the last couple of weeks.  No matter what the scale says, I don't know if I would ever be satisfied.  What I do know is that I feel healthier, and I am seeing changes in my body.  I know I am gaining muscle and that my body is toning and therefore, improving.  So, if I never lose the last 5 lbs., but I feel better and I am seeing improvements then who cares, right?!
I plan to track my measurements from this point forward so that I can see progress that way J
Have a fabulous week!  Thanks for staying tuned to my weekly updates and for your heartfelt comments!
~~~~~~~~~~~~~~~~~~~~~~~~~~~~~~~~~~~~~~~~~~~~~~~~~~~~~~~~~~~~~~~~~~~~~~~~~~~~~~~~~~~~~~~~~~~
Thanks Kristi!! Wow your progress has just been amazing! :D You are doing so well with planning ahead and scheduling your workouts. Thanks for the tip about purchasing the 30-Day Shred DVD pack at Costco! I never would have thought to look there. I agree with you about the DVD having the potential to get boring. While it is a great DVD, there isn't much variation aside from the 3 levels. I think what I am going to do is vary the levels each week to try and mix it up a bit more. I too am scared for level 3! lol. I might get the courage to do that this week. :) 
And obviously, I agree with what you said about the scale! I think especially when you are weight training and doing such intense sessions, that it is best to avoid the scale. I think if I would get on the scale now, I would find myself to have gained weight since my marathon and strength training started in the fall. I think it will be good if you avoid it for now and just focus on how you are feeling. Like you said- you feel healthier and are seeing changes in your body. That's all that matters! Keep up the great work!
~~~~~~~~~~~~~~~~~~~~~~~~~~~~~~~~~~~~~~~~~~~~~~~~~~~~~~~~~~~~~~~~~~~~~~~~~~~~~~~~~~~~~~~~~~~
The major reason for setting a goal is for what it makes of you to accomplish it. What it makes of you will always be the far greater value than what you get.
~Jim Rohn