Evening everyone!
Eric and I have been doing some errands this afternoon, all of which were hugely unsuccessful! I wanted to get some boots on sale at Payless because my current boots are about 3 years old and have absolutely no grip on the bottom (and a huge heel), so I was thinking of just getting some flat boots I could wear to and from work. I went to Payless and they had absolutely no stock! Only a few pairs, but nothing I was looking for. So I am not really sure what I am going to do in all this snow!
Then we went to Walmart because I wanted to buy a cheap digital voice recorder, similar to this one for under 10 bucks. We have a gift card at Wal Mart so I was going to use it. :) Unfortunately the cheapest voice recorder Wal Mart carries is $60! Holy Moly. I was looking to spend about $10, lol. So that option was out. I also checked out their boots and they were all picked over as well.
So we went home empty handed! However, good news came of it. My mother-in-law has a voice recorder that she doesn't use and she is going to let me use it! :D Yippee!
Why all this talk of voice recorders you ask?
Well, since I have been logging some serious hours on the treadmill I have found myself coming up with some great ideas or simply reminding myself of things that I need to do and may have forgotten. However, when I think of all these things on the treadmill, I often forget all of them by the time I am off! So I have been wanting to buy a digital voice recorder so that I can just speak into it and record my idea or reminder.
Ok you can stop laughing now. I know I am a geek! Eric already called me an nerd. But I don't care. I will proudly carry my voice recorder around. Hell, I would even put it on my key chain so I can record my thoughts while driving my long commutes! :D
Nerdy? Yes. Brilliant? I'd like to think so!
I can't wait to start using it!
~~~~~~~~~~~~~~~~~~~~~~~~~~~~~~~~~~~~~~~~~~~~~~~~~~~~~~~~~~~~~~~~~~~~~~~~~~~~~~~~~~~~~~~~~~~~~~~~~~~~~~~~~~~~~~~~~~~~~~~~~~~~~~~~~~~~~~~~~~~~
My lunch was woooonderful today. So filling and warm.
My leftover butternut squash took centre stage: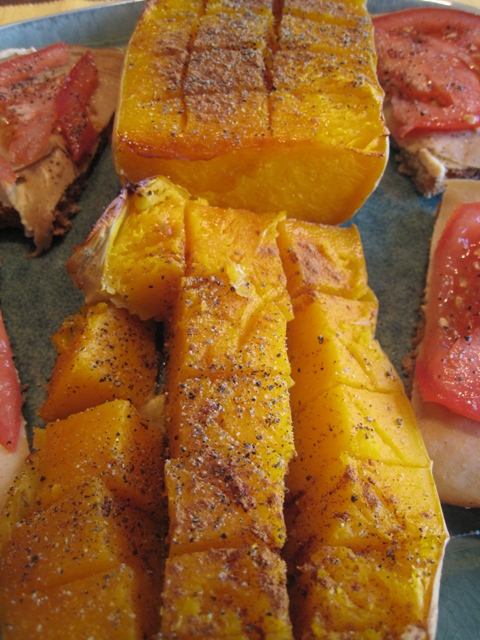 I cut it in half and put it in a casserole dish, face down, in water. I roasted this in the oven for about 30 mins at 375F.
I sprinkled cinnamon and freshly ground pepper over it. Ah-mazing.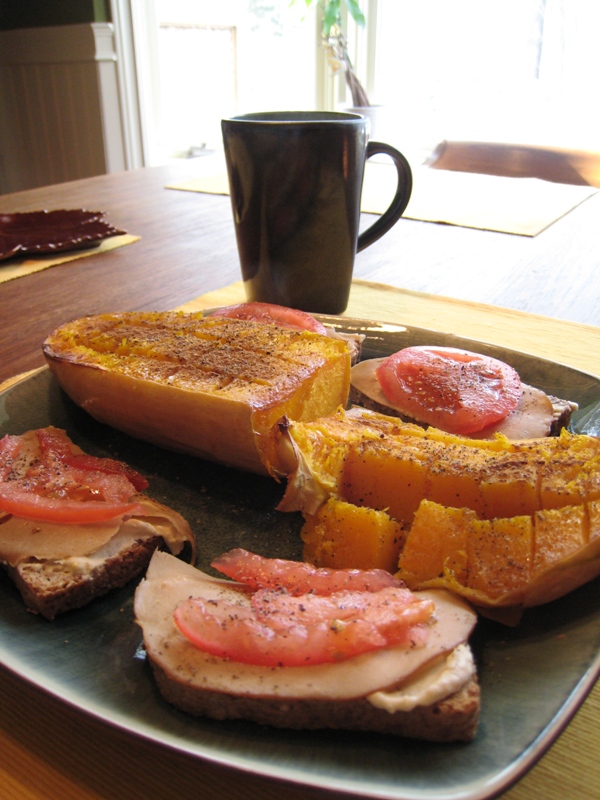 On the side, I had an open faced toasted sandwich, featuring Ezekiel bread, Tofurkey, tomatoes, pepper, and hummus.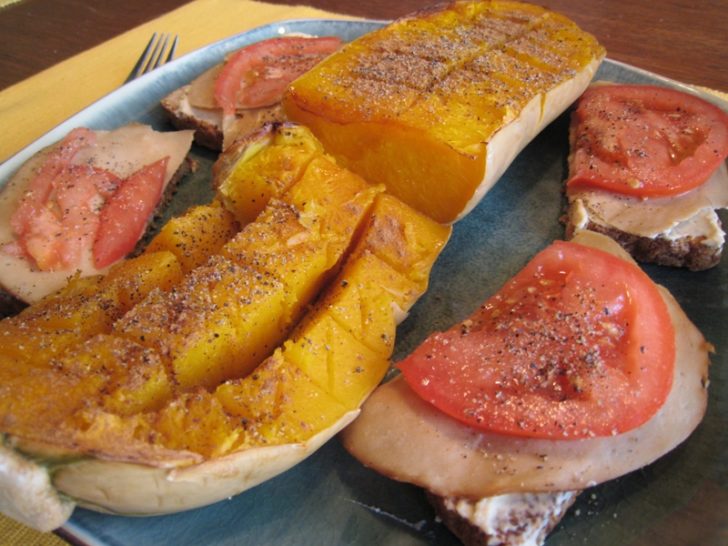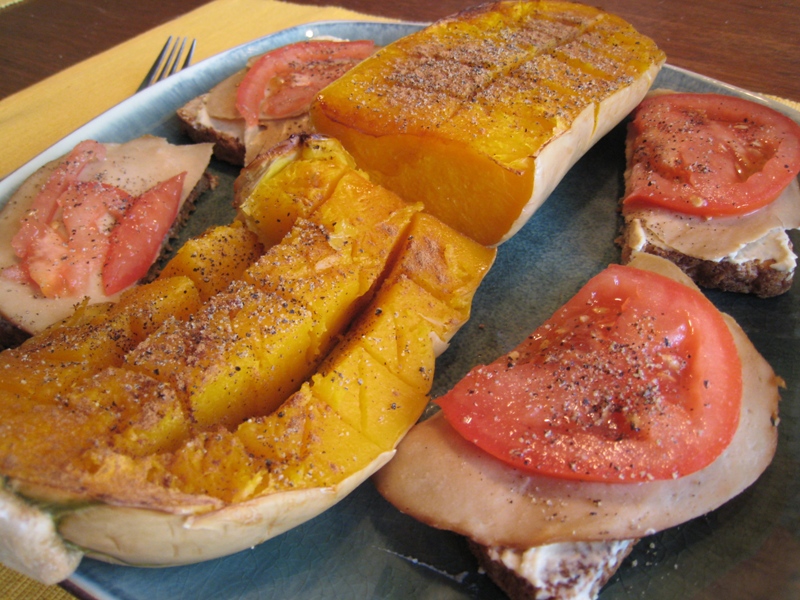 I ate all of the sandwich and 75% of the squash before feeling like I was going to burst!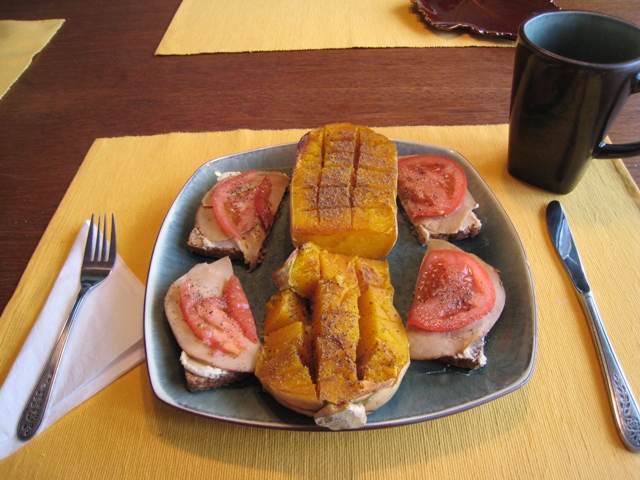 I had some Celestial Seasonings English Toffee tea on the side. This meal really warmed me up!
~~~~~~~~~~~~~~~~~~~~~~~~~~~~~~~~~~~~~~~~~~~~~~~~~~~~~~~~~~~~~~~~~~~~~~~~~~~~~~~~~~~~~~~~~~~~~~~~~~~~~~~~~~~~~~~~~~~~~~~~~~~~~~~~~~~~~~~~~~~~
FAQ Installment 12
122. Dagne asks, "I have a question about the Almond Breeze. I noticed at the store that they have an unsweetened kind as well. Have you tried that? Is there a reason that you are using the regular kind?"
Yes, you are right- there is an unsweetened kind of Almond Breeze that is just 40 cals per cup! I have not tried this because the cereal I eat isn't sweet and so I thought for 20 extra calories I will continue to enjoy my Original flavour. I think next time I am going to try out the unsweetened kind just to compare the taste though. It will be interesting. I will report on the blog when I do try it. :)
123. Bobbi and Sana ask, "Where did you get those workout pants from? I love them!"
Thank you! They are Lululemon Groove Pants. Pretty much all of my workout gear shown on the blog is from Lululemon. I am obsessed with that store. They have the best yoga and fitness clothing out there! It is expensive though, so I buy most of mine used on Ebay. you can get some really great deals. My family also gives me gift cards for there quite often, so that always helps! I have had this pair for about 3 years now- the gear is tough!
124. Molly asks, "Is there a reason why you didn't include your website address on your Oh She Glows clothing line? I feel like that would be the best way to advertise, if that is your intention."
I probably should have said this when I posted it, but the URL (www.ohsheglows.com) is on the back of all the products. I figured that people didn't want to look at an ugly URL on the front of a shirt. :) So if you click on the back view of the shirts, pants, bags, etc, you will see www.ohsheglows.com. This way it is discreet, yet it still gets the name out. I have so many aspirations and ideas for this blog, and I know that one of the ways I will be able to create what I envision, is by securing more readers. So if you know any family or friends who might enjoy this blog, please pass it on. :)
125. M asks, "Angela I love all of the updates (videos, clothing, etc) that you've been adding to your blog. I was wondering are you donating the profits of the 'Oh She Glows Fit Gear' to the Canadian Cancer Society?"
As many of you know, I am running my first half marathon for the Canadian Cancer Society, in honor of a family friend who passed away from cancer last year. Yes, I will be donating 100% of all profits made from the Oh She Glows Fit Gear shop to the cause. Just a note about the prices- I only marked up the fit gear by $1-3 on average. I didn't want to make the clothing too expensive and unaffordable. So the profits will be modest, but they will be donations nonetheless! I will be sure to mention this on the clothing website. Thanks for reminding me!
126. Amira asks, "Do you happen to know if they have those Kardea bars in Australia? They look good!"
I am not sure about this. I checked the website and contacted Kardea Nutrition about where they sell the bars. They said that they sell them in select Whole Foods in the US (CT, NY, NJ) and across the Southern US (carolinas, Georgia, Texas). They said if you cannot find the product near you, please contact them and they will inquire the stores in your area. There is also an option to order the bars online, however I didn't notice an option for Australia. I would also inquire about that. Best of luck- they are delicious bars!
127. Amira asks, "I know that you do a lot of running and it is something I really want to get into. I keep stopping and starting but can't seem to be consistent. I was wondering how do you first start building your running and how you started out. Also, do you do anything to make your runs less boring or do you find them fun? Thanks so much for your fantastic blog!"
Thanks Amira. :) I am glad to do what I can to share my own experiences! Great question about running. Not many people know this but I used to H-A-T-E running. With the life of me. I despised it. I despised (ok, despise is a harsh word!), errr…jealous, of all those runners that would run by me as I waited at a red light in the car. I wanted to be them!
Starting running was really challenging. Much more challenging than training for a half marathon. They said that the hardest part is starting, right? Well, this is true with running as well. The toughest mental block I had to overcome was the fear of failure. Lacing up the sneaks and hitting the road often took me much convincing myself to do. I always felt that other people were starring at me and I felt self-conscious when I ran outside. This improved overtime.
As for the actual running part, it does get easier. I promise you that. When I first started out, I could only run 1-2 minutes without stopping. Now I can run for over an hour or more without taking a break. My best advice is not to allow yourself to get defeated. Building cardio strength is tough, but surprisingly the improvements can be seen fairly quickly.
I started off to doing walking/running intervals. I basically ran as long as I could and when I couldn't take it anymore, I walked until I recovered. Repeat. Repeat, etc. Gradually, over time you will be running longer than you are walking, and then eventually you will be running miles at a time before needing a walking break.
As for keeping runs exciting and preventing boredom, this has been one of my biggest hurdles on the treadmill as I increase my mileage!! I try to always have good music pumping probably louder than I should, I have a magazine on the treadmill at all times, and I go over my to-do list as well as upcoming events that I could think about or plan for. For example, we are having some family over at the end of January and today I was thinking about what foods I was going to cook! Day dreaming works too. Want to go away on a vacation somewhere? This is your time to day dream about it. :)
Goodluck and keep me updated on how it goes!
There are still a couple FAQ's I need to address, but they are going to take some time. So I will likely address then in a video or longer post sometime this week!
~~~~~~~~~~~~~~~~~~~~~~~~~~~~~~~~~~~~~~~~~~~~~~~~~~~~~~~~~~~~~~~~~~~~~~~~~~~~~~~~~~~~~~~~~~~~~~~~~~~~~~~~~~~~~~~~~~~~~~~~~~~~~~~~~~~~~~~~~~~~
Stay tuned tomorrow:
Kristi's 'Get my body back' challenge

A reader's Journey to Health story

Nature's Path cereal review

and much moooore….:)
Is anyone watching the Golden Globes tonight? I will be watching the opening pre-show for the fashion, as always. :D I looove seeing the dresses!
Update: Yay for Kate Winslet!! She looks great!
PS- I am so SORE. My sholders and back especially. I think Yoga and 30-day shred chewed me up and spit me out!!!! Tomorrow will most certainly be an off day I think, unless the special magic healing fairy comes tonight. ;)
P.P.S.- Check out my new video page!