Happy Friday night everyone!
I hope you are all starting your weekend off to a great start :)
Tonight, I did what I love doing on Friday nights- some baking and relaxation!
I baked BAKED Banana Doughnuts from a cookbook called "Best-Loved Whole Grain Recipes"
Baked Banana Doughnuts (modified version)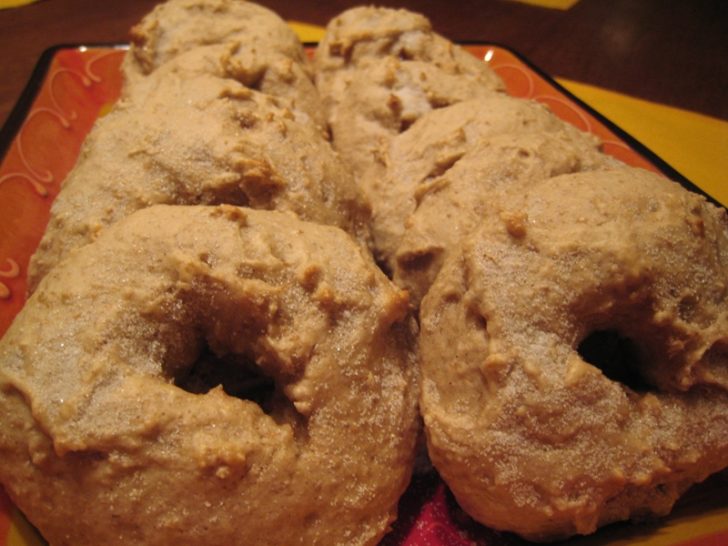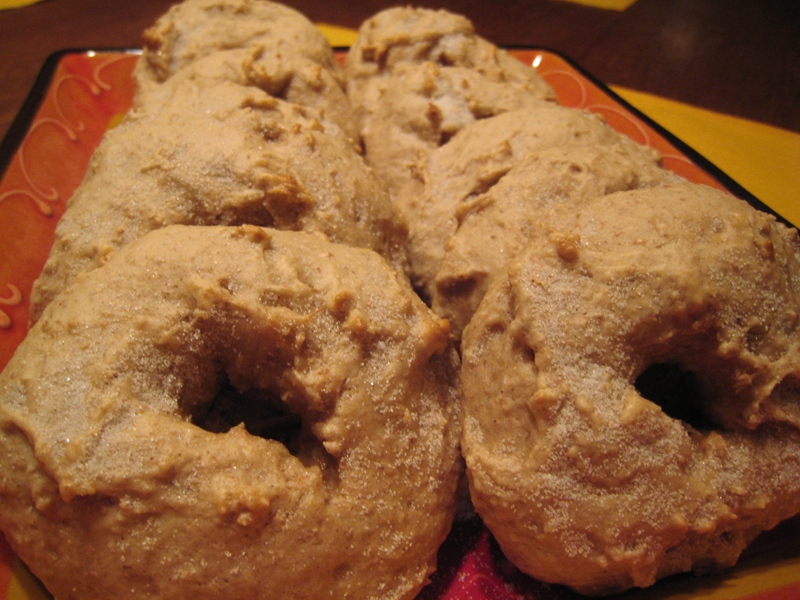 Ingredients:
2 ripe bananas, mashed
2 egg whites
1 Tbsp. vegetable oil
3/4 cup packed brown sugar
1.5 c. all-purpose flour
3/4 c. whole wheat flour
1 tsp. baking powder
1/2 tsp. baking soda
1/2 tsp. cinnamon or pumpkin pie spice
1 tbsp. white sugar
2 tbsp. chopped walnuts (optional)
Directions:
1. Preheat oven to 425F and grease baking sheet.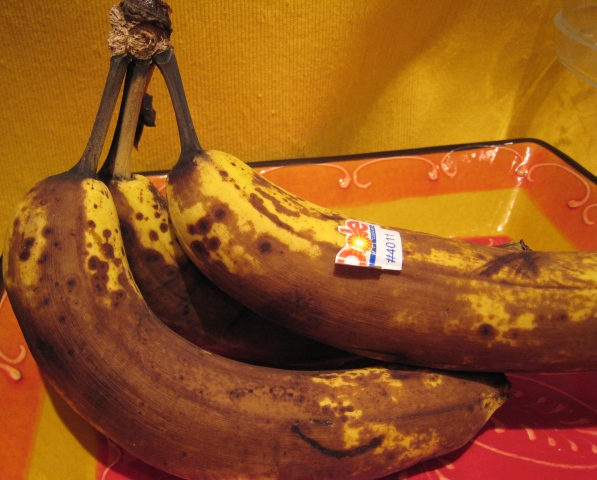 2. Beat bananas, egg whites, oil, and brown sugar in large bowl. Add flours, baking powder, baking soda, and cinnamon or pumpkin pie spice. Mix until well blended.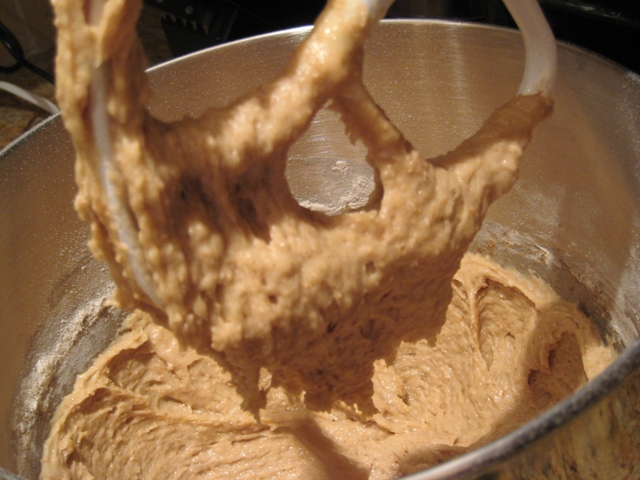 3. Let stand for 5 minutes to let dough rise.
4. Scoop out heaping tablespoons (my scoops were probably 2-3 tbsp's each doughnut) and place on baking sheet equally spread apart. Take a buttered knife and finger to form doughnut holes in the centre of each. Smoth edges of dough into a round doughnut as much as possible. It will be difficult as the dough is sticky. Do not feel discouraged- they don't have to be perfect (see mine below for proof!). Sprinkle with 1 tbsp of white sugar.
5. Place in oven for 7-8 mins. at 425F.
Yields: 12 Doughnuts @ 165 calories each
After cooking about 5 mins, I took them out of the oven because I forgot to sprinkle the sugar on them! Oops.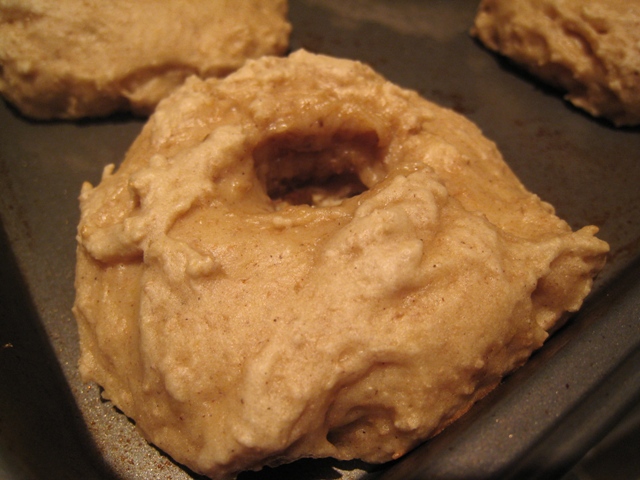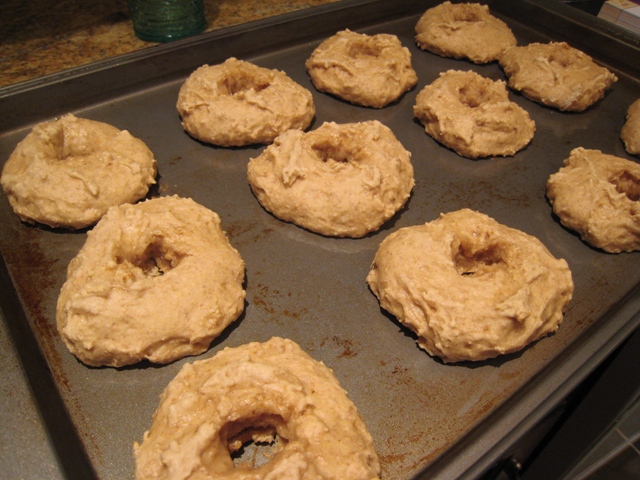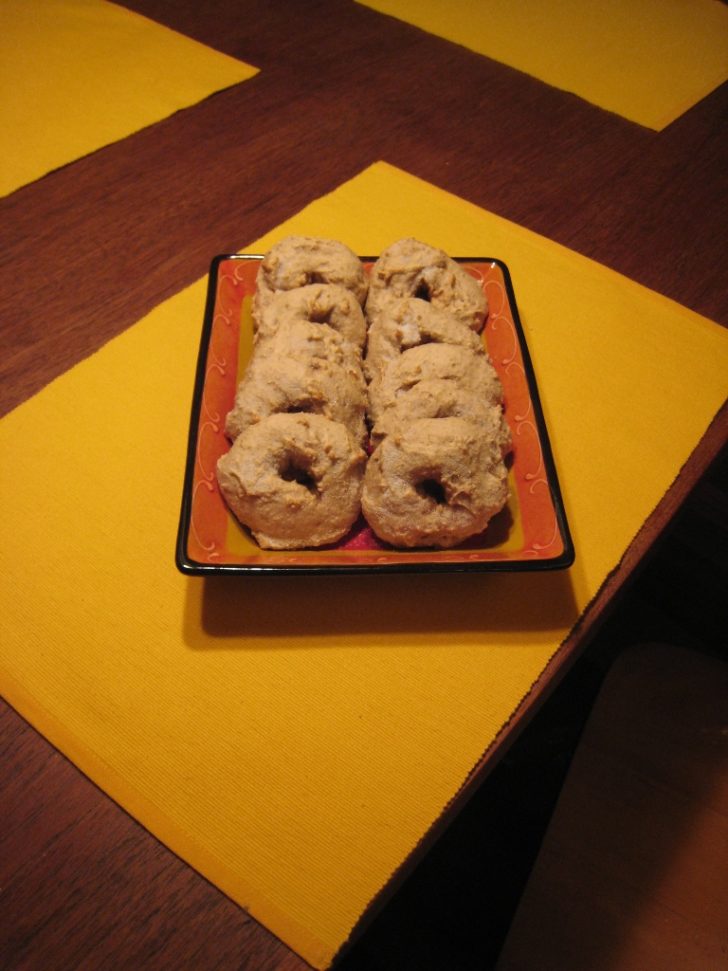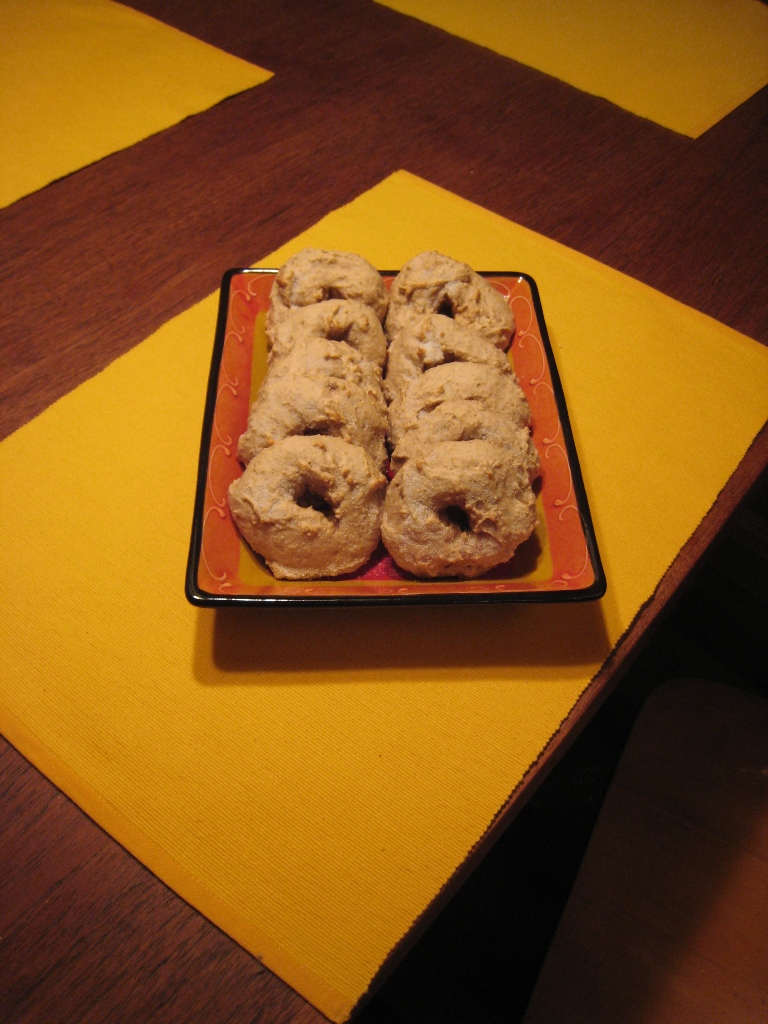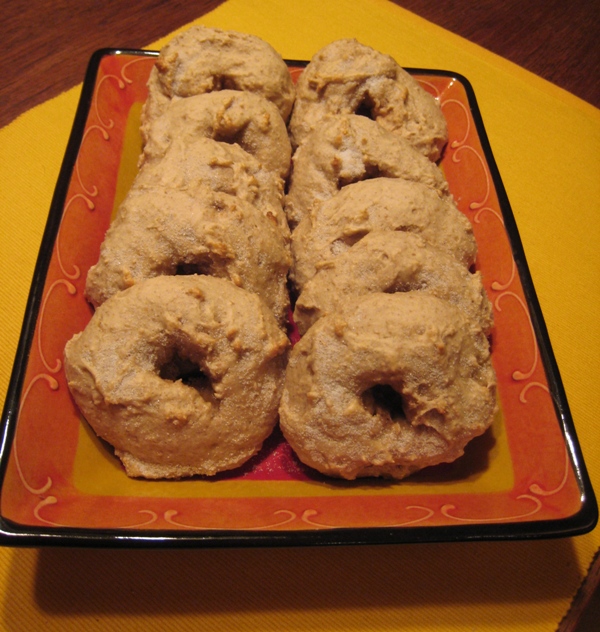 With my leftover Maple Cream-Cheese Icing from the carrot cake (Eric's doughnut- mine was plain):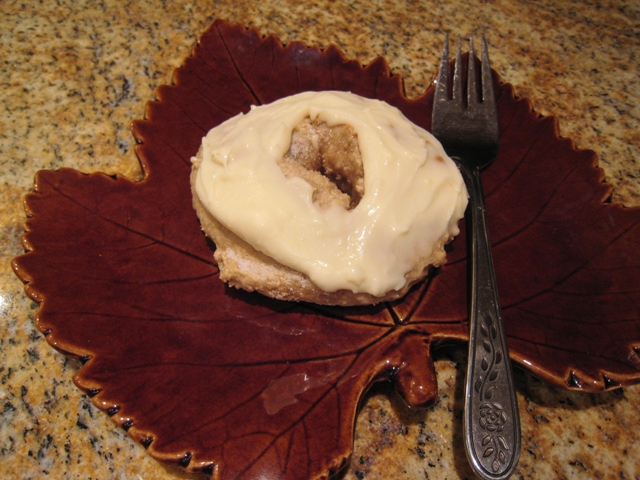 My opinion?
These Baked Banana Doughnuts are a great way to satisfy a doughnut craving without resorting to the deep fried, fat-laden kind. I was shocked that the recipe only called for 1 tbsp. of oil!  At 165 calories per doughnut (without icing and nuts), these are a great way to have a treat without breaking the bank.
If you are a dough-lover, you will love these. They were doughy and moist (from the bananas).
The centre near the hole was almost like raw dough! SO good!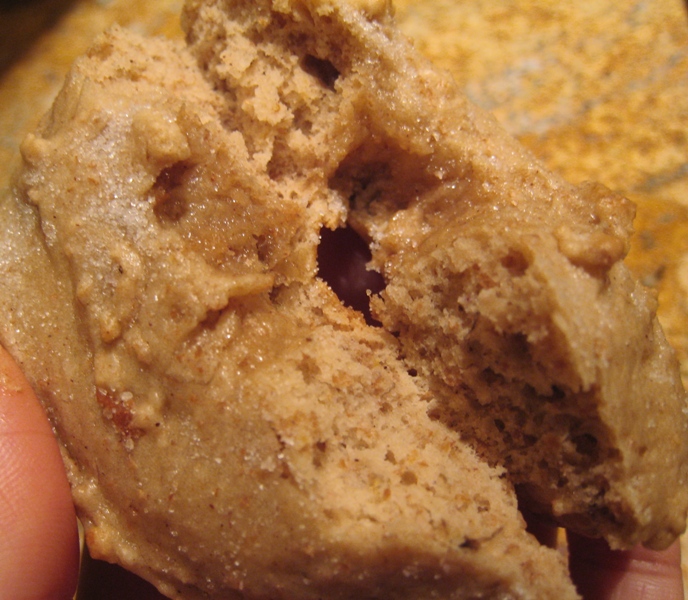 I prefer a little crunch, so next time I would definitely add some nuts and I would probably subtract a 1/2 of white flour and add 1/2 cup of oats. I know oats aren't supposed to be in doughnuts, but I think I would love it. :)
This recipe can also be turned into 'Baked Pumpkin Doughnuts' by substituting 8 oz. of packed pumpkin puree for the 2 bananas. I must try this!
~~~~~~~~~~~~~~~~~~~~~~~~~~~~~~~~~~~~~~~~~~~~~~~~~~~~~~~~~~~~~~~~~~~~~~~~~~~~~~~~~~~~~~~~~~
I got 2 exciting things in the mail today:
An Advertisement for Yoga Classes near my home!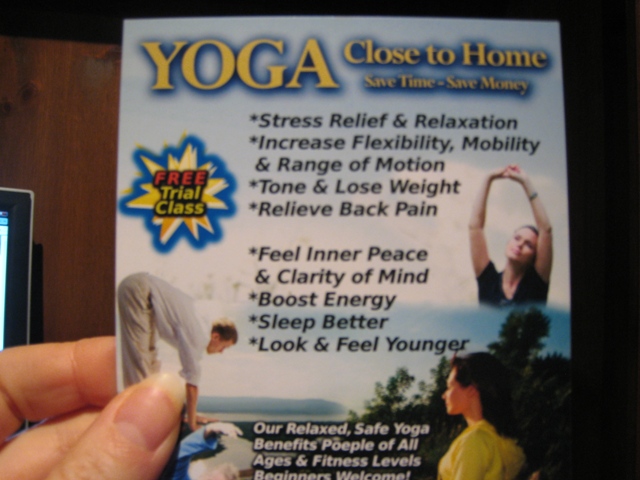 IT'S A SIGN!!!!!!??
And….a package delivery!!! (That I missed, damnit!!)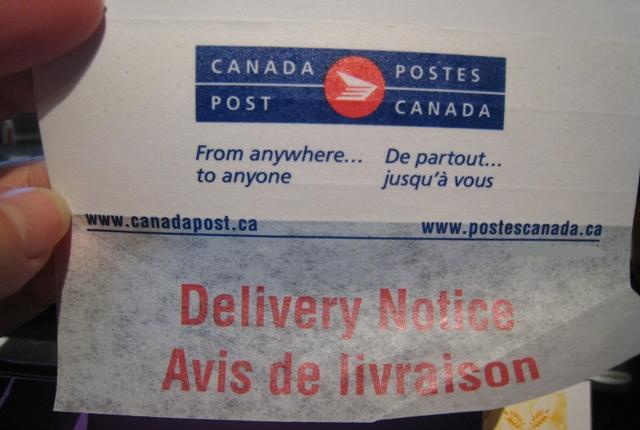 Could it be one of the CONTEST GIVEAWAYS that are long overdue to arrive???
Mary's Organic Crackers
Honest Foods
I sure hope so! I will be picking this up tomorrow morning! I hope they are open til noon like the sheet says…
Night everyone! I am off to watch What Not To Wear and then we are possibly going to see Bride Wars!! I may have to drag Eric there kicking and screaming though. hahaha…He says, "I thought we were done with wedding shows???"
Nope. We never will be! *evil cackle*
~~~~~~~~~~~~~~~~~~~~~~~~~~~~~~~~~~~~~~~~~~~~~~~~~~~~~~~~~~~~~~~~~~~~~~~~~~~~~~~~~~~~~~~~~~
To understand the heart and mind of a person, look not at what he has already achieved, but at what he aspires to.
       – Kahlil Gibran