HAPPY 2009 everyone!!!
I must say, our night last night was probably one of the most low-key night's Eric and I have had yet!
We missed the ball drop!!! LOL.
We were watching a movie at home, and all of a sudden I was like….'ITS 12!!!!!!' We put on the TV to see everyone in New York celebrating their hearts out.
Ah well. We had a late smootch anyways. ;)
Here is a picture of Benny and I celebrating: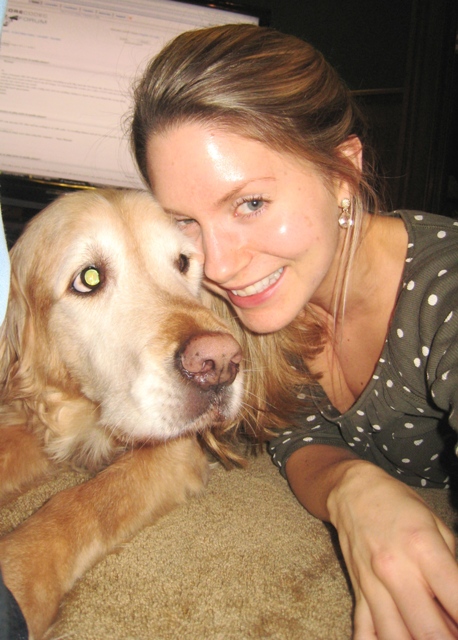 I was up late last night working on my new page. Please visit this page to learn about my pledge goal for the charity I am running my half marathon for!
~~~~~~~~~~~~~~~~~~~~~~~~~~~~~~~~~~~~~~~~~~~~~~~~~~~~~~~~~~~~~~~~~~~~~~~~~~~~~~~~~~~~~~~~~~~
So as I promised, today will be the first post of my sister as she tries to get her body back after having 2 kids! This will be a weekly feature on the blog from now on.
Here is my sister's first entry:
Motivation, motive, need (the psychological feature that arouses an organism to action toward a desired goal; the reason for the action; that which gives purpose and direction to behavior).

The definition forgets to inform us that acquiring motivation may be one of the hardest things to do.

Sometimes, we can find a short wind of motivation, perhaps for a few days. Other times we may succeed in keeping our motivation alive. It all depends on what is driving us to keep going, persisting to achieve.

Let me tell you all a bit about myself.

My name is Kristi (sister of Oh She Glows creator, Angela). I am a 29 year old mother of two wonderful, active, curious and loving little boys. Being a mother is the most rewarding and fulfilling "job" I could ever imagine. Ever since I can remember, I have always wanted to have children and to stay at home and raise them. Little did I know back then that my dream to stay at home with my kids would at times be challenging, draining and tiring. Finding the time to work out can be tough and at the bottom of my list of things to do.

During my first pregnancy, I gained about 45-50 lbs. It was hard to see the scale increasing each week, but I was able to look past the numbers and realize that my body was growing a miracle and it would require my body to build a safe and happy home for my baby to grow in. Some people gain as little as 20 lbs., other as much as 80 lbs. The way I looked at it was, eat healthy and when you are hungry. Indulge a little, enjoy your experience and let your body take care of the rest.

Throughout the first pregnancy I did swim for about 30 mins., 2-3 times a week. Mostly because I heard it would help with the delivery (I don't think it did since I was in there for 17 hours and I was induced!) and also because I loved feeling weightless in the water.

Luckily after the birth of my first son, my weight pretty much took care of itself. I did not diet or exercise after I had my baby. Within 3 months of delivering him, I was at my original weight and back into all of my old clothes. My body pretty much returned to its original pre-pregnancy state.

Then came the good news of my second pregnancy! My first boy, was about 16 months old when I got pregnant with my second. Because I had been before this all before, I was again not worried about the number on the scale. With my second pregnancy I gained the same amount within a couple of pounds. I had heard that losing the weight the second time around would be much harder. It worried me a bit, but to be honest with you, I didn't give it a whole lot of thought.

The difference with my second pregnancy was that I did not swim, walk or do any form of low-impact exercise. I found it much harder the second time around to exercise because I was busy chasing around my son and my husband worked extremely long hours which prevented me from having any "me" time at the end of each day.

Excuses? Perhaps a bit. I certainly could have incorporated a daily walk with him in the stroller each day. But I didn't.

So, at the end of the day what we all have left is an end result. Mine was about 30-35 lbs. of post delivery baby weight to take off.

My second son, is now 10 months old and I have made it to the gym about a dozen times since his birth. My intensions are so good, but my drive, motivation and output is not so good. I have about 5-6 lbs. of left over weight to lose. Many of you may think, no big-deal or that shouldn't be hard to lose! For me, it is not the number on the scale, but the shape of my body. I am now left with a round, stretched belly that is a sore spot for my self-esteem. I feel uncomfortable in a lot of clothes because I do not like the way shirts are now so clingy and short on me.

My goal with this baby-body challenge is to tighten, tone and increase my stamina to give myself more energy each day to care for my family. My goal is to find a way to transform into a healthy lifestyle that I can stay motivated to maintain.

The Plan:

My plan throughout all of this is to make the time to exercise 3-4 times a week. For me, that is a very realistic goal. Because I am working a couple of part-time jobs now in the evenings, it limits me to how much time I have without my kids, to hit the gym.

So, I will hit the gym 3-4 times a week and I will most likely incorporate cardio and weights into each session. I will be planning ahead at the start of each week as to which classes I will be attending and what type of cardio and duration I will be striving for. Along with this, I will be planning healthy, balanced meals with room to enjoy a little too!

I also just purchased Jillian Michael's 30 Day Burn which I will do on the days that I am crunched for time or cannot make it to the gym. I haven't tried it yet, but I have heard phenomenal things about it and I am so excited to try it out!

Please stay tuned for my weekly updates!

Have a wonderful week and Happy New Year!!! :)

Thank you so much to Angela for allowing me to be a part of this amazing and inspirational website! xo

~Are any of you struggling to lose post-baby weight? How do you find the time and energy to get back into shape?

 
Ange here:
Thanks sis!!
I have said it before, and I will say it again. My sister is perfect in my eyes.
Although I can relate to the feeling of wanting to make a positive change in your life.
I told Kristi, even if you never lose the extra weight that you want to, if you are making exercise and healthy eating a regular part of your life, you will be much happier as a result.
It's not about the numbers, but about how we feel.
When my sister and I were going to the gym over Christmas I was happy for her because not only was she taking the time for herself, but she was happy and proud after a good workout.
We should all have this opportunity in our lives.
~~~~~~~~~~~~~~~~~~~~~~~~~~~~~~~~~~~~~~~~~~~~~~~~~~~~~~~~~~~~~~~~~~~~~~~~~~~~~~~~~~~~~~~~~~
See you later for more Jan 1st fun!!
I am off to hit the treadmill shortly. :D