Yup, you saw correctly- another FAQ post in the same day!!! It is my little New Year's gift to you all I guess. :D
 Missed these???
83. Lauren asks, "Did you board Sketchie when you went away out West?"
We sent him to 'kitty camp'…aka my in-laws place!! He loves it there because he gets to torment (err…play with) their two cats. :D
84. Jenngirl asks, "Awesome run! I'm glad you give your heart rate stats, it makes me realize that I'm in the right place for me, speedwise, right now. My HR is roughly in that area, but I'm still running at a slower pace than you. I'm assuming that means I'm still working my way up. Any thoughts?"
Congrats on your hard work!! Yes, you most certainly are still working your way up and improving your cardiovascular fitness. By monitoring your heart rate, you are aware of how hard your body is working. I tend to workout at my upper level (usually around 75-80% of my maximum HR) because I find the most improvement physically for me. Keep up the great work!
85. Sweet & Natural says, "If you are looking for the world's best chocolate chip cookie recipe you may be interested in this. This summer, a NY Times writer talked to different Master bakers to figure out what makes the perfect chocolate chip cookie. He ended up with this recipe: http://nytimes.com/2008/07/09/dining/091crex.html?ref=dining I haven't tried it but it sure looks good."
WOW. I can't wait to make these bad boys! Thank you!
86. Jess asks, "I have been thinking about getting a back massager like that for a while now but I was afraid that it would be too hard to do it myself. Was it easy to use?"
To be honest, it is fairly difficult to use on my back when I do it myself! I beg Eric to use it on my back when I am sore…lol. He usually gives in (I guess it beats giving me a massage by hand!)
87. Girlrunningaround asks, "How did you come up with Sketchie's name?"
This one is pretty simple! When we went to the breeder to look at the litter, we saw this tiny, squirmy kitten running about every which way! He was a little bugger and had to be into everything. All the other kittens were quite shy and just slept. We should have known….oh brother. So we chose the active kitten because that's what everyone says to look for with new pets, right? We brought him home and he screamed the shrillest screams I have ever heard. It was deafening. We felt so bad taking him away from his family. He slept on my lap the whole first day. This video is also from the first day home.
So to make what could be a long story as I blab on about my cat, short, I came up with the name Sketchie, because, well he was just really Sketchie! haha. To this day I don't think we could have picked a better fitting name. :D
88. Priyankalovesfood asks, "Could you recommend a good hair curler and hair spray?"
The iron I use is a Rusk Professional 1″ curling iron. It rocks. It has 25-30 heat settings and gets HOT. I have actually fried my hair on it though so be very careful! I just noticed on their website that they have developed a newer model– a curling iron with a tapered barrel that is supposed to give a more natural curl. It looks awesome!!
The hair spray that I use is Sebastian Shaper Hair Spray shown here. It is a huge bottle and I have had mine for about 3 years now!! lol.
89. Lara says, "I am seriously impressed with your Army Fitness Test time. I think a lot of my running hurdles are mental blocks. I know I can run faster and longer than I actually do. Do you have any tips for this?"
It really is true that running is more of a mental sport than a physical sport, at least after you've developed some preliminary cardiovascular endurance anyways. Sometimes doubt creeps into my mind- short term and long term. Short term doubt could be 'I don't think I can make it through this workout" and long term soubt could be "I don't think I have what it takes to finish the half marathon". It gets the best of all of us. The thing that really keeps me going is by educating myself about running. Since I started running I have learned so much about this new world to me. I have read other people's running blogs and read about people's real experiences with marathons and races. It helps to know that others have gone through the same feelings as I have and do!
I also love quotes and mantras. Sometimes I will repeat to myself….
"I am a strong, healthy woman. I am lucky to have legs and to be able to run like the wind. Some day I won't be able to so I must chairsh it now."
Sometimes that is all that it takes to beat a mental block. Visualization is a powerful motivator. And let's never forget the power of music!!!  Just bring me the heavy beats!
90. Kerrie says, "We already buy Almond Breeze. I find it a bit sweet don't you?"
We buy the original flavour that has a lot less sugar than the Vanilla and Chocolate flavours. The kind I buy has 60 calories per cup, while the sweetened ones have 100 or 120 calories per cup. I find the original tastes just right!
91. Lauren says, "It is interesting to hear how many calories you burned at Body Pump. I take that class and googled average calories burned and it seemed like most people reported 400-500 which seemed a little outrageous to me!"
I think I said I burned about 225 calories for a 1 hour Body Pump class. I too thought that 500 was too high. But this particular Body Pump class was also not as intense as many that I have done before. The instructor didn't incorporate any cardio at all. Also, I purposely didn't push myself as hard as I could have because I wanted to be able to move the next day. lol. I would say a really good Body Pump class could burn about 350-400 calories, but it depends on the class! It depends on your weight and fitness level too.
92. Leora asks, "Where did you find this Army Fitness test?"
It is a program built into my Landice treadmill. If you want to do it on your own, just simply test yourself and see how fast you can run 2 miles. You won't get a score like I did, but you can still track and measure your progress.
93. Lisa asks, "How do you fit your workouts in the morning before work? Do you often run on a treadmill at home?"
Yes, I run on my home treadmill! :) It is super convenient and I had been waiting for years to get one of my own. I am a morning workout person for sure. I just don't have the energy when I get home from work at night. Working out is the first thing I do in the morning. I get up, get dressed, have a bit of water, and I'm off on the treadmill. I am lucky with my job because I don't leave the house until 9:30 in the morning so this allows me to fit in my workout as well as miss a lot of rush hour traffic on the highway!
Weekends are more relaxed, I usually eat first then laze around then workout late morning. :)
94. Melissa asks, "Love the video! Was that Touch My Body (By Mariah Carey) in the background?"
Yes it was!! I workout to a lot of Mariah's songs.
95. Deb asks, "Is it ok to buy flax seed already ground?"
For best quality in all aspects, grind/mill the flax just before use.
Quality deteriorates quickly once the flax is milled due to oxidation and light exposure.
I learned from my nutrition professor that buying already milled flax means that you won't be obtaining as much nutritional benefit than if you make it freshly milled and consume immediately.
Ok, I am officially caught up on questions!!! How's that for bringing 2008 to a close!! lol. Like I said before, one of my goals for the new year is to feature a FAQ each and every week! So ask away!!!
~~~~~~~~~~~~~~~~~~~~~~~~~~~~~~~~~~~~~~~~~~~~~~~~~~~~~~~~~~~~~~~~~~~~~~~~~~~~~~~~~~~~~~~~~~~~~~~~~~~~~~~~~~~~~~~~~~~~~~~~~~~~~~~~~~~~~~~~~~~~
Tonight we opted not to go to the Stag & Doe and to just have a relaxing & romantic night in….doing what else….watching Hockey of course! We are Canadians. :D
We are watching the US Vs. Canada Junior game tonight (on our New Flatscreen in HD!!) and boy is it ever good!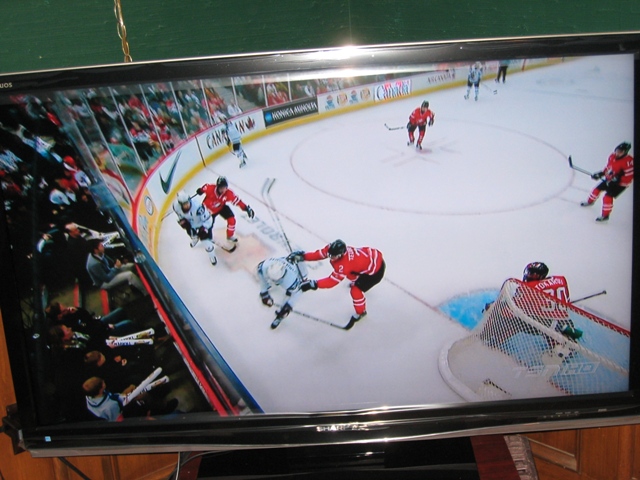 The game has been neck and neck!!
We also have a full house of animals today and tomorrow as my in-laws are here with their two cats and we are dogsitting Benny too!!! Benny's owners (Eric's brother and our sister in law) are away on vacation. I LOVE Benny. He is the most good natured dog I have ever met!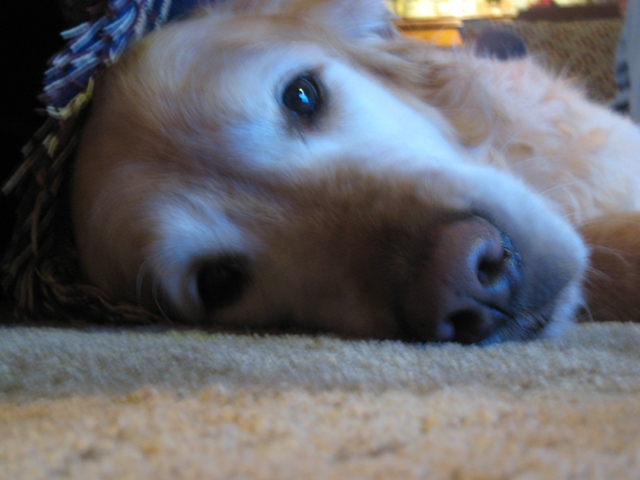 As are all Golden Retrievers…:D
I find that I feature Sketchie and other cats so much on this blog that I forgt to tell everyone what a big dog lover I am. I am a dog lover at heart and have had a few great dogs over the years. I used to swear that I'd never get a cat, but it's funny how I grew attached to them as soon as we got Sketchie.
I love all types of animals, that's what it boils down to!
Benny chillin with Santa: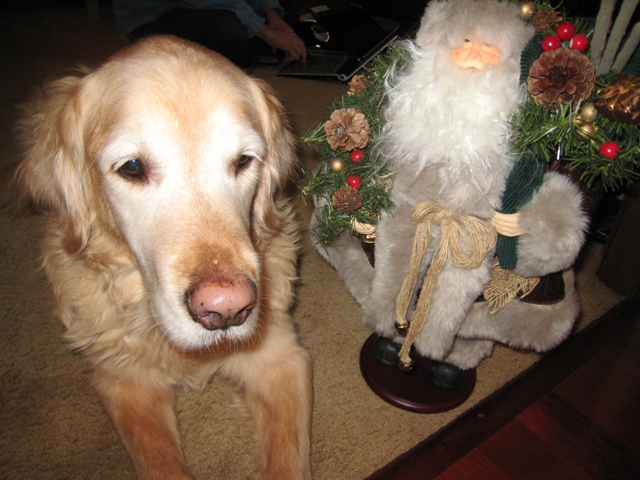 Sketchie hides behind the wall and listens for Benny, lol: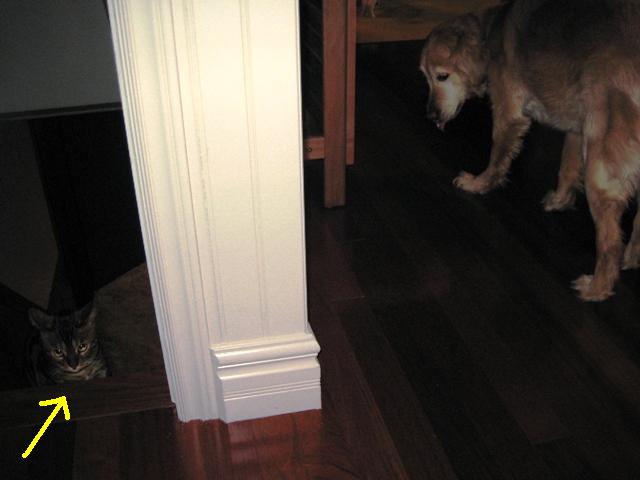 They are too cute! I will be happy just chillin with the pets tonight, and hubby of course :D
We might go see Marley & Me tonight after the game though!!!! I have been waiting for this movie to come out since I heard about it. I read the book a few years ago and it was one of my favs. I hope the movie is good!
~~~~~~~~~~~~~~~~~~~~~~~~~~~~~~~~~~~~~~~~~~~~~~~~~~~~~~~~~~~~~~~~~~~~~~~~~~~~~~~~~~~~~~~~~~~~~~~~~~~~~~~~~~~~~~~~~~~~~~~~~~~~~~~~~~~~~~~~~~~~
I wish you all a fantastic New Year!!!
Whatever you do tonight be safe and have fun! :)
I can only hope that a year from now I will be looking back on a great half marathon race (and possibly other races too) as well as an awesome year of Oh She Glows blogging!
Thank you all again for your amazing support!!
I am due for some contest shipments very soon….it will be a great way to kick off the New year!
~~~~~~~~~~~~~~~~~~~~~~~~~~~~~~~~~~~~~~~~~~~~~~~~~~~~~~~~~~~~~~~~~~~~~~~~~~~~~~~~~~~~~~~~~~~~~~~~~~~~~~~~~~~~~~~~~~~~~~~~~~~~~~~~~~~~~~~~~~~~
Stay tuned tomorrow for my sister's first post on her path to getting her body back after two kids!!! We will follow her journey weekly! It is going to be great, super motivating, and relatable.
We will open the book.  Its pages are blank.  We are going to put words on them ourselves.  The book is called Opportunity and its first chapter is New Year's Day.  ~Edith Lovejoy Pierce