Good evening everyone!
I made the yummiest dinner tonight and I just had to share. :D
Oh She Glows' Wild Salmon Quinoa Salad
Ingredients:
1 can boneless, skinless salmon

2 cups veggies (I used frozen, but you can use fresh of course)

1 Tbsp. Italian or Balsamic Vinaigrette dressing

1/2 cup spaghetti sauce

Crushed fresh pepper

1 cup uncooked Quinoa

Toppings: Hummus, salsa, etc.
Serves: 3 (1 and 1/4 cup per serving)
Approx. 325 calories per serving
Directions:
1) Add 1 cup uncooked Quinoa to 1 1/4- 1 1/2 cup boiling water. Reduce heat and simmer on low for 12-14 mins until light and fluffy. Remove from heat and set aside. Simmer 2 cups of frozen veggies in 2 cups of water. Drain veggies.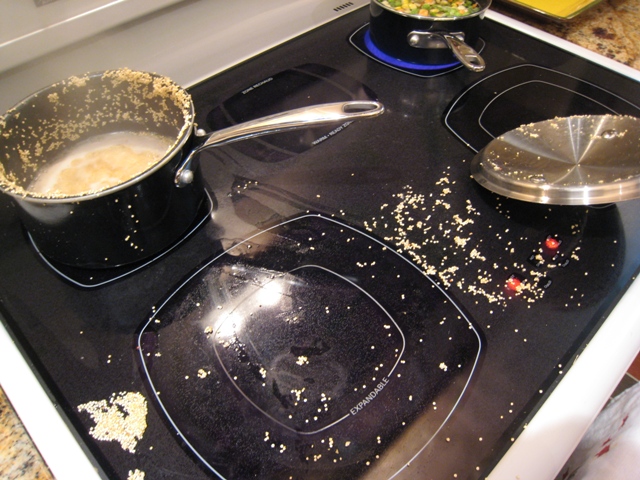 Do not do what I did, and forget the Quinoa and let it boil over! Quinoa is MESSY!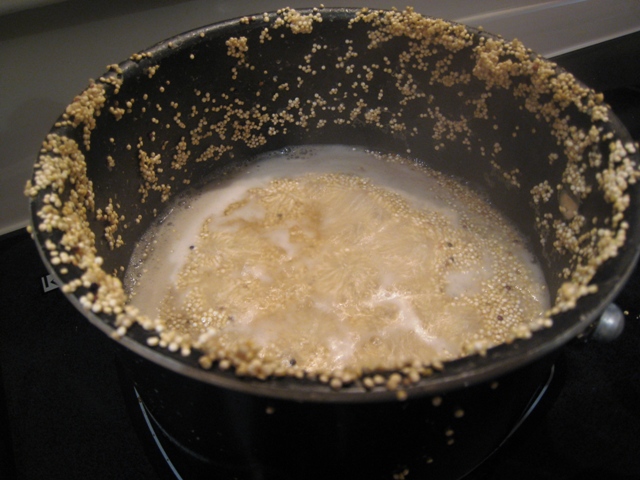 2. Add 1 can of salmon to casserole dish. Flake with fork.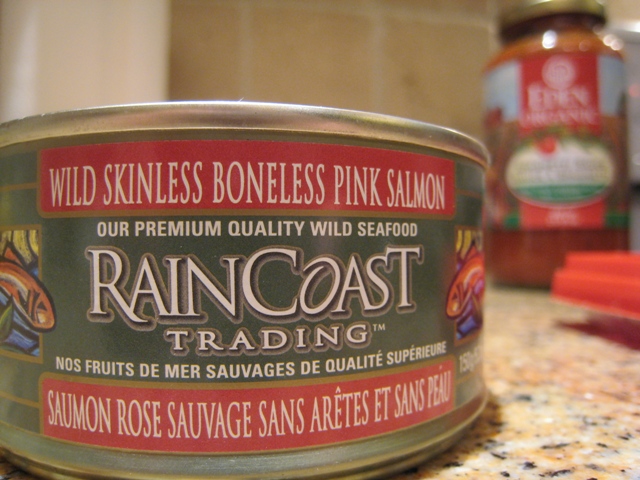 This is the best wild canned salmon that I have ever tried. It melts in your mouth.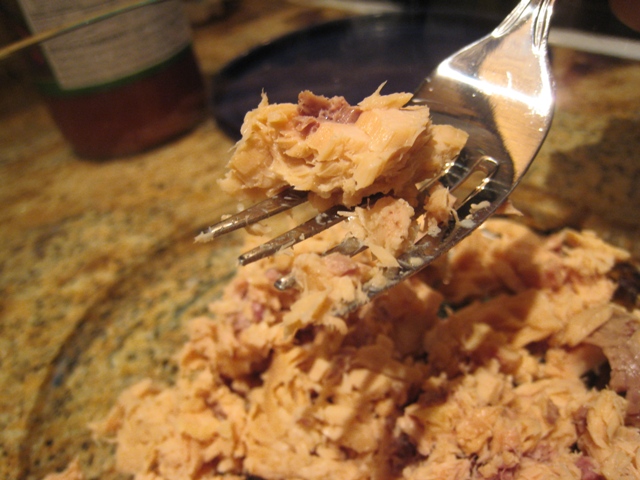 3) Add veggies to salmon and mix. Add 1-2 cloves of garlic. I used frozen garlic- it is the most amazing convenience I have found to date! 1 cube = 1 clove. Simple and easy and veeery healthy to add to meals.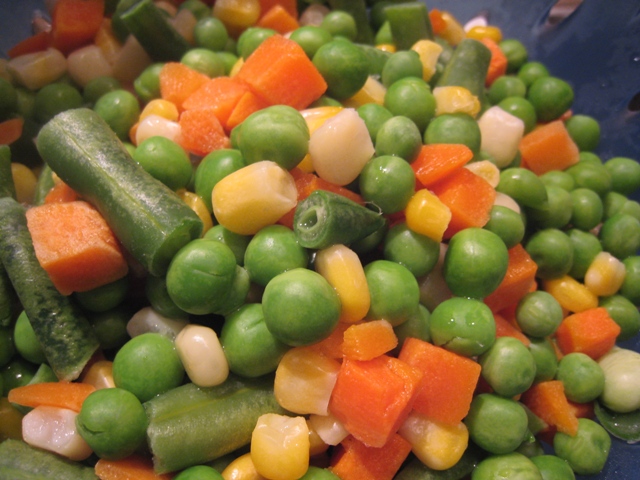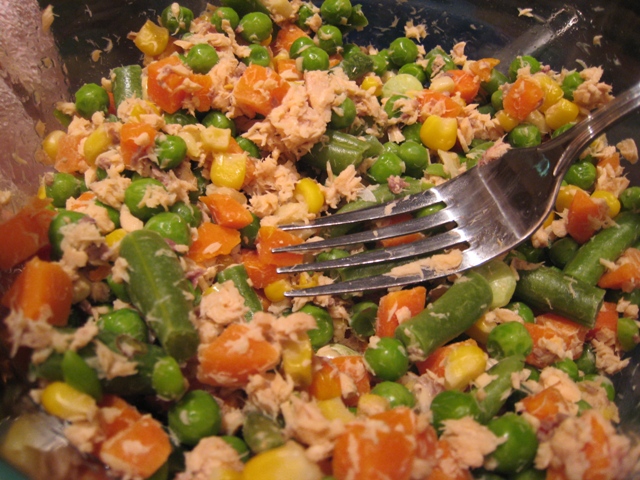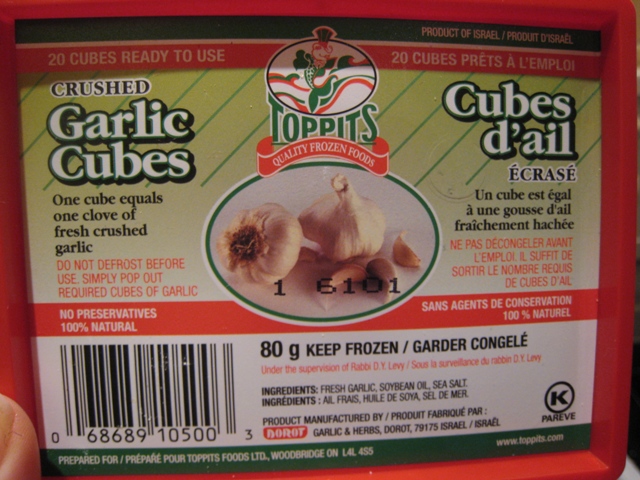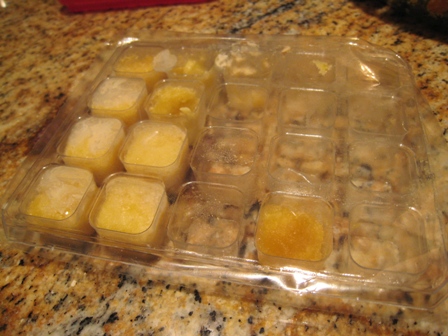 4) Add quinoa and mix in well.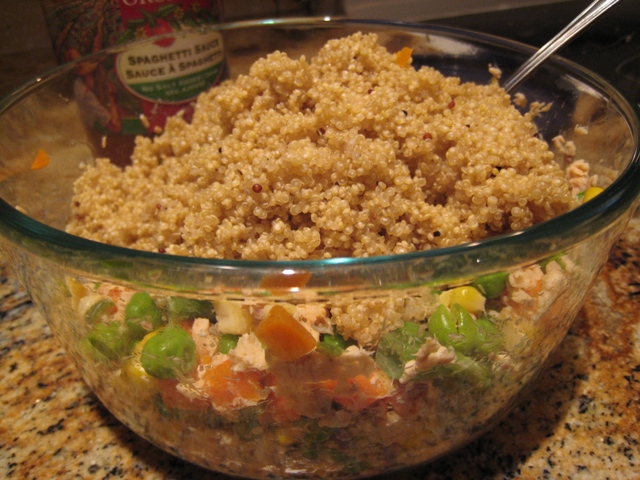 5) Add 1-2 Tbsps. of your favourite salad dressing. Mix well.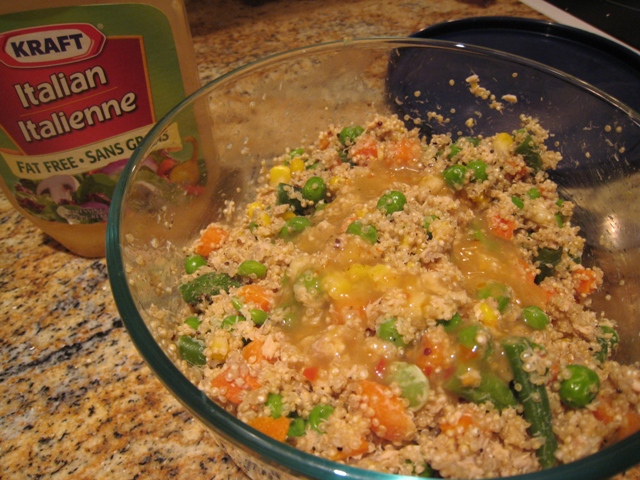 6) Add 1/2 cup of Spaghetti Sauce. Mix well.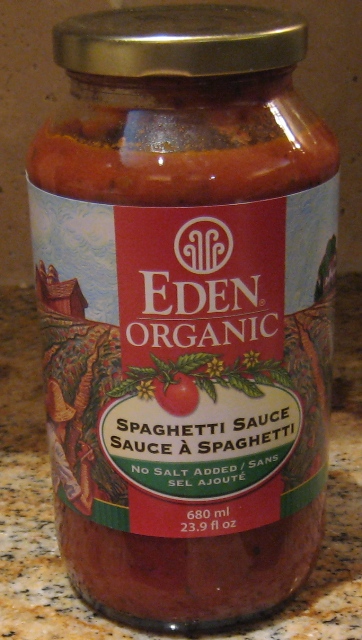 This Spaghetti Sauce is amazing because it has NO ADDED SALT: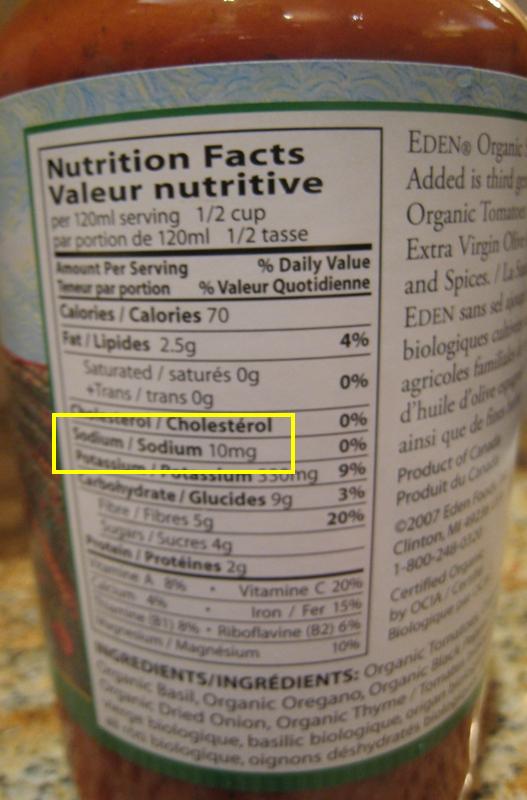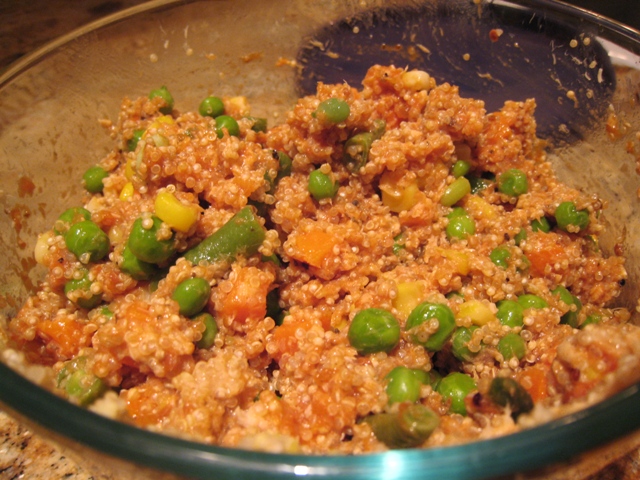 7) Garnish with a healthy serving of hummus (if desired):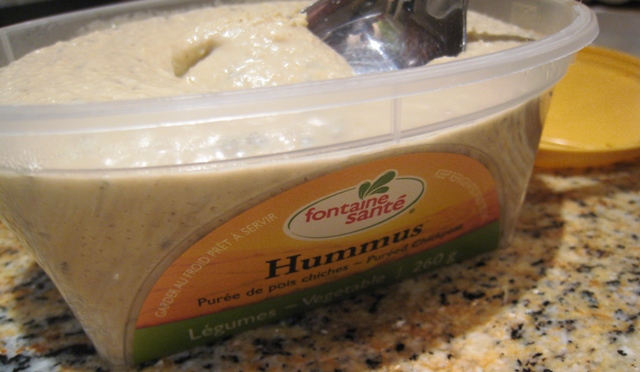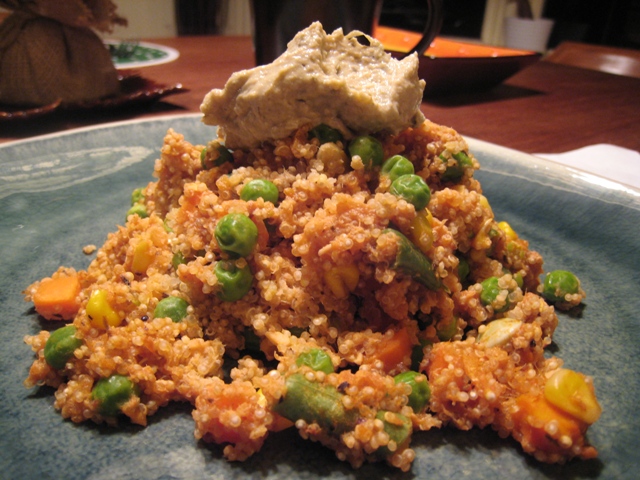 8) Serve with a tomato vinagrette salad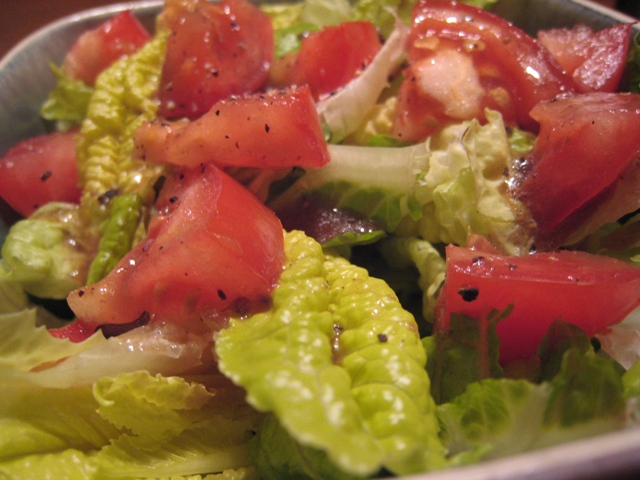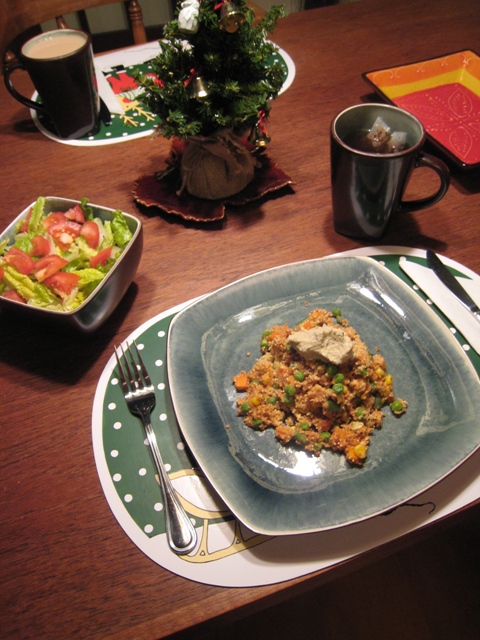 and Eat with your closest buddies…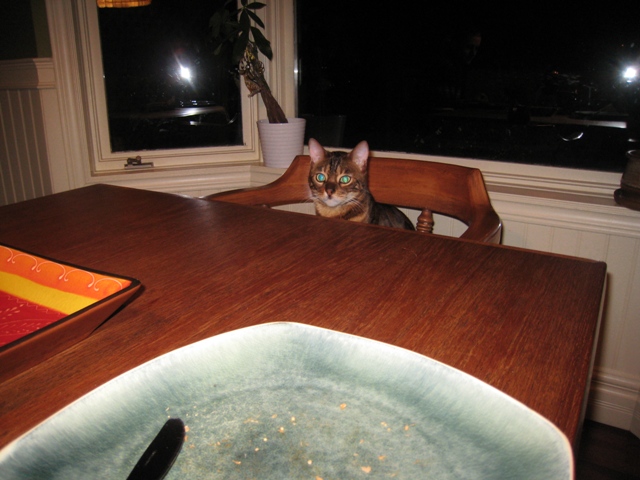 Sketchie wanted the salmon. I should never have let him lick the can. lol. I'm a softie I guess.
Eric's version with salsa instead of hummus: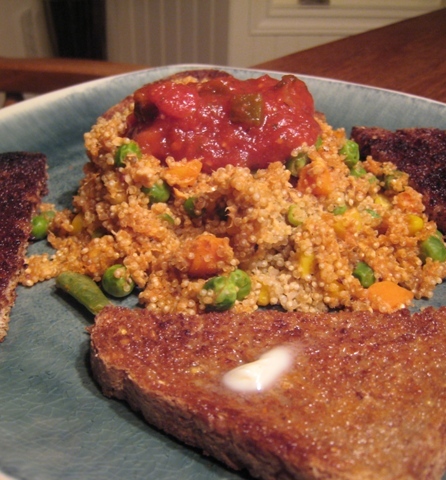 He has his 'manly' version beefed up with 2 pieces of Ezekiel bread and olive oil margarine.
It was a really satisfying dinner! Next time I will probably add some herbs and spices as it was a bit bland for my liking. The hummus really made it.
This dinner is jam-packed with health benefits:
Garlic is said to have anti-cancerous properties as well as cooked tomato (prevents prostate cancer) according to the great book 'Foods that Fight Cancer'by Richard Belliveau.
Omega-3 fatty acids (as found in the salmon) have anti-inflammatory and anti-cancerous properties as well.
Now if that isn't a reason to dig in, I don't know what is!
You could really get creative with this recipe, experimenting with different sauces to your liking and it would still come out fabulous.
~~~~~~~~~~~~~~~~~~~~~~~~~~~~~~~~~~~~~~~~~~~~~~~~~~~~~~~~~~~~~~~~~~~~~~~~~~~~~~~~~~~~~~~~~~~~~~~~~~~~~~~~~~~~~~~~~~~~~~~~~~~~~~~~~~~~~~~~~~~~
Well guys, I'm off to read Marathon: The Ultimate Training Guide, by Hal Hidgon!! Love this book.
I ordered Jillian Michaels' 30-Day Shred from Chapters.ca today. They have fast shipping so I should have it by Friday! Yippee. :D It will be great for my X-training days.
Only 2 work days left this week :D Wednesday and Friday…sounds good to me!
There is a 'Resolution 5k run' tomorrow at 5pm as put on by the Running Room in various cities across Canada. I really wanted to sign up for it and run, but I don't think I will be able to leave work that early and get there in time.
I may pack my gear and if I happen to be able to leave early then I just might boot it over there for the race. I guess I will play it by ear.
UPDATE: I just called for info and the race closed on Saturday!!! Geeze, haven't they ever heard of procrastinators?! lol.
See you tomorrow for a great workout recap, my marathon race charity ideas, and FAQ's.
~~~~~~~~~~~~~~~~~~~~~~~~~~~~~~~~~~~~~~~~~~~~~~~~~~~~~~~~~~~~~~~~~~~~~~~~~~~~~~~~~~~~~~~~~~~~~~~~~~~~~~~~~~~~~~~~~~~~~~~~~~~~~~~~~~~~~~~~~~~~
As this study notes below, you would fare even better by adding broccoli to the above meal:
"In a study that analyzed 252 cases of bladder cancers that developed in a population of 47,909 health professionals over a 10-year period, eating 5 or more weekly servings of cruciferous vegetables, particularly broccoli and cabbage, was associated with half the risk of developing this cancer as compared to those individuals consuming one or fewer servings of these vegetables. The same effect was found for breast cancer."[From "Foods that Fight Cancer" by Richard Belliveau, p. 83]