Good afternoon!
I am crusing along today and getting quite a bit accomplished. I couldn't decide what to do for my workout for the longest time today. I was just feeling lazy I guess!
That is, until I signed up for another race!
I signed up for the Toronto Women's Half Marathon and 5K race on May 31st, 2009. The half marathon is full, so I figured the next best thing is the 5km race. As you probably know, I will also be running a half marathon on May 10th, 2009 (Mother's Day). Lots to prepare for and look forward to!
So in spirit of all things races, I decided that some speed work would be a great workout today.
My speedwork:
0.25 mile (400 metre) walking warm up, 4.0 mph, incline 4%
Speedwork: 0.25 mile run, 8.5 mph, incline 4%
Interval: 0.25 mile walk, 4.0 mph, incline 4%
Speedwork: 0.25 mile run, 8.5 mph, incline 1%
Interval: 0.25 mile run, 6.0 mph, incline 1%
Speedwork: 0.25 mile run, 8.5 mph, incline 1%
I kept repeating the running speedwork of 8.5 mph and the interval of 6.0 mph until I had run a total of 4 miles
0.25 mile Walking cool down, 4.0 mph, incline 4%
Workout stats:
4 miles run, 0.75 mile walking: Total distance: 4.75 miles
Max heart rate: 171 bpm (88% of max)
Avg heart rate: 145 bpm (74% of max)
Feel the burn: 341 kcals
Duration: 44.31 mins.
I ran in the beautiful sunshine!! I actually felt warm from the sun beating down on me. :)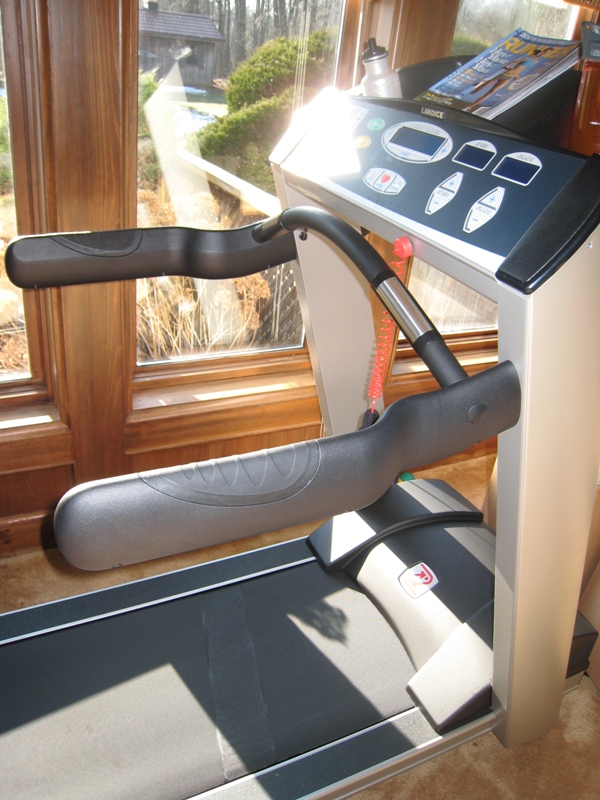 Sorry, no embarassing, sweaty video of me busting a run today! haha
~~~~~~~~~~~~~~~~~~~~~~~~~~~~~~~~~~~~~~~~~~~~~~~~~~~~~~~~~~~~~~~~~~~~~~~~~~~~~~~~~~~~~~~~~~~~~~~~~~~~~~~~~~~~~~~~~~~~~~~~~~~~~~~~~~~~~~~~~~~~
In spirit of the new year ahead, I have been thinking a lot about the past year and what I would like to change for the new year. And also, what I have accomplished.
Steps in the Right Direction in 2008:
I started focusing on the Right numbers:
I used to focus on the wrong numbers– calories, scale numbers, size numbers. But these numbers were a toxic thing in my life and caused me lots of stress. I got to the point where I couldn't go a day without adding up the calories of what I ate. I knew that I needed to break free from it and slowly over the past year I was able to break the habit. It was really difficult I will admit. And I had several relapses back into my old ways. What really helped me was focusing on other numbers that were more positive, such as setting weekly mileage goals for my half training or by focusing on nutrients in food rather than reducing food to a simple number. Food is so much more than how many calories, fat grams, and protein grams it has! Food represents our daily fuel and energy to live a better life.
I cringe when I used to think about when I would count calories for foods such as carrots and apples. I was taking the pleasure out of healthy eating and killing my passion. The best lesson I have learned this year is that there are so many more positive aspects of health to focus on.
You can be healthy AND be free of obsession.
Start each day by committing to yourself that you will not bring these negative influences into your life. Life is short. Have fun, get messy, and most of all never let a number tell you your worth.
For me, the best anti-depressant I can take each day is exercise and good wholesome food.
What was your best 'step in the right direction' of 2008?
~~~~~~~~~~~~~~~~~~~~~~~~~~~~~~~~~~~~~~~~~~~~~~~~~~~~~~~~~~~~~~~~~~~~~~~~~~~~~~~~~~~~~~~~~~~~~~~~~~~~~~~~~~~~~~~~~~~~~~~~~~~~
Ok peeps, I am just about to meet Eric in town and do a couple of errands! :) See you later tonight!
I am thinking of ordering Jillian Michaels: 30 Day Shred workout DVD. Does anyone know if it is good?
Tonight's agenda:
Dinner- to be decided
Hockey Game
Season Premiere of The City
Finish laundry
Pack lunch
Blog
~~~~~~~~~~~~~~~~~~~~~~~~~~~~~~~~~~~~~~~~~~~~~~~~~~~~~~~~~~~~~~~~~~~~~~~~~~~~~~~~~~~~~~~~~~~~~~~~~~~~~~~~~~~~~~~~~~~~~~~~~~~~~~~~~~~~~~~~~~~~
From 'Marathon: The Ultimate Training Guide" By Hal Higdon:
On Force: "My decision to run my first marathon was very deliberate. After I made the commitment, I discovered I was being guided by an inside force that I never knew existed. When things got tough, I tapped into this force. I know now I'll get through whatever lies in my path."
~Cindy Pepler, Seattle