Isn't it?
Good, whole, nutritious, wonderful food.
It's what I'd like to think is one human 'leveler' that we all can relate to. Everyone loves it, but does everyone experience what it is like to really eat great food? I'm not so sure.
Ever since I became aware of the food blogging world, I started to discover many awesome foods that I had never tried before…Spaghetti squash, butternut squash, old fashioned oatmeal, Quinoa, Tofurkey, Larabars, Spelt, Sprouted grain, Eggplant, Saffron….I could go on and on.
I owe a big thank you to the blogging community for allowing me to expand my palate and opening new wonderful doors of eating. I cringe when I think about the foods I used to eat in university.
Today was one of those days. A wonderful food day.
Everything I ate was delicious and satisfying. Not everything was healthy in the textbook sense, but I don't think it has to be all the time. That is the beauty of healthy eating, you eat well most of the time so when you do have some treats you appreciate them and have no guilt.
I think that is truly what they call balance.
~~~~~~~~~~~~~~~~~~~~~~~~~~~~~~~~~~~~~~~~~~~~~~~~~~~~~~~~~~~~~~~~~~~~~~~~~~~~~~~~~~~~~~~~~~~
This afternoon after I sauntered around the house and took my time getting ready (I put off blowdrying my hair until the last possibly minute when I am on vacation because it is not a 'fun' thing for me to do…it is work!).
This brings me to my first beauty product review: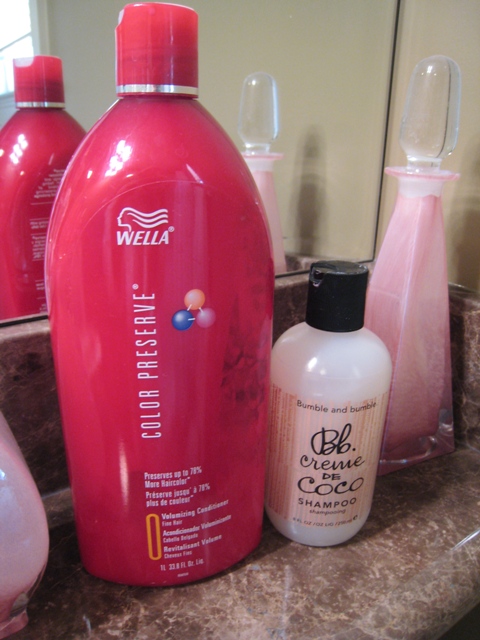 I used my mom's shampoo and conditioner (love using other people's fun products!):
1) Bumble and Bumble Creme de Coco Shampoo
2) Wella Color Preserve Volumizing Conditioner
The B&B Shampoo was fabulous!! It smelled absolutely amazing. It was the richest shampoo I've ever used and made my hair feel like silk. I wish Canada had a B&B….my mom had to get this from the states when she was visiting!!
I also liked the Wella Color Preserve conditioner although the scent was quite 'professional' smelling and had a strong chemical smell. It kind of put a damper on the wonderful B&B scent.
However when I got out of the shower and brushed my hair, I was amazed to find that I didn't need to use my leave in conditioner spray because the brush just slid like silk through my hair! Awesome.
~~~~~~~~~~~~~~~~~~~~~~~~~~~~~~~~~~~~~~~~~~~~~~~~~~~~~~~~~~~~~~~~~~~~~~~~~~~~~~~~~~~~~~~~~~~
I made a delicious dinner tonight with my mom:
Spaghetti Squash Spaghetti with turkey meatballs, leftover garlic bread, butternut squash (just me), and salad.
Have I said before that I love veggies??? :D
2 Spaghetti squash cut length-wise and placed in a roasting pan with water for 1 hour at 350 degrees: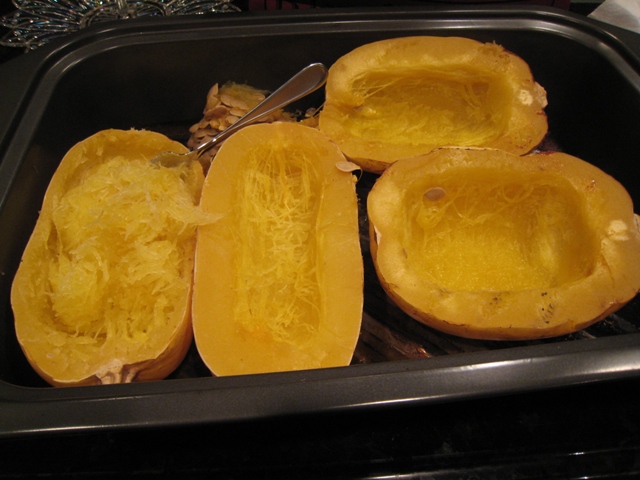 My plate: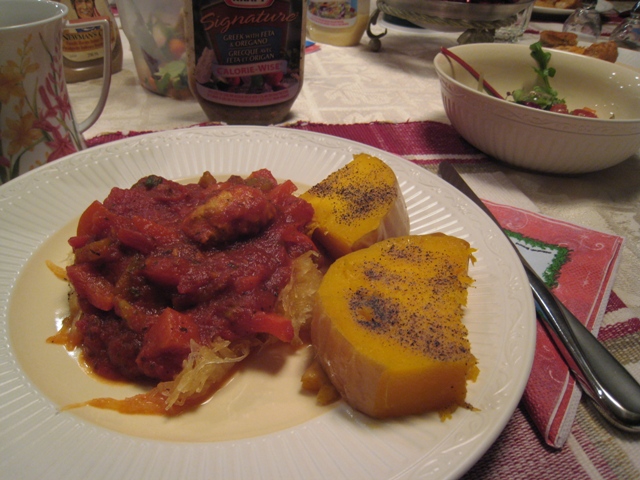 This dinner was sooo filling and perfect winter dish.
For dessert I had 4 Dark chocolate Ovations, 1 piece of Hershey Dark chocolate, a tiny 1″ piece of maple fudge, and half an icebox cookie. I also had a couple small bites of banana bread.
It could have been much worse let me tell you! lol.
After dinner I went to my 1 hour massage and it was fabulous!!! So relaxing. She worked my tense shoulders (I have been having pain in the left shoulder) and I feel a bit sore now, but I know that she really worked out the knots good. It was a great present! Thanks sis!!! :D
And now for our guest blogger kitty, Rudi featured once again..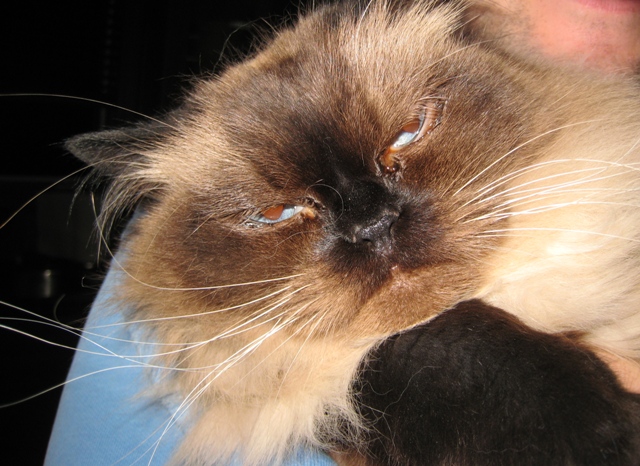 Have you ever seen a cuter face??? LOL…he looks so mad but he is the most gentle fur ball Ive ever seen.
~~~~~~~~~~~~~~~~~~~~~~~~~~~~~~~~~~~~~~~~~~~~~~~~~~~~~~~~~~~~~~~~~~~~~~~~~~~~~~~~~~~~~~~~~~~
Ok we are off to watch a Ironman (hahah it's like my 4th time watching it!!! I'm obsessed)
Stay tuned tomorrow for lots of awesome fun:
Gym report
My trip to the Organic Grocery market (!!!!) and all the loot I brought home
Lunchat an authentically French gourmet bakery/cafe famous for their crepes, waffles, and paninis
More Beauty Product reviews
PURE HOLIDAY FUN. 'nough said. :D
~~~~~~~~~~~~~~~~~~~~~~~~~~~~~~~~~~~~~~~~~~~~~~~~~~~~~~~~~~~~~~~~~~~~~~~~~~~~~~~~~~~~~~~~~~~
Success is the ability to go from failure to failure without losing your enthusiasm.
Winston Churchill