If you've ever run 6+ miles, you know what it is. The insatiable hunger that never seems to go away!
For lunch I did some volume eating, to try and fill the void in my stomach: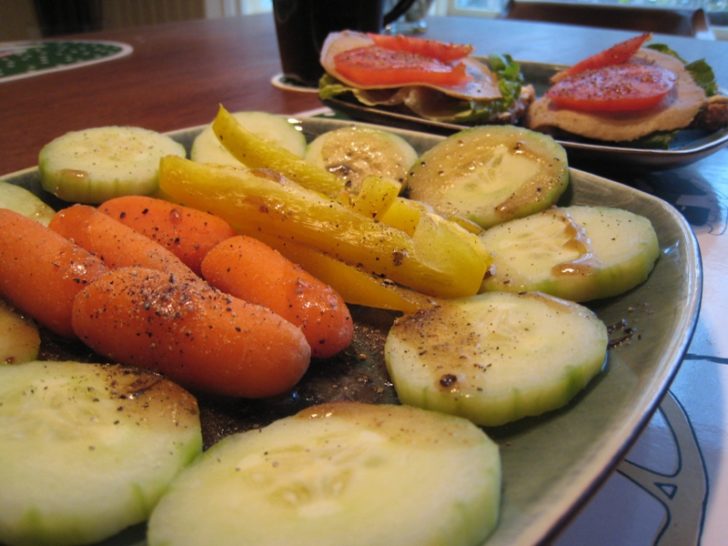 I had some leftover veggies from the huge veggie platter that I made for my office X-mas Party. I drizzled them in balsamic vinagrette and I crushed fresh pepper on them. So delicious.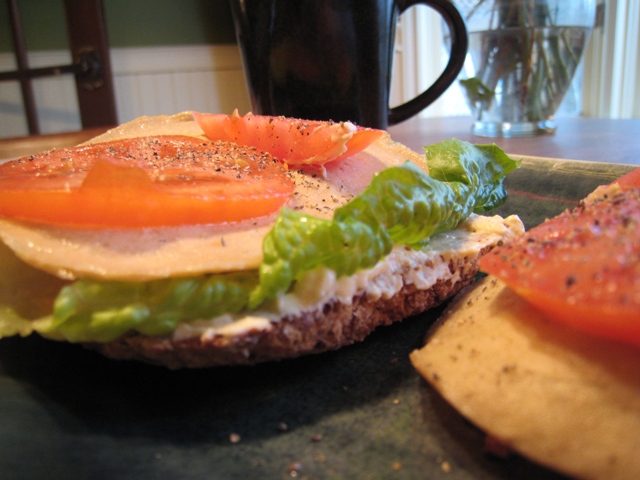 I had a veggie-side-up, toasted Sprouted-grain 'wich, smothered in hummus, a romaine leaf, Tofurkey slices for added protein, sliced tomato, and fresh crushed pepper (of course!)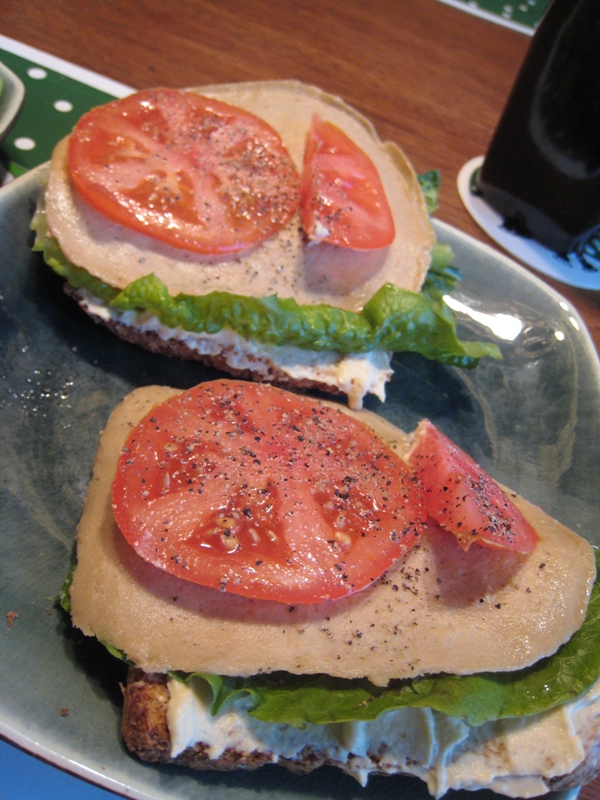 The spread: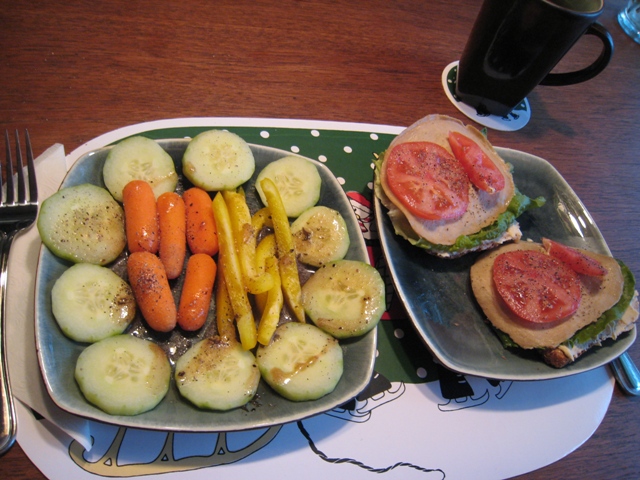 I also had Mary's Organic Crackers with hummus (not shown). Then, only 1 hour later I was hungry again and had a Pistachio Larabar(sooooo good- I need to try to replicate these!!)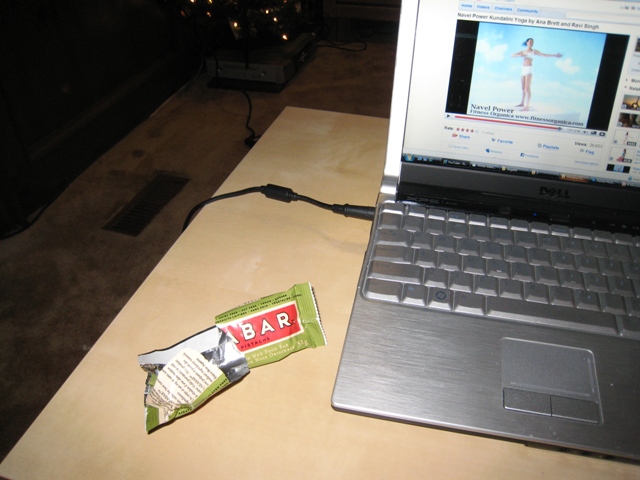 It was so yummy I forgot to photograph it! I was browsing You Tube for some Yoga Videos….
Which leads me on my mini rant today:
Are there any Yoga DVD's that aren't weird?
One of my biggest turn offs from workout DVDs is when the instructor sounds and looks like he/she just stepped off a space ship. LOL.  :D
I looked up Amazon's top rated Yoga DVD's and the first gazillion were by Ana Brett and Ravi Singh. Has anyone tried their DVD's? I watched a preview on You Tube and it seemed so New Age to me. I'm just not into that!
I would love to add Yoga to my routine though- so I am calling out to all Yoga buffs to recommend some great (and relatable) yoga DVD's! I signed up at Yogadownload.com for some free DVD's, but then when I clicked on the FREE Yoga class, they were suddenly asking me for my credit card info! What the heck!???
~~~~~~~~~~~~~~~~~~~~~~~~~~~~~~~~~~~~~~~~~~~~~~~~~~~~~~~~~~~~~~~~~~~~~~~~~~~~~~~~
Windows Live Writer Troubles
So I investigated my Windows Live Writer toubles with Kath, and I figured out that the reason it was formatting poorly was because it hadn't detected my blog theme.
Seems simple… right?
Well, I tried to re-run it and have it detect my theme, but it said that it can't download my theme and it failed! Does anyone know why this might have happened? I'm worried that my blog theme just isn't compatible for some reason!
~~~~~~~~~~~~~~~~~~~~~~~~~~~~~~~~~~~~~~~~~~~~~~~~~~~~~~~~~~~~~~~~~~~~~~~~~~~~~~~~~~~~~~~~~~
Eric did some more Christmas decorating….some of which almost made me pee my pants when I saw it: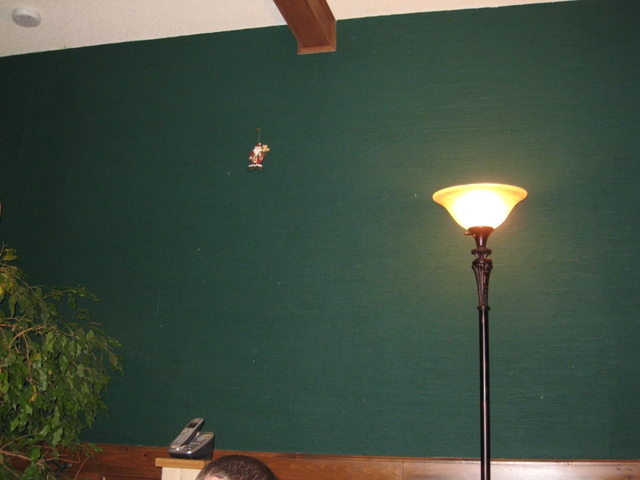 No, that's not a fly on the wall, that's Santa Claus!!!! lol. Eric sees a hook and something must be placed on it I guess. There is also a random hanging santa in our office…
In more productive Christmas news, I finally finished writing all my Christmas cards and then we went to the post office to ship all the gifts and cards out! It feels so good to have that done. It occured to me in the 30 min. line-up that Christmas is NEXT WEEK!! Is it just me or did this creep up really quick on us this year?
Eric and I leave for out West on Saturday! I am really excited to see my family. :) Some things I am looking forward to:
Blog tutorial day with my mom and sis (I am going to show them how to start a blog!)
Christmas gift massage from my sis (the lady is coming to my mom's house to set up the table to boot!)
Working out with my sis at the gym (she's taking me to her facility- it has classes, 2 ice rinks, pool, etc!)
A day in the Mountains (sight-seeing, shops, great restaurants)
Possibly snowboarding with Eric
Baking my famous Pumpkin Pie and possibly Homemade Larabars
Christmas dinner with the family
Staying at my mom and stepdad's house (it's a gorgeous ranch- feels like a hotel!)
Seeing my nephews open gifts on Christmas morning :D
So excited!
~~~~~~~~~~~~~~~~~~~~~~~~~~~~~~~~~~~~~~~~~~~~~~~~~~~~~~~~~~~~~~~~~~~~~~~~~~~~~~~~
Making the Half-Marathon Meaningful:
I am also trying to decide what charity I am going to run for for my half-marathon. We recently had a dear family friend pass away from cancer, so I will likely to running for one of the Canadian Cancer organizations. I just need to do a bit more research on them before I decide for sure.
I will be putting a link on the site for anyone who would like to make a donation, over a secure charity website, for my half marathon race.
Well, my 6-mile hunger says it is time to start thinking about cooking dinner! :D
See you later for another installment of my Road to Health!!!! It was rated #1 on the polls for what readers want to see on the blog….so hopefully I won't disappoint! lol. I guess I better figure out what I am going to say! :D
~~~~~~~~~~~~~~~~~~~~~~~~~~~~~~~~~~~~~~~~~~~~~~~~~~~~~~~~~~~~~~~~~~~~~~~~~~~~~~~~
"Never doubt that a small group of thoughtful committed citizens can change the world. Indeed, it is the only thing that ever has." —Margaret Mead