Good evening everyone!
My day was going along swimmingly until I left my office party around 3:30pm. I walked back to my car to find a $30 parking ticket, then it took me 2 hours to commute home! Here I was thinking that I was leaving early and *beating* the traffic. No such thing in Toronto apparently. Argh.
Then I was disappointed to find out that our new washer and dryer wasn't hooked up because we need a new tube and bracket. Luckily my dear, sweet husband is going to get that for me tonight so I can get started on the massive pile of laundry that has been accumulating for the past 2+ weeks! I am happy to just have clean clothes to wear again! lol.
*deep breath*- afterall, it is FRIDAY night– my most favourite of all nights! :D
I think I need to get a good audio book for my commute to and from work to make it less frustrating– does anyone have any good suggestions? Maybe health related? I wonder if they have any marathon-type books in audio book format!?
~~~~~~~~~~~~~~~~~~~~~~~~~~~~~~~~~~~~~~~~~~~~~~~~~~~~~~~~~~~~~~~~~~~~~~~~~~~~~~~~~~~~~~~~~~~~~~~~~~~~~~~~~~~~~~~~~~~~~~~~~~~~~~~~~~~~~~~~~~~~~~
Ok time for the re-cap of the OSG reader poll from the other day! I am going to highlight key findings: (Oh Gawd, I'm such a researcher!)
1. Gender: 100% Females– lol, not too surprising! No men out there?
2. Age: 86% are between 19-30
3. Occupation: The majority work full time at 58%
4. The majority of readers (43%) visit Oh She Glows a couple of times a day
5. Why do readers visit Oh She Glows? 60% say "for everything how could I choose!?" (Flattery will go a looong way!) :D
6. Readers health goals: Improve fitness (26%), prep for race (8%), Weight loss (42%), Eating better (15%), etc
7. Favourite junk food (oh man, we ARE women!): C-h-o-c-o-l-a-t-e with 37%. Pizza and Ice Cream were close seconds.
8. 56% have one or more pets
9. Do you have kids? 9% say yes!
10. Married? 32%; Long Term partner? 37%, Single? 24%, and casually dating? 5%
11. The majority of readers want to see more Fitness related posts (workouts, research, etc) at 28% and my Journey to Health story at 22%
12. What time of day do you workout? 30% say first thing, 15% mid-day, 18% afternoon, and 37% night
13. When do you get up during the weekdays? 18% before 6am, 38% 6-7am, 33% 7-8am, 11% 8am or later
14. How many days a week do you workout? 1-2 days (16%), 3-4 days (39%), 5-6 days (39%), 7 days (6%)
15. Where do you workout? Home/outdoors (36%), gym facility (64%)
16. Do you have a New Year's Resolution? 41% say yes!
My answers:
I work full-time (although I was a FT student and PT teaching assistant/researchers for many, many years. I also worked about 20-25 hours a week during a couple years in university- I like money!)
I visit Oh She Glows– 86 times a day- what I like it! :D hehehe
My current big health goal: Training for a half marathon race
Fav. Junk food: Candy!! I am one of the few I guess! Sweet tooth :)
Pets? I think that is obvious with crazy Sketchie!
Kids? Nope, except for my husband. ;)
I'm married (for about 3 months!) but we've been together over 8 years.
What I'd like to see more of on Oh She Glows– contest giveaways! And yes, I am working on it! :D (Sorry I know it wasn't an actual option!)
I workout first thing in the morning (Or I would never workout later in the day!)
I get up between 6-7am during the weekdays
I workout 6 days a week (and pretty much have for the past 8 years or so, give or take a few slump periods)
I workout at home now that I have a treadmill, but I used to workout at a gym for the past several years
Yes I have a NY's Resolution: Organizing the disaster that is my recipe collection!!!!
That was fun- thanks for participating!
if you haven't already- the polls are still open!
~~~~~~~~~~~~~~~~~~~~~~~~~~~~~~~~~~~~~~~~~~~~~~~~~~~~~~~~~~~~~~~~~~~~~~~~~~~~~~~~~~~~~~~~~~~~~~~~~~~~~~~~~~~~~~~~~~~~~~~~~~~~~~~~~~~~~~~~~~~~~
Isn't this a funny picture of Sketchie???? lol…what a 'lady like' pose! hahah. Ok he's all male, but still! :D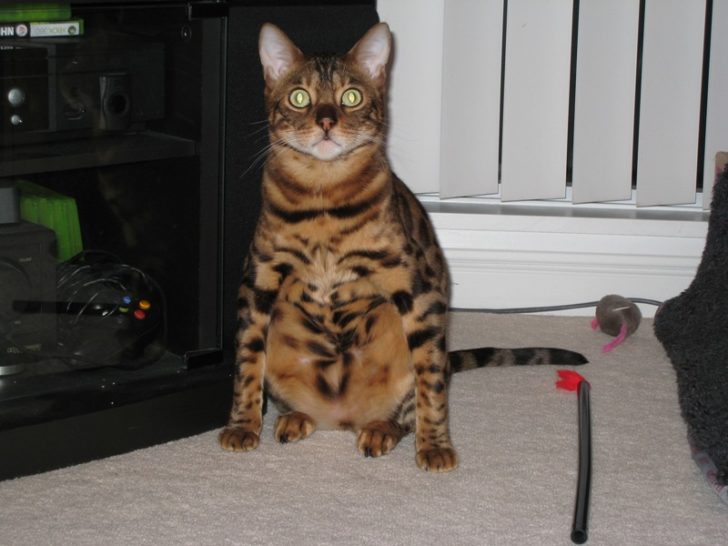 Eric and I think he's sitting like a bull dog here! haha
~~~~~~~~~~~~~~~~~~~~~~~~~~~~~~~~~~~~~~~~~~~~~~~~~~~~~~~~~~~~~~~~~~~~~~~~~~~~~~~~~~~~~~~~~~~~~~~~~~~~~~~~~~~~~~~~~~~~~~~~~~~~~~~~~~~~~~~~~~~~~
See you later for some great weekend fun!!! :D
"Some people create with words, or with music, or with a brush and paints. I like to make something beautiful when I run. I like to make people stop and say, "I've never seen anyone run like that before." It's more then just a race, it's a style. It's doing something better then anyone else. It's being creative." ~Unknown