It is absolutely freezing here today!
I didn't even realize how much the temperature dropped until I looked at the outdoor thermometer at lunchtime.
It was –11C/12F most of today and now it is -13C/8.5F and dropping!!! Brrrr.
However, we've had a beautiful blue sky all day….the one thing I love about Canadian winters is the sunny skys we have in the wintertime. Eric and I saw a beautiful sunset yesterday too.
~~~~~~~~~~~~~~~~~~~~~~~~~~~~~~~~~~~~~~~~~~~~~~~~~~~~~~~~~~~~~~~~~~~~~~~~~~~~~~~~~~~~~~~~~~~~~~~~~~~~~~~~~~~~~~~~~~~~~~~~~~~~~~~~~~~~~~~~~~~~~~
Since I have started training for the half-marathon I have had to increase my food intake in order to maintain energy levels and allow my body to repair itself.
Many people are afraid to eat more in fear that they will gain weight, however if you are training intensely, you owe it to your body to fuel it accordingly.
What kinds of foods are good to add to your diet when training?
Here is what has been working for me:
Nuts, nuts, and more nuts (Almonds, cashews, pecans, walnuts, etc)
Seeds, seeds, and more seeds (Flax seeds, seseme, etc)
Lentils and beans
One of my favourite snacks is a huge apple smothered with Almond butter: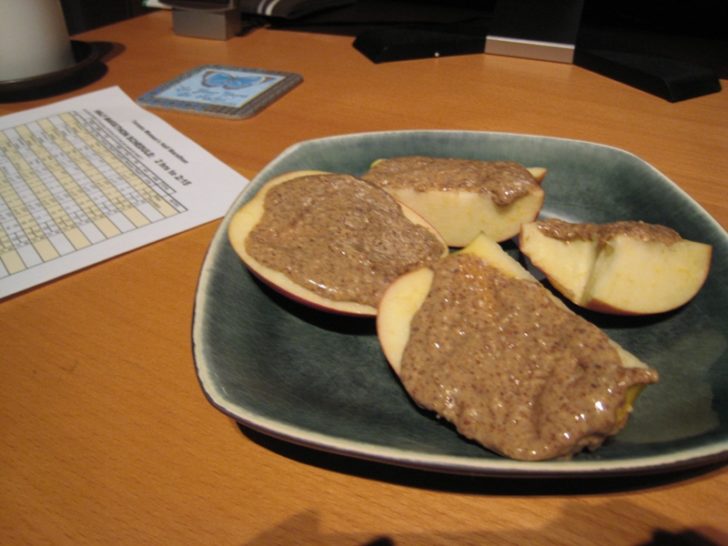 I had this today shortly after my lunch as I was still hungry! My body feels like an efficient fuel-burning machine when I am working out a lot.
People ask me what is the best thing they can do to help shed pounds. Exercise is definitely tied for 1st place (along with healthy eating) in my mind.
The beauty of exercise is that it allows you to be able to eat more food, thus feeling more satisfied mentally and physically. Many people are surprised to see how much food I eat over the course of a day. In fact, I eat bigger lunches and more snacks that my own husband who is 6'2″!
A case example: I have a friend who is overweight and only eats 1 Muffin while at work all day long. I open up my lunch bag and it is bursting to the rim with all kinds of foods.
Thsi is a great example of volume eating.
Do you want 1 muffin for 600 calories or a huge lunch filled with healthy foods?
I also can spread out my lunch spread over the course of the day and prevent blood sugar crashes.
Foods that tend to be in my lunch everyday:
Nuts
Eziekel Bread
Guacomole, Tofurkey
Veggies (carrots, peppers, etc)
Larabars
Apples
Spelt cereal
etc…
For 600 calories you could eat all of this:
1 Larabar
2 slices of Eziekel bread + 1 Tbsp Guacomole + 1 slice Tofurkey
Apple
Serving of baby carrots
1/2 cup Spelt cereal
Not too shabby compared to 1 measley muffin!
~~~~~~~~~~~~~~~~~~~~~~~~~~~~~~~~~~~~~~~~~~~~~~~~~~~~~~~~~~~~~~~~~~~~~~~~~~~~~~~~~~~~~~~~~~~~~~~~~~~~~~~~~~~~~~~~~~~~~~~~~~~~~~~~~~~~~~~~~~~~
Enthusiasm is the electricity of life. How do you get it? You act enthusiastic until you make it a habit.
~Gordon Parks