Good evening everyone!
I fully intended to start this post with Celebrity Beauty Secrets, but I had to listen to my heart and vent for a few lines (paragraphs) first. Please bear with me…
Boy, did I have one of those days at work. Everything was going wrong at work and I was in tears today it got so bad. I was pulled in a million directions at once and no matter what I did, no one was happy with me.
I feel like I am in an abusive relationship.
Something has gotta give…
It got me thinking a lot about my tendency (and many others I know in life) to sacrifice my own happiness for the sake of something else- like a steady income. I know so many people who stay in jobs where they are unhappy for years because they are afraid to leave something secure. It is really a horrible way to live.
Many people in my life know that I have passions outside of what I am currently doing (baking/cooking, health/fitness, etc), and I am trying to pursue this with my blog, but it is really tough when 12 hours of your day is devoted toward something that makes you in tears and mentally and emotionally drained at the end of the day.
Some days I come home and I have nothing left to give to the people who matter the most to me in life.
I have no energy to give to Eric, to pick up the phone and call a loved one, or to look forward to the next day. All I feel like doing after a day like today is lying down on the couch in a foul mood.
The big question is- why do I put up with something that makes me unhappy? Why do we as humans accept a crappy job and then dedicate half of our days to it?
I am able to appreciate the opportunities it has given me- like co-authoring a book chapter- however, symbols of success in my field (i.e., publications, conference presentations, etc) are merely fluff, much like the degrees and thesis that sit on my bookshelf.
These symbols of success represent the blood and sweat of what I do each day (research).
However, symbols of success are merely that- a status symbol of something you think will make you happy once it's there, but they really don't.
What matters is that you are happy with who you work with and what you are doing. That you have people who support you and are a positive influence on your career. This is the good stuff, and I think without it we will never be truly happy in our jobs.
We need to feel like what we are doing is consistent with our personal goals and aspirations and that our efforts are truly recognized and appreciated.
We've all heard the stories on Oprah about women who have a mid-life crisis and finally decide, at 50, to pursue their life long dream. They claim that they worked in the same miserable job for 30 years, and damnit, they are sick of putting everyone else before them. Women do it in their relationships to. I admire anyone who can do it, because it is scary as hell to think of leaving security in today's uncertain world.
Many people in my life know that one of my dreams is to open a bakery.
Will it ever happen?
I wish I could say for certain that it will. There is so much uncertainty with the market and the recession right now, how could I ever leave a secure job where I am making good money? Sure, I've seen the stories of women who quit their job and went back to school or opened their own business to achieve the greatest success of their lives, but what about the ones who quit and then can't find a job and have trouble making ends meet?
These are all the things that I think about.
I am not a pessimist by any means, although this post may come across that way. I am actually a realist. I think about all sides to something before I make a decision. I have never been an impulsive individual who throws caution to the wind and follows her heart, although I often wish I was.
So what has to give before someone stops accepting a negative influence in their life?
When is the breaking point determined?
How unhappy in a job (or situation) does one have to be before they say enough is enough?
Obviously it varies by the person. I often worry that if I left a secure job that others would look down upon me for being a quitter or shake their head and say to themselves, Many people can't even find a job and you quit a good one. How could you?
Yes, the need to please is still something that is very much ingrained in me, and is something I hear slowly dies as we mature into wise and experienced women. I am looking forward to that.
Have you ever been in a job or situation that you were unhappy with but felt that you couldn't get out? What prompted you to stay and what prompted you to finally change your situation?
Being someone that is so concerned about well-being, health, and fitness, it still eludes me why I would put up with anything that clearly contradicts these goals
~~~~~~~~~~~~~~~~~~~~~~~~~~~~~~~~~~~~~~~~~~~~~~~~~~~~~~~~~~~~~~~~~~~~~~~~~~~~~~~~~~~~~~~~~~~~~~~~~~~~~~~~~~~~~~~~~~~~~~~~~~~~~~~~~~~~~~~~~~~~
More later tonight on Celebrity Beauty Secrets….I promise….
And to end on a happier note….I present my silly, fun, and goofy side (Eric too):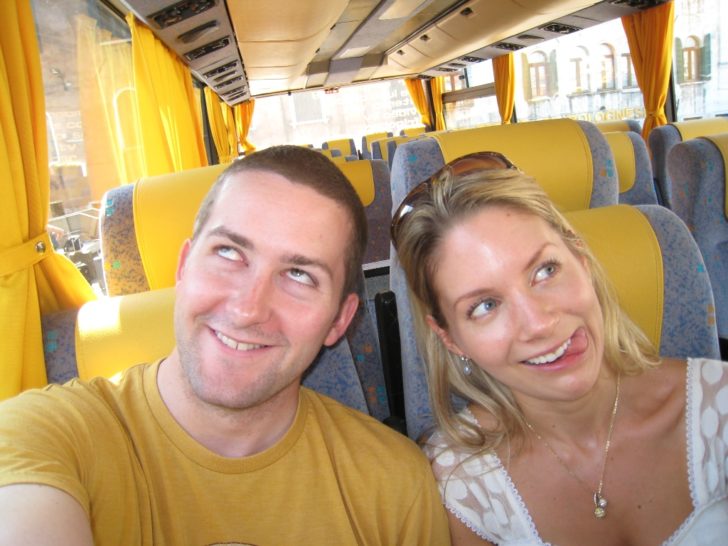 And this fabulous quote that makes a lot of sense to me….
The question for each man to settle is not what he would do if he had means, time, influence and educational advantages; the question is what he will do with the things he has. The moment a young man ceases to dream or to bemoan his lack of opportunities and resolutely looks his conditions in the face, and resolves to change them, he lays the corner-stone of a solid and honorable success.
Hamilton Wright Mabie