Moving and all through the house
Not a thing was left behind…
not even the mouse!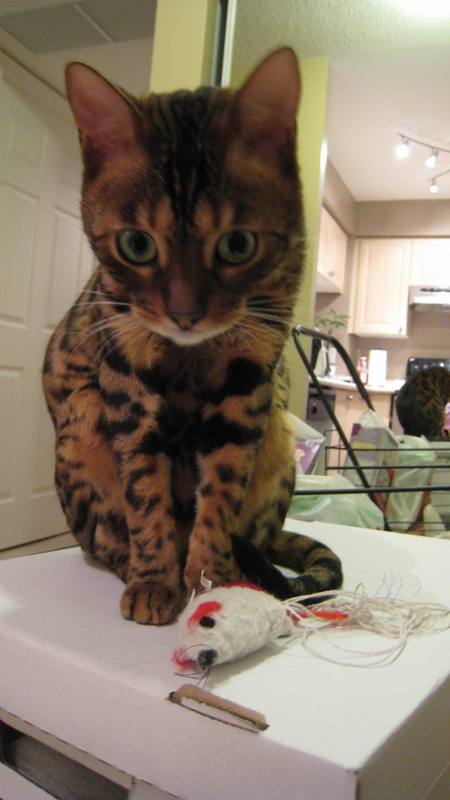 Sketchie and his mouse, sitting on a box by the front door!
Hi everyone! TGIF!!! Work was really busy today and I was so glad to be done. I am super excited about my 3-day weekend– I took Monday off as a vacation day so that Eric and I would have time to unpack and get settled!
I am just taking a quick break from packing right now! Moving is hard work! :D It's all good though! We are really excited to be moving out of Toronto and into a small town. Many people think we are crazy for wanting to move out of Toronto, but we just can't take the rat race any longer!
~~~~~~~~~~~~~~~~~~~~~~~~~~~~~~~~~~~~~~~~~~~~~~~~~~~~~~~~~~~~~~~~~~~~~~~~~~~~~~~~~~~~~
I got a lovely email from my mom tonight (Hi mom!)
We are going out West to visit my family for Christmas and I am soooo excited about it. My mom emailed me today explaining her excitement too:
Hi Ange,

Oh great, I can't wait to get the tutorial. I am really excited about it, and I have been thinking about my concept for my blog all afternoon. (I am trying to get my sister and mom to start blogs of their own!!!)

I went grocery shopping and picked up a jar of MaraNara almond paste — hope I read that correctly on your blog early this morning. I can't wait to try it when you come. I won't open it until then!

I am getting so excited about everyone being here for Christmas. I must ask your sister if she has a copy of Christmas Vacation that we can all watch together on Christmas Eve. I also picked up two cans of Pure Pumpkin (no spices added) today. I can hardly wait to try your pumpkin pie!

Well I must sign off. We were out most of today doing grocery shopping. I go to the Farmer's Market every Friday and pick up fresh veggies and fruit which is so much better then what you find at the local grocery store. I am thinking of trying a certified organic turkey for Christmas this year.

Hope the packing is almost finished.

Love,
Mom
How sweet is my mom??? :D Awww I miss her so much! I am trying to get my mom and sister to start their own blogs as a way that we can stay connected and in touch! I figure technology has advanced so much lately, why not use it to benefit and enrich our lives??
I am making my Pumpkin Pie recipe for Christmas this year. I made it for Eric's family but not my own family yet so now they can be the judge! I will of course be posting pictures of it!
Only about 21 days or so until we are off out West! I can't wait to see my family- especially my two sweet nephews! I miss them so much!
~~~~~~~~~~~~~~~~~~~~~~~~~~~~~~~~~~~~~~~~~~~~~~~~~~~~~~~~~~~~~~~~~~~~~~~~~~~~~~~~~~~~~
Tonight Eric and I went grocery shopping to pick up some food for the new house. I picked up ingredients for a special dinner that I am making everyone tomorrow night! We are going to have an informal housewarming after we are moved in (just me, Eric, and the guy friends that are helping us move in). I haven't made this recipe yet but I think it will be amazing. Stay tuned!!
Oh and guess what were on sale? LARABARS!
Can you believe that my first Larabar ever was tonight???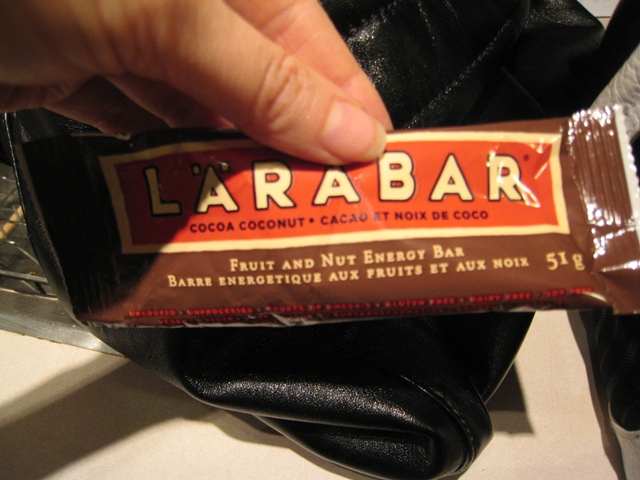 I had the 'cocoa coconut' kind and it was soooooo utterly delicious! I now know why people go 'nuts' over these bars!
The breakdown: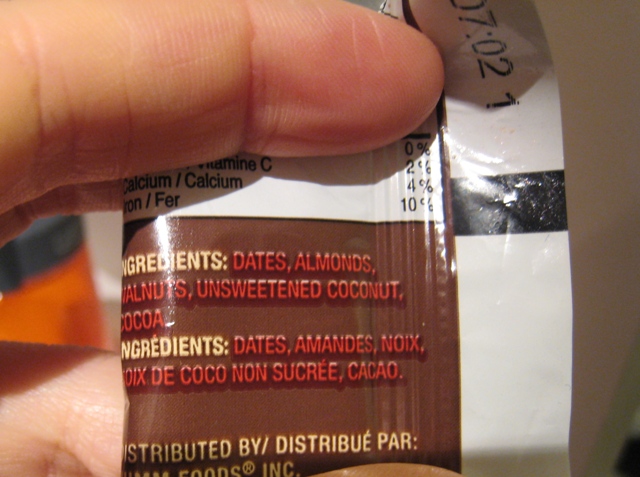 That's right folks, Larabars are 100% natural ingredients!
It only has 5 ingredients: Dates, almonds, walnuts, unsweetened coconut, and cocoa! It tasted incredible.
And get this- it has a whopping 5 grams of filling fibre and 5 grams of protein, as well as 13 grams of HEALTHY fats (from the nuts)! A true nutirition powerhouse indeed.
I also got two other flavours to be featured this weekend….. :)
If you haven't tried these bars I strongly suggest that you do!
Still aren't convinced? Larabars are uncooked, unprocessed, gluten free, dairy free, soy free, and vegan! WOW!
~~~~~~~~~~~~~~~~~~~~~~~~~~~~~~~~~~~~~~~~~~~~~~~~~~~~~~~~~~~~~~~~~~~~~~~~~~~~~~~~~~~~~
Well, I should really get back to packing unfortunately!
Not sure what time I will be blogging tomorrow, but I will certainly do my best to get a post or two up.
I am glad to hear that I have so many Office fans on this blog- it is the one show that Eric and I L-O-V-E!!
It is soooo funny when Michael makes fun of Toby so much. Oh my gosh I can't get over that show sometimes.
haha ok…so I search for 'motivational posters' on Google Images, and I cannot find a serious entry. So I present to you…..
 

I'm serious, go Google motivational posters in google images- its quite a hoot! :D

Hope you have a Friday night filled with inner peace, love, and FUN!