Good afternoon! I hope you are having a fit, healthy, rocking Thursday!
Here is Installment 3 of the FAQ's! I love all your questions, keep 'em coming!
Missed these?
Installment 1 of FAQ's
Installment 2 of FAQ's
18. Charlie Hills asks, "Have you tried the Turkish Delight yet?"
Not yet! This weekend I will crack it open. Stay tuned… ;)
19. Leah asks, "Do you have a pre-workout snack?"
When I get up to workout before work, I get dressed, brush my teeth, put on deodorant, and I am in the gym in 10 mins. or so. I often am not hungry when I first wake up, so I don't find I need anything until I get home. Some days (like today) I probably could have benefited from something small before my workout (like nut butter and bread) to boost my energy. I recommend that you listen to your body. If you feel like your butt is dragging in your workouts, then your glycogen stores are probably depleted and your body probably needs some get-up-and-go! I have a snack usually a couple hours before bed (that is mostly carbs, for example, Cereal with Almond Milk) so my glycogen stores are probably fine for my morning workout. If you don't have anything since dinner time, then you will probably wake up feeling much hungrier in the morning.
20. Jenn asks, "Are you a vegetarian?"
I knew this one was coming! :D I have been a vegetarian in the past when I was an undergrad in university for a year or so. Then, Eric somehow convinced me to eat some chicken and then I started eating meat again. However, in the past year I have pretty much stopped eating meat, except for the occasional chicken or what have you when I am eating at someone's house for dinner or out to eat. My reasons for not eating meat are the following: 1) I don't really like the taste of it anymore. Since I have started to eat all kinds of health food, vegetables, whole grains, etc…my palate is no longer pleased with the taste of meat. I much prefer having a plate full of veggies than a piece of chicken or beef on my plate. 2) I have read some very disturbing articles and research on the inhumane way animals in slaughter-houses are treated.  I recognize that not all farms will operate inhumanely, however they do exist, quite plentifully. 3) I am against pesticides or hormones in my food and I buy organic as much as I can. Because I don't really like the taste of meat anyways, I would rather spend this money on veggies and fruits! 4) I have tried many 'fake veggie meats' (e.g., St. Ives has some great ones) and I either don't notice the difference or I prefer the taste of the veggie meat. I try not to eat more than 1 serving of soy per day since the jury is still out as to whether soy affects different types of illnesses such as breast cancer. This was partly the reason why I switched form Soy Milk to Almond Milk. I actually prefer the taste of Almond Milk anyways! Very nutty and great with cereal! So yes, I will occasionally eat meat here and there, but I won't be eating much of it. I do eat fish from time to time as well. Whew that was a long one!
21. Regarding the 610 kcal Breakfast Challenge:
I meant to say in my post that I wasn't upping my breakfast calories to 610kcal. That would be too much for me in the morning I am afraid. My breakfasts got pretty small for a while because I have such limited time in the mornings. So when I doubled my breakfast, I probably consumed about 350 cals or so. Not too much or too little. I am still continuing this 'experiment' to see how it affects my appetite later in the day! And yes, I agree, it does take a conscious effort to eat enough in the mornings!
22. Andrea asks, "What nationality are you?"
I was born in Canada as were my parents, but I have English, Irish, and French in me as well. :D A grab bag if you will! hahah
23. Grounded Fitness re: Warms ups
I agree, 30 mins. on a cardio machine is not a warm-up! It is cardiovascular exercise! A warm-up should be 5-10 mins. flat, enough to loosen the muscles and get the blood pumping. I also think that days off should not include any intense cardio or weight lifting. However, light cardio (like walking) is fine and should be ok unless you are severely injured.
24. Jennifer asks, "Hey Angela…was checking out your "she" and "glows" tabs on your blog, I'm just curious, what do you research?" also Sally asks, "Thank you for posting this about yourself – it is especially nice to see other people in the health blog circle who are researchers. If you don't mind telling, what is your second masters in and what type of research do you do now?"
I got my Master's Degree in Social Psychology! It is the branch of psychology that studies persons and their relationships with others, with groups, and with society as a whole. Very interesting! I have done a Health Psychology internship (working with a Child Developmentalist and I also was a teaching Assistant for a 3rd year Health Psychology course. I loved it!! I have done tons of research under different areas for psychology. My MA thesis was on Sexual Harassment in the Workplace and the influence of Sexism and female sexual subtypes. Basically, I was looking at whether the 'sexual subtype' of a female complainant, so in other words, whether she acted flirtatious or professional, affected whether sexist or non-sexist individuals viewed the case. In short, I found that individuals high in hostile sexism were more likely to blame the female victim. When the female was flirtatious in the workplace she was viewed more negatively, more blameworthy, and less credible. Basically, people high in HS have a perception that flirtatious women deserve any sexual violation that they receive.
For my job, I do child development research. I am involved in all stages of the research so no day is ever the same. I am responsible for administering measures, entering data, analyzing data, writing up research reports, litterature reviews, etc etc. I co-authored a chapter in a book recently that will be coming into publication this fall! Very exciting stuff. :D
Ok….whew…that about wraps it up! Please let me know if I missed anything or if you have any other questions! They are all awesome! We can really learn a lot from each other. :)
~~~~~~~~~~~~~~~~~~~~~~~~~~~~~~~~~~~~~~~~~~~~~~~~~~~~~~~~~~~~~~~~~~~~~~~~~~~~~~~~~~~~~
OSG's Domestics of the day:
1) The Lululemon 'It's In The Bag' Challenge is heating up! I have received 4 entries so far…don't forget to submit your photo!
2) Don't forget to email me ([email protected]) and share your personal success story or why you are commiting to a healthier lifestyle! I will feature all stories on OSG! No long essay required. Photos always a plus!
~~~~~~~~~~~~~~~~~~~~~~~~~~~~~~~~~~~~~~~~~~~~~~~~~~~~~~~~~~~~~~~~~~~~~~~~~~~~~~~~~~~~~
 We all live with the objective of being happy; our lives are all different and yet the same.
~Anne Frank
My question for you: What is your happiest exercise memory or experience?
One of mine is playing in a charity beach volleyball tournament with my friends! We raised tons of money and had so much fun while doing it!
Another one of mine has to be snowboarding! My best friend and I learned together and I think we spent more time on the ground laughing after a bad fall, then up on our feet. :D
And because no post should be without a picture….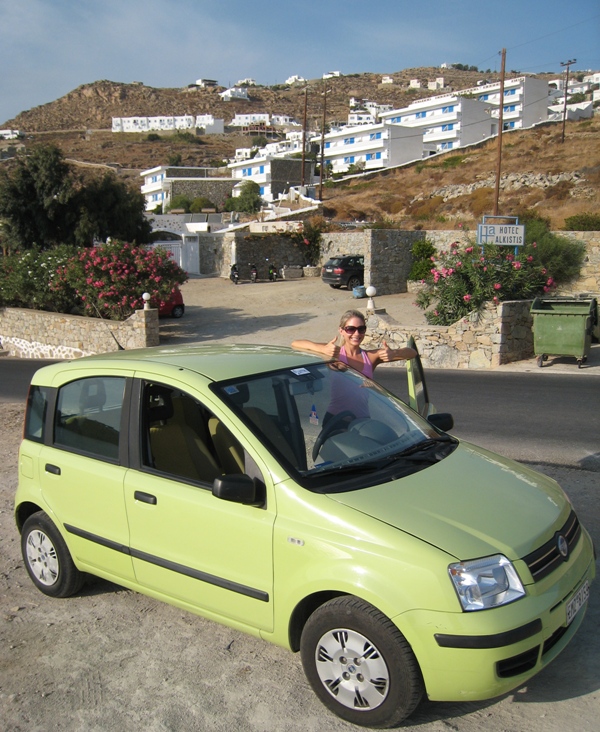 Our hilariously funny rental car in Mykonos, Greece!
See you tonight!