Good afternoon everyone!
I hope you are all having a healthy start to your week. :D I am trying to keep my cool at work by mini-meditations and deep breaths when stress starts to get to me.
I am curious– what are your best relaxation techniques while at work (or just in intense situations)? I would like to add a few to my repertoire! heh.
I thought it would be a good idea to do a FAQ (or possibly 'AQ') post for some questions that I have been asked and either have not had a chance to answer or have been asked a couple times. If I miss anything, please leave a comment and I will be sure to answer it!
1. Erin asks, "What is the name of the song and artist featured on your wedding video?"
Answer: "Heavenly Day" By Patty Griffin
2. Jenn asks, "Do you have any lunch ideas/what do you usually bring for lunch?"
Answer: My lunch tends to consist of the same food groups and combinations every day. When I started working full-time it took me a while to find the right amount to pack for lunch so I wasn't famished by the time I got home.
Here is what you typically find in my lunch:
2 slices of Ezekiel Sprouted Bread
Guacomole (~2 tbsps)
2 Slices of Tofurkey (veggie meat)
1 large apple sliced up
2 handfuls of baby carrots
1/2 of an English Cucumber sliced up (or another veggie like red peppers)
1 serving of almonds (I half with lunch and one prior to leaving work to keep my blood sugar stable until I get home)
~ 1 cup of Nature's Path Spelt cereal

Sometimes a Kashi bar or another piece of small fruit (e.g., clementine, plum, etc)

So typically, I have the following food group combos in my lunches:

3-4 servings of veggies (remember 1 serving is only 1/2 cup!)
2 healthy fat servings (1 from Guacomole, 1 from almonds)
1 and sometimes 2 fruit servings
3 grain servings (2 slices of bread)
0.5 Meat/Alternative serving (2 slices of Tofurkey)
I like to mix up my lunches by bringing leftovers from the dinner the night before too! Some of my favs include:
Vegetable stir-fry and bread, with a piece of fruit and almonds
Spaghetti with St. Ives 'ground beef' veggie meat
While I love salads I often don't bring them to work because I have a big salad each night with dinner.
3. Leah says, "Where do you buy the Oscar Blandi Pronto Dry Shampoo?"
Sephora One of my favourite beauty stores!
4. Renee asks, "Oh my – where is your wedding dress from??? That's EXACTLY the style that I want!"
Thank you I am so flattered! I love my wedding dress. I wanted something unique looking and it was one of the only styles like this that I found, and I probably tried on 30 gowns and went to 10 different shops in Toronto. The designer is Sottero & Midgley which is a sister company of Maggie Sottero! You can find the dress here! I chose to remove the pendant on the front of the dress because I found that it competed with my jewellry. The dress has a very low back and is very unexpected. I also had the front altered to make the V-neck wider as I found it to look a bit conservative on me. I also don't have a large chest so I didn't have to worry about showing too much clevage! :D
The dress photographs beautifully: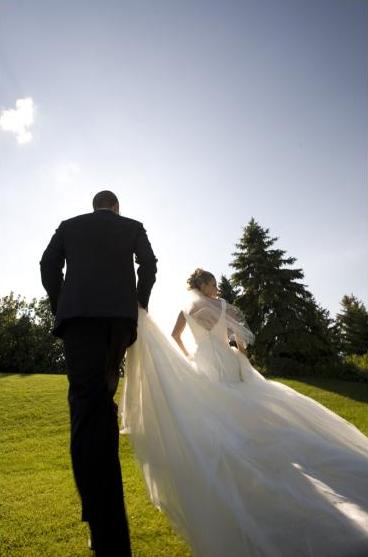 5. Leah asks, "How often would you say you go to the gym vs. going outdoors for a run? And do you mainly use the treadmill or do you mix it up a little?"
About the indoor vs. outdoor question- I tend to do indoor workouts during the work week because it is quick to get to the gym in my building and I am ALWAYS pressed for time in the morning. I can't workout after work though, I am just too exhausted after a long day. I am definitely a morning workout person! I like to use my weekends for getting outside because I have more time and I can plan my run around when it will be warmest outside. However, this week is supposed to be warm so I may get out for a run or two outside during the week. We shall see!As for my indoor workouts, I tend to stick to the treadmill because I find it the most challenging. I have recently been doing the elliptical for part of my cardio, but I make sure I put it at a resistance 9 so it is very tough, otherwise I find it is easy to just 'coast' along on it. We don't have a stair master, but if we did I would alternate with that because I find it to be a great workout as well.
6. Kristin says, "Sketchie is beautiful, what breed of cat is he?"
He is a Bengal breed and he has 7th generation Asian Leopard in him. Bengal breeds are known to be very dog like and Sketchie is no exception!!! He has tons of energy, loves people and pets, and he can learn tricks :)
7. Beth says, "One quick question: your skin is so pretty – as your blog title says, you do glow! What products do you use on your skin aside from makeup? I've battled some acne throughout my life and I'm still looking for that glow!"
Thank you for being so sweet! I can assure you that I struggle with skin issues just like everyone else. I have battled acne my whole life, and have recently had it crop up again since going off the BCP! To see what I use on my skin, see my 'Glow' page for my favourite products!
8. Meghan says, "Do you just uses the St. Ives scrub to cleanse your skin, or following a different cleanser? Your complexion is gorgeous!"
I just use the St. Ives scrub alone (although I should probably use a cleanser first!?) :)
9. Jenn says, "What is a great all over moisturizer?"
10. Jenn says, "Where do you find the makeup products listed on the other page?"
I buy most of my low-end make-up products at our local drugstore (Shoppers Drug Mart) and the higher end products I buy at Sephora.
11. Jenn asks, "What do you suggest for ab workouts?"
See this post for me performing my favourite ab workouts!
~~~~~~~~~~~~~~~~~~~~~~~~~~~~~~~~~~~~~~~~~~~~~~~~~~~~~~~~~~~~~~~~~~~~~~~~~~~~~~~~~~~~~
Ok, that just about wraps up my lunch break! I didn't get through as many as I wanted to. Stay tuned for a FAQ update later today!
I leave you with a few funny diet sayings:
 

I KEEP TRYING TO LOSE WEIGHT BUT IT KEEPS FINDING ME.
THERE ARE TWO THINGS YOU SHOULD NEVER EAT BEFORE BREAKFAST: (LUNCH AND DINNER).
IT'S NOT THE MINUTES SPENT AT THE TABLE THAT PUT ON WEIGHT, IT'S THE SECONDS.
:D Yes I am a geek!