Good morning!
I was so excited to get up and do my very first video fitness post! I wanted to post it last night, but the video took about 2 hours to upload in Youtube….good grief!
I was happy to wakeup bright and early to a beautiful sunshine and 9C/48F. I am contemplating going for a run, but I don't want to make my blisters any worse! :S Does anyone has 'home remedies' that they use for blisters?
I have also had an allergic reaction over the past couple of days- my eyes are swollen, red, dry, and itchy! I have no idea what has caused this. I have also been stuffed up and congested. I wonder if it is a seasonal allergy to something?
Here are a few products that I picked up at the Drugstore last night that I had run out of! I scouted the sales, so everything bought here was at least 25% off. Not too shabby! I have never tired the Vive Pro Color-Care conditioner so I will let you all know what I think of it.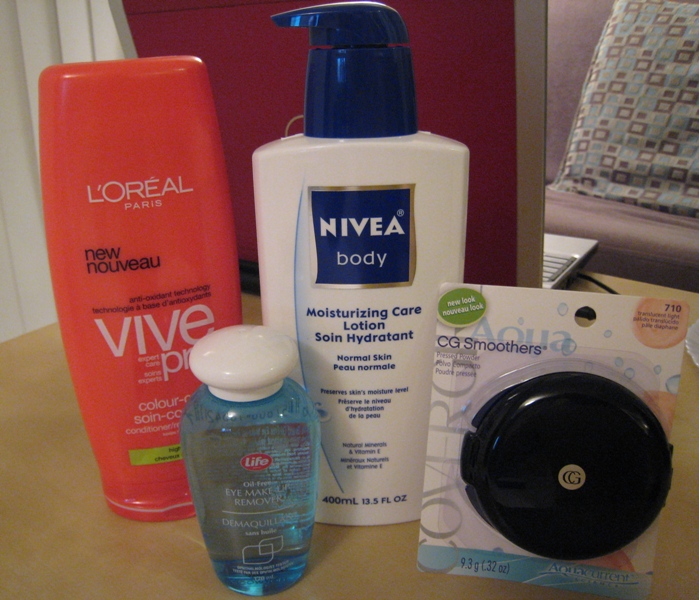 Clockwise starting with Vive:
Vive Pro Color-Care Conditioner
Nivea Moisturizing Care Lotion
Cover Girl GC Smoothers Powder in Translucent Light (I have never tried this)
Life Brand (Canadian) Oil-Free Eye Make-up Remover
I am hoping that I like the CG Powder because it is much less expensive than the Shiseido brand I have been using.
~~~~~~~~~~~~~~~~~~~~~~~~~~~~~~~~~~~~~~~~~~~~~~~~~~~~~~~~~~~~~~~~~~~~~~~~~~~~~~~~~~~~~
What do you all think of this new product called FitBit: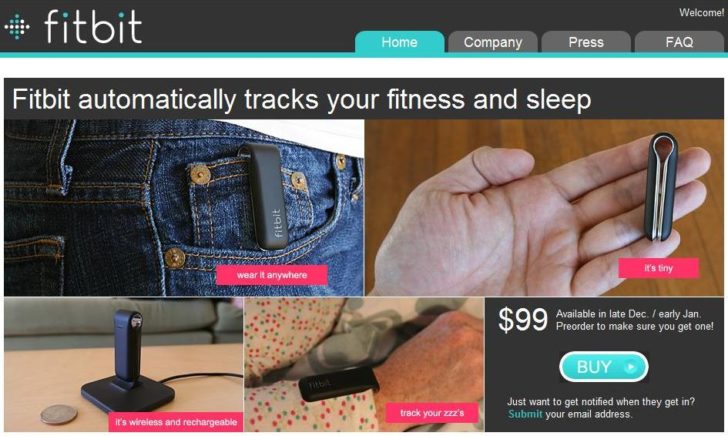 This product was featured on FitSugar's website yesterday:
"It contains a motion sensor like the ones found in a Nike+ Sports Kit or the Nintendo Wii. The Fitbit measures the duration and intensity of your walks or runs, how many calories you've burned, the number of steps you've taken, and distance you've traveled each day. It also monitors your bedtime habits by tracking how long it took you to fall asleep, the number of times you woke up during the night, and how long you were actually asleep. It has a small blue OLED display that shows your steps, calories, distance, and overall activity level. Interested in more details? Then read more.

Fitbit is also wireless. Your data will automatically be uploaded to the Fitbit website as soon as you walk within 25 feet of the base station, which comes with the Fitbit. This tracking device isn't shipping until late December/early January, so if you want to be the first on your block to have one, you can preorder on the website."
Technology is getting so high tech, isn't it? I think the idea is pretty cool actually and I would love to know when I fall asleep and how often I wake up. Apparently there is a wristband to put on when you go to sleep.
Would you buy one?
~~~~~~~~~~~~~~~~~~~~~~~~~~~~~~~~~~~~~~~~~~~~~~~~~~~~~~~~~~~~~~
Well, I am off to figure out what to do for my workout this morning!
What are your favourite resistance exercises?