Good evening everyone!
Beth asked me what products I use to get my skin glowing, so I thought I would do a post detailing the products I use on my skin, under my makeup! :D
Here's the loot: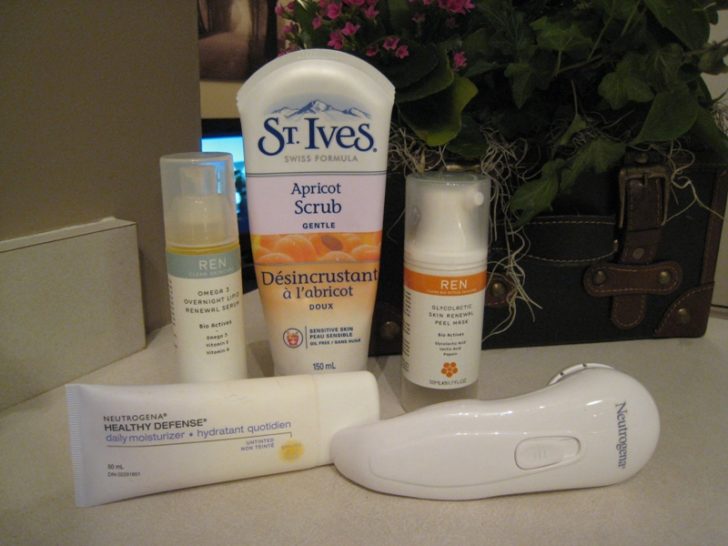 Starting with St Ives and going clockwise…
$ = cheap
$$ = Average
$$$ = cha-ching
1) St. Ives Gentle Apricot Scrub ($)– I use this morning and night! It is a great gentle exfoliator that removes dead skin cells and reveals a fresh underlayer of new, glowing skin.
2) Ren Glycolactic Skin Renewal Peel Mask ($$$)- I use this all-natural peel about once every week or two. I LOVE this product. It is expensive, but well worth the money.
3) Neutrogena Advanced Solutions At Home Microdermabrasion System ($$)- I use this about once every week or two. It really, really works! I even use it on Eric (when he lets me, lol).
4) Neutrogena Healthy Defense Daily Moisturizer (Untinted, SPF 45) ($$)- I use this every morning underneath my foundation. Dermatoligists say the best wrinkle fighter is consistent sunblock usage!
5) REN Omega 3 Overnight Lipid Renewal Serum ($$$)- I use this sparingly every night before bed. I wake up with glowing skin! Due to the oil, it may cause slight breakouts so user beware if your skin is sensitive.
A comment on how I decide when to splurge on expensive products. Before I buy any type of beauty product, I always check out the rating on Makeup Alley. Both of the high end REN products that I purchased received rave reviews here and here and so I decided it was a calculated risk. I purchased them in July, and 4 months later, I have over half left in both.
That being said, I use many low-end products and I love them all the same. It really depends on the brand! I tend to really enjoy Neutrogena products for a mid-range option.
And finally a food that is rumoured to have skin-clearing properties:
Cucumbers!
Lately, I have been cutting up half of an english cucumber immediately after I get home from work. I drizzle it with some reduced-fat Balsamic vinagrette (Kraft) and it helps keep me from eating everything but the kitchen sink until dinner time.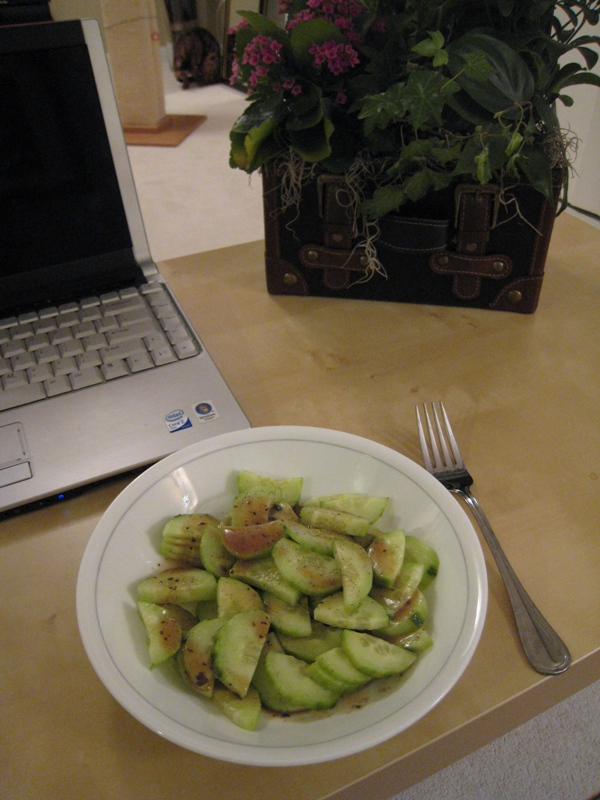 Yum!
Here's to getting through another Monday, Monday! Have a great sleep, nurture your body, and dream big.
Sketchie is sleepy too…