After a wonderful dinner of spaghetti, including a homemade sauce, I dove into the recipe collection to try and find a cookie to make my brother-in-law for his birthday!
Eric told me his brother loves 1) Jam cookies and 2) Caramel
I hadn't made jam cookies- or thumbprints as some call them- in ages! So off I was into the kitchen, hoping and praying, that we still had some jam in the fridge. To my delight, in the back, scary corner of the fridge, I saw the family-sized jam jar (albeit sticky). After wrestling with the jar, banging it with a knife and throwing my hands up in frustration, I finally asked, no pleaded in exasperation, that Eric open it for me. :) He successfully opened it in his first attempt. 'You musta loosened it', he said. He knows how to make me smile.
So now I could now happily proceed with the Raspberry and Almond Shortbread Thumbprints recipe that Dee ever so graciously submitted to All Recipes. I was suddenly craving a huge cup of tea.
Raspberry and Almond Shortbread Thumbprints
INGREDIENTS

1 cup butter, softened
2/3 cup white sugar
1/2 teaspoon almond extract
2 cups all-purpose flour
1/2 cup seedless raspberry jam (I used strawberry)
1/2 cup confectioners' sugar
3/4 teaspoon almond extract
1 teaspoon milk
1. Preheat oven to 350 degrees F (175 degrees C).
2. In a medium bowl, cream together butter and white sugar until smooth. Mix in 1/2 teaspoon almond extract.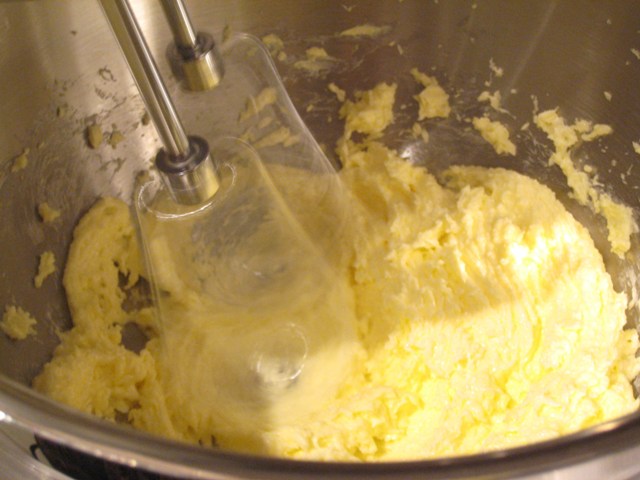 3. Mix in flour until dough comes together.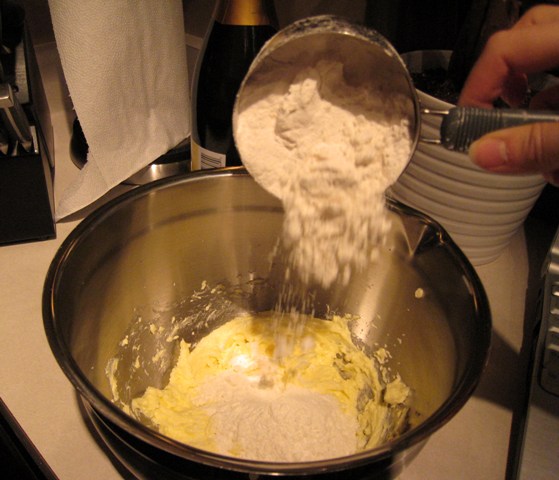 4. Roll dough into 1 1/2 inch balls, and place on ungreased cookie sheets. Make a small hole in the center of each ball, using your thumb and finger.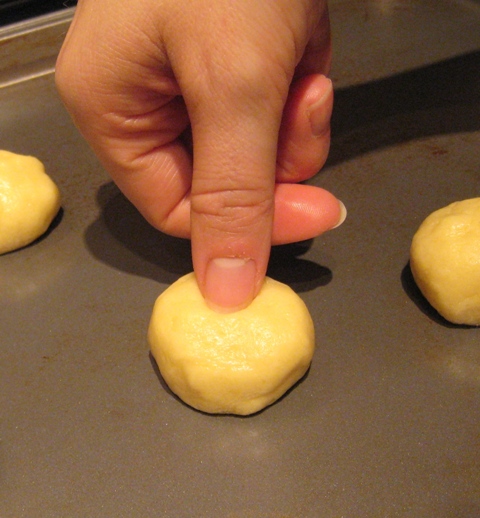 5. Fill with preserves. Sprinkle with sugar (my addition).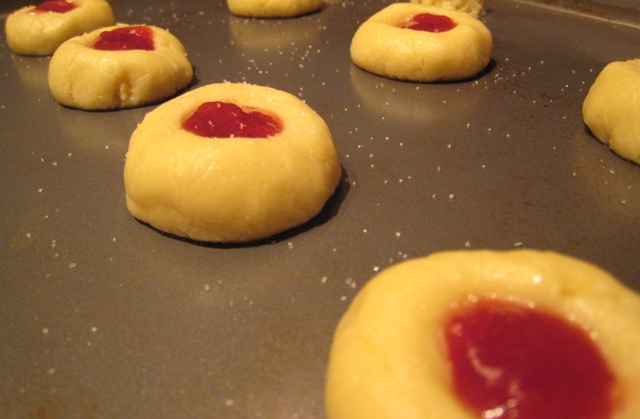 6. In a medium bowl, mix together the confectioners' sugar, 3/4 teaspoon almond extract, and milk until smooth. Drizzle lightly over warm cookies.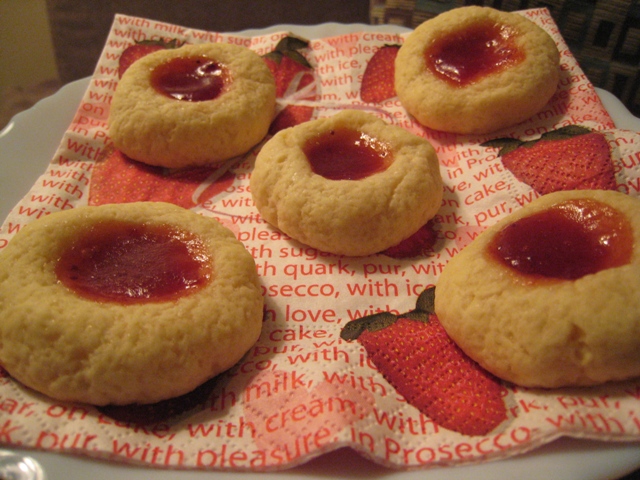 7. Serve with tea. :)
I actually skipped the icing drizzle as I didn't find that they needed it. These are a nice, light cookie; a much softer version of your typical shortbread.
My rating: 3.75/5 stars
All Recipe's rating: 4.5/5 stars out of 512 respondents
Eric didn't really care for these cookies :( He said he has never been a big 'jam in the cookies'fan. lol. ok….