What did you do with your extra hour of time today? Did you sleep, read, have a bubble bath, workout? Whatever you did, I hope it was something fun!
I decided to bake. My passion, my love, my hobby, my someday-hopefully-my-profession.
The question is what to bake. I immediately went to my go-to site for new recipes. Allrecipes.com of course! I asked Eric what he was craving and of course, like any simple man, he says 'chocolate chip cookies'. haha. Wow, how will I ever keep this man happy?! ;)
I decided to try and bake some semi-healthy, so I went with the Whole Wheat Chocolate Chip Cookies route. I substituted margarine with light margarine (yields a cake-like texture), omitted nuts (didn't have any), and added some raisins for fun. The original recipe was submitted by Belinda.
INGREDIENTS (Nutrition)

3/4 cup margarine
1 cup white sugar
1 cup light brown sugar
1 1/2 teaspoons vanilla extract
2 eggs
2 cups sifted whole wheat pastry flour
1 cup all-purpose flour
3/4 teaspoon baking soda
1 teaspoon salt
2 cups semisweet chocolate chips
1/2 cup chopped walnuts (optional)

DIRECTIONS
Preheat the oven to 375 degrees F (190 degrees C). Generously grease cookie sheets.

In a medium bowl, cream together the margarine, white sugar and brown sugar until smooth. Stir in the vanilla and eggs. Combine the whole wheat flour, all purpose flour, baking soda and salt, gradually blend into the creamed mixture. Fold in chocolate chips and walnuts if desired. Drop by rounded spoonfuls onto the prepared cookie sheet.

Bake for 8 to 10 minutes in the preheated oven. Allow cookies to cool on baking sheet for 5 minutes before removing to a wire rack to cool completely. For bar cookies, press dough into a 10×15 inch jelly roll pan and bake for 12 to 15 minutes.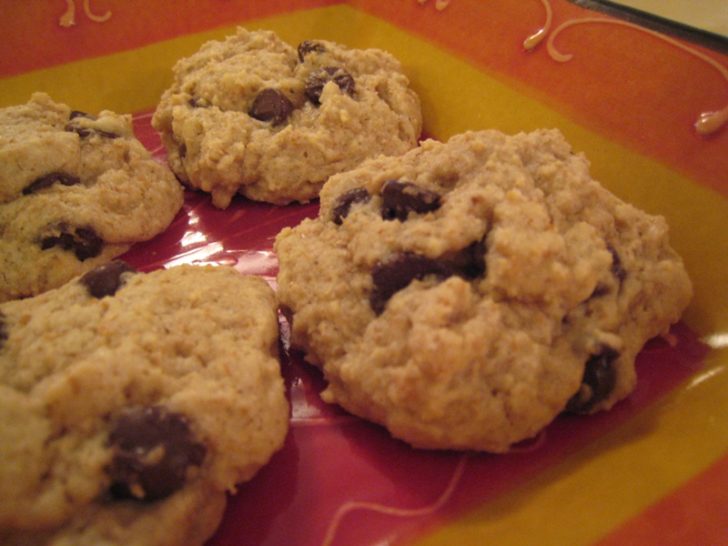 The Verdict? 3.75/5 stars

The cookies were good, especially considering the modifications that I made. The light margarine definitely gives them a different taste- not a bad taste by any means- just different from your typical butter cookie. It also gives them a puffier, cake-like texture. The whole wheat flour gives it more texture and a grainy feel compared to the smooth white flour.

Eric LOVED these cookies and the funniest part of all is that he has no idea that I used whole-wheat flour and 'healthed' them up. :D Hopefully he doesn't read this…

Last, but not least, I leave you with some honeymoon pictures. We went on an amazing Mediterranean honeymoon with Princess Cruises this past September. It was the trip of a lifetime!

 

Enjoy the rest of your Sunday night! I hope you wake up feeling refreshed with an extra hour of sleep this weekend. :)