Blog under construction…please be patient! :)
Oh she glows is a health, fitness, beauty, and fashion blog created for women who want to lead full, fab, happy, and healthy lives.
I am a huge fan of food blogs- Smitten Kitchen, Good Things Catered, Kath Eats, as well as fitness blogs- Fit sugar, See Bride Run (food/fitness blog), fashion blogs- Who What Wear Daily, Fab Sugar, and beauty blogs- Makeup Alley, Bella Sugar– just to name a few! I have always wanted to create my own blog, but I can't be bothered to create a blog that only focuses on one of my passions. Trust me, you don't want to see me photograph every morsel I put into my mouth. No seriously. You don't.
However, what I can do is give you a sample of all of my interests each day- health, fitness, nutrition, fashion, beauty, baking, and even a little celebrity gossip (do I have any ONTD, or Just Jared– aholics out there?) on the side! I have created a blog that unites all of my interests into one place!
In this blog you will find how out I lead a healthy lifestyle day-in and day-out. I will rate my favourite beauty buys, tell you the fashion and accessories I am craving for, let you know how I workout, and what I fuel my body with. No day will look the same, no post will look the same. Capiche?! :)
Fun facts about me:
Name: Angela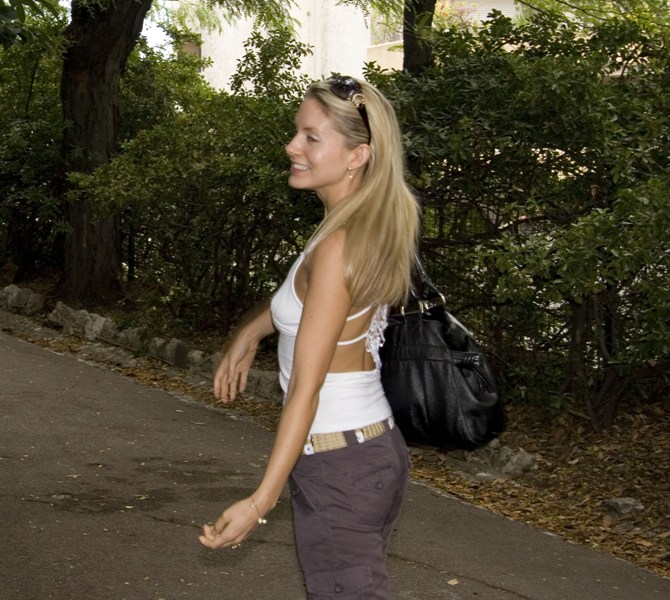 This is a picture of me on my Medeterranian honeymoon this past September 2008.
Age: 25
Location: Toronto, Canada
Exercise: 45 mins. cardio daily
Preferred drinks: Lemon water, Peppermint tea, and the occasional Tequila shot
Vice: Sweets
Cut out and never looked back: Artificial sweeteners (all), caffeine
For fun: Baking, photography, running, fashion, nutrition/fitness, celebrity gossip (killing brain cells daily), reading
Hates: Sushi, Mayonaise, Carbonated drinks
Loves: Cucumbers, Spelt, big salads, guacomole, fresh baked desserts (my specialty!), lasagna, apples, stirfrys
Career: Researcher
Post-Highschool University Degrees: 2
Pet: crazy Bengal cat, Sketchie 66,000 hits can't be wrong.
Favourite TV shows: The Office, ANTM
Married: To the love of my life Eric, on August 31, 2008 :D