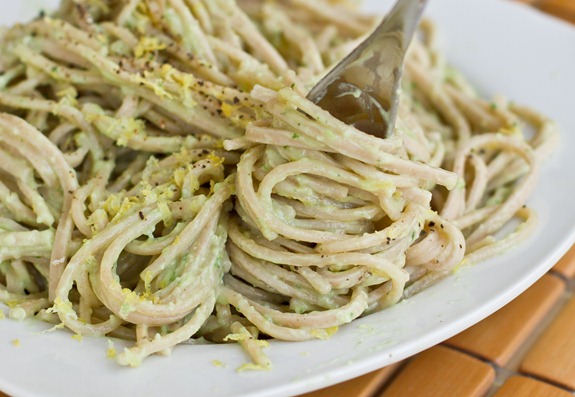 Oh…my….gosh.
Alert the grocery store because there is going to be an avocado shortage in my town. Well, more than usual that is.
[And yes, I said 'store'. As in singular…We're small town folk.]
You can whip up this pasta dish in under 15 minutes flat! I know I will be making it again and again, especially for those dinners when we are strapped for time…or just plain old tired after a long day.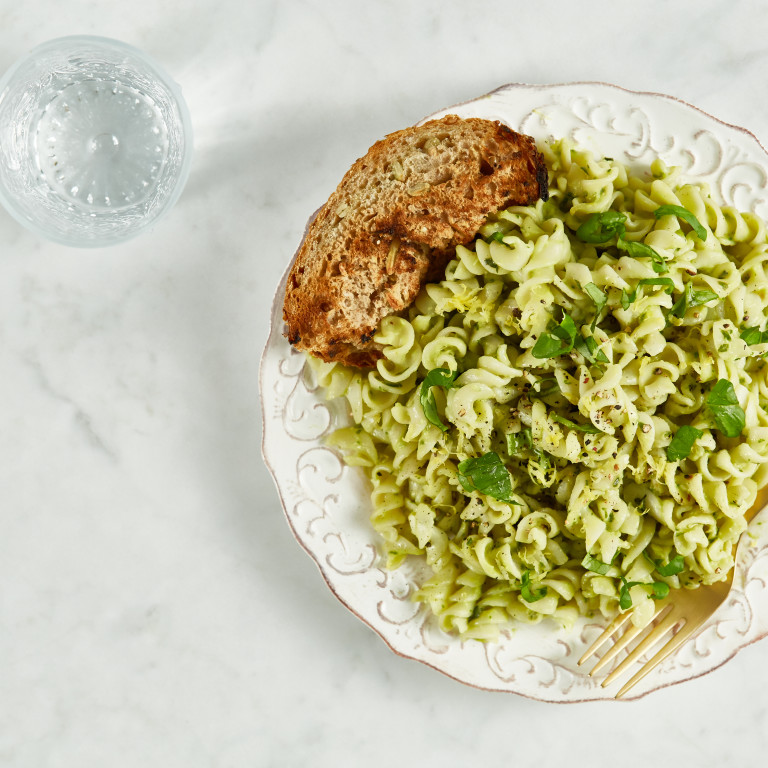 15-Minute Creamy Avocado Pasta
Vegan, gluten-free, nut-free, refined sugar-free, soy-free

Yield

3 servings
Prep time

Cook time

Total time

Creamy, thick, and rich with lots of garlic flavour and a hint of lemon, this is one of my favourite pasta dishes. The avocado works wonderfully in this recipe to create a sauce so creamy and thick you will think there is cream hiding in there.
Ingredients
9 ounces (255 g) uncooked pasta
1 medium garlic clove
1/4 cup lightly packed fresh basil leaves, plus more for serving
1 to 2 tablespoons (5 to 10mL) fresh lemon juice, to taste
1 tablespoon (15 mL) extra-virgin olive oil, plus more if needed
1 ripe medium avocado, pitted
1 tablespoon (15 mL) water
1/4 to 1/2 teaspoon fine sea salt, to taste
Freshly ground black pepper, to taste
Lemon zest, for serving
Directions
Bring a large pot of salted water to a boil. Cook the pasta according to the instructions on the package. For a lighter option, serve the avocado sauce with zucchini noodles.

While the pasta cooks, make the sauce: In a food processor, combine the garlic and basil and pulse to mince. Add the lemon juice, oil, avocado, and 1 tablespoon water and process until smooth, stopping to scrape down the bowl as needed. If the sauce is too thick, add a bit more oil. Season with salt and pepper to taste.
Drain the pasta and place it back in the pot. Add all of the avocado sauce and stir until combined. You can gently rewarm the pasta if it has cooled slightly, or simply serve it at room temperature.
Top with pepper, lemon zest, and fresh basil leaves, if desired.
Tip:
Because avocados oxidize quickly after you slice them, this sauce is best served immediately.
Make it grain-free: Serve this avocado sauce with spiralized or julienned zucchini or on a bed of spaghetti squash.
Nutrition Information
(click to expand)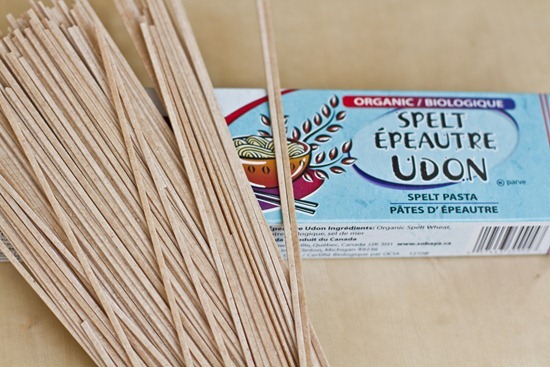 I used some fun pasta to increase the nutrition factor- first, 1 serving (3oz) of spelt pasta.
Spelt pasta has a great nutritional profile with 12 grams of protein and 3 grams of fibre per serving.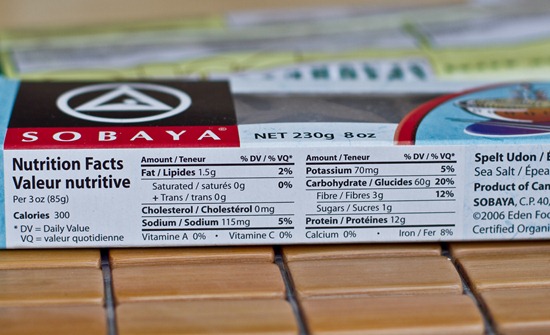 I also used one 3oz serving of Kamut pasta.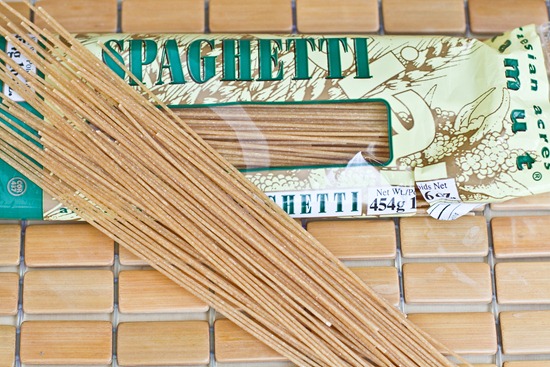 Kamut pasta has 13 grams of protein and 8 grams of fibre per serving. Niiiiice.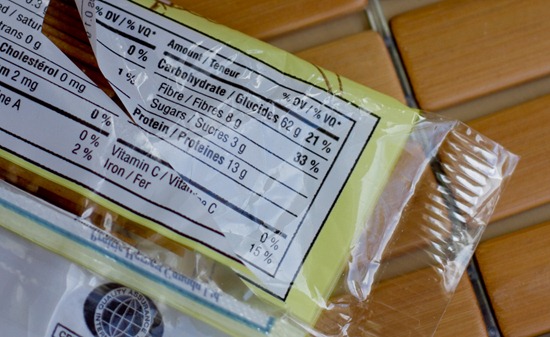 They both taste AMAZING and are very easy on the digestive system. I purchased both of them in the natural food section of Loblaws/Superstore. Regular white spaghetti has only 1.7 grams of fibre and 4 grams of protein per serving. Eric and I actually prefer the nutty flavour of the ancient grains over the white pasta so it is an easy switch.
If you don't have a scale or pasta measuring device, one serving of pasta (3oz) is about the diameter of a quarter!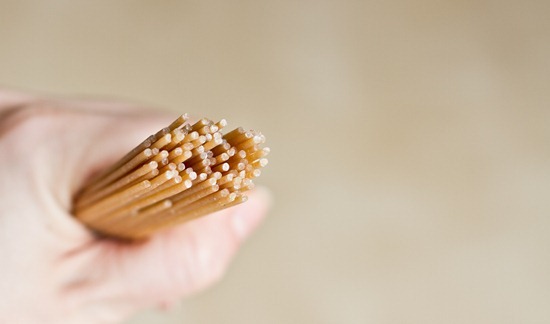 PS- That picture above took me 6 tries to get in focus! lol
A couple of the out of focus ones…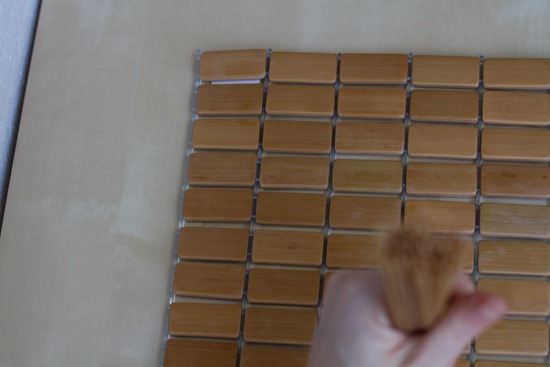 Whoops!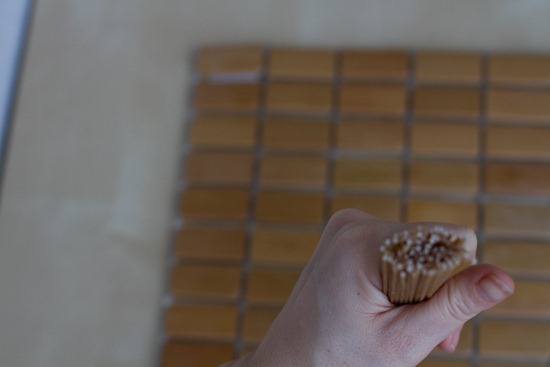 Oh the joys of amateur photography. ;)
While the pasta is cooking away, prepare the 'cream' sauce in a food processor. I use and love my Cuisinart 14 Cup Food Processor and Cuisinart Mini Prep 3 Cup Processor, which is great for smaller jobs. I used 3 cloves of garlic and it was quite garlicky, so if you are not a big fan of garlic I would suggest using 1-2 cloves.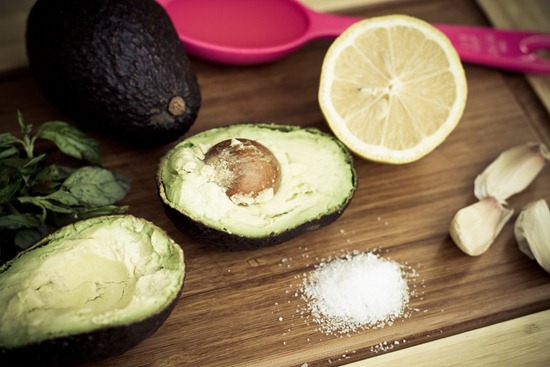 I love that avocado can be used as a substitute for cream in this recipe. The healthy fats in avocado make our skin glow and hair shine as an added bonus. :)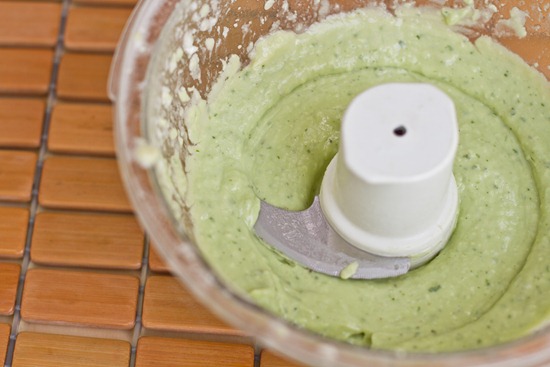 Strain and rinse the cooked pasta.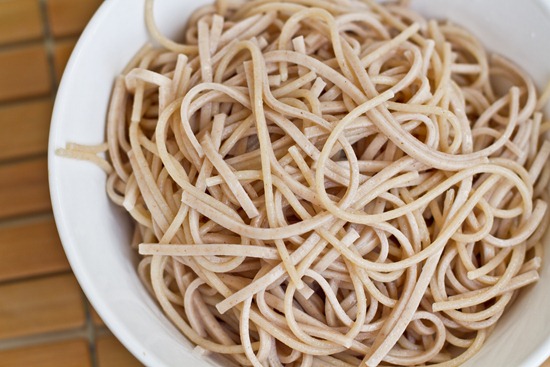 Add the sauce and mix well.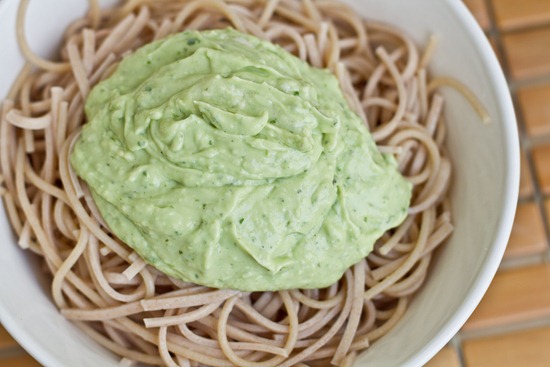 Garnish with lemon zest and freshly ground black pepper.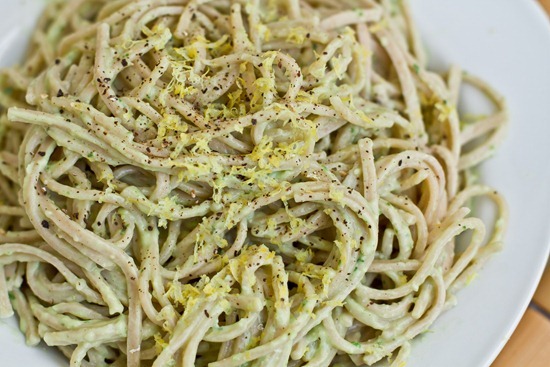 I fell in love.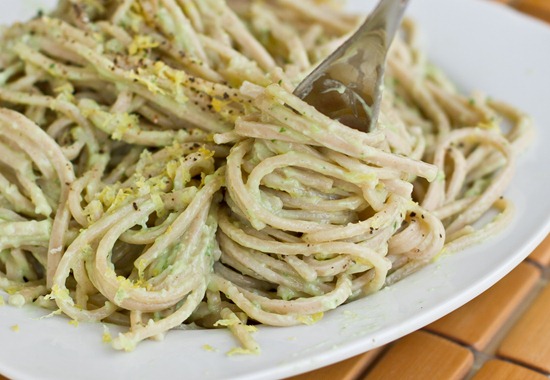 So did Eric.
We are now married to this pasta.
And I'm actually going through withdrawal just looking at these pictures.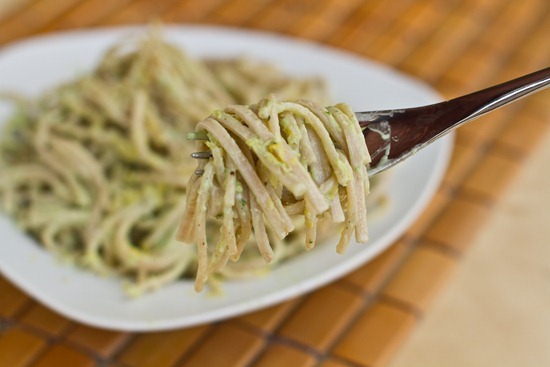 Looking for other pasta recipes that I enjoy? Try these recipes below:
* Lightened Up Sundried Tomato Pasta
In other news, it's Monday and I woke up in a haze today. That is, until I watched this video below! It made my entire day, so I thought I would spread the joy. Animals are just the most fascinating and intelligent creatures and I'm always blown away by stories like this.
I can't decide what I like more about the video:
1) It has a date of '1999', but it is clearly circa 1980's, 2) the old married couple that I want to adopt, 3) The crow scaring the cat (minute 3:44), 4) The cat scaring the crow (minute 5:00), 5) The crow squawking at the cat to 'get off the road' (minute 4:40), or 6) Is that ALAN THICKE from Growing Pains?!
It kills me, it really does.