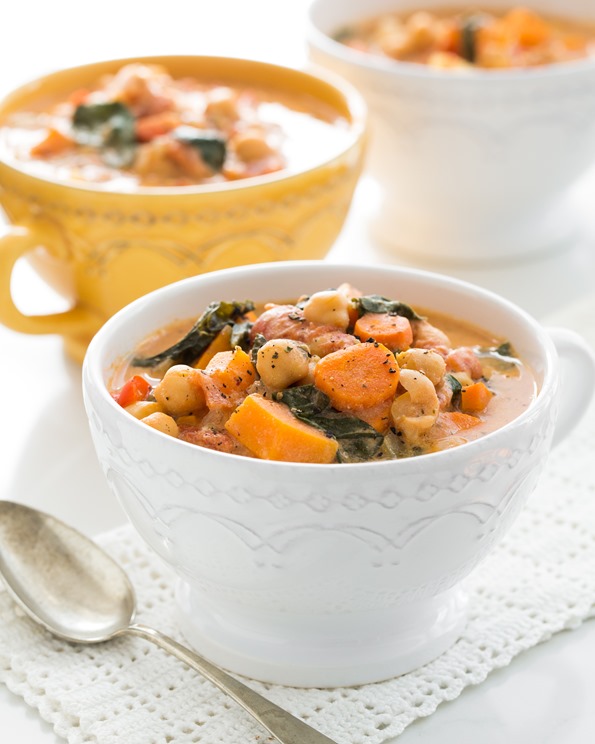 Freezer-friendly meals! Just hearing those three words makes me feel all warm and fuzzy inside. This is one of the soup recipes that I made and froze before our baby arrived. I absolutely adore soup this time of the year, even better when it's already made for me. It's versatile, soul-soothing, filling, and healthy. Plus, it's easy to make it into a complete meal without much fuss. I like to serve it with some toast/bread and/or salad for a lightening fast meal. I can't tell you how comforting it was to have this soup waiting for us when we got home from the hospital.
By the way, thank you all for your tips on freezing meals. I picked up a few good ones (seriously, read the post + comments if you haven't!), including labeling all the containers. I now add a piece of painter's tape (because it's easy to remove) onto each container and I write the name of the meal and the date that I froze it. This way I won't ever have to wonder what the heck is hiding in the container and when it was made. Why haven't I done this before?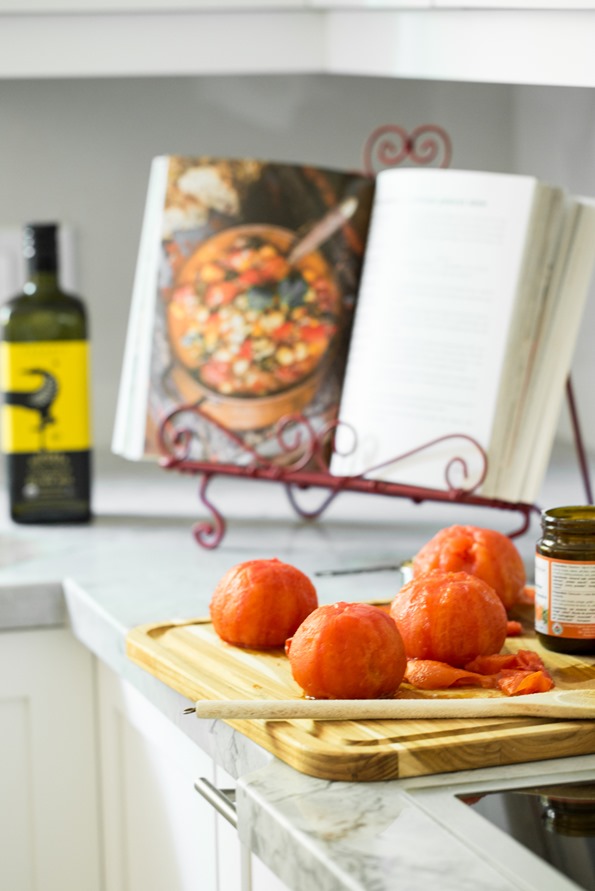 Before I get to this soup recipe that I'm sharing from The Oh She Glows Cookbook, let me tell you about another revelation I had when I was making all of this soup in bulk several weeks ago. I finally taught myself how to substitute fresh tomatoes for canned diced tomatoes in my soup recipes. I try to avoid buying a lot of canned tomato products since acidic foods often leach chemicals from the lining of cans, so I figured it was time to finally bite the bullet and experiment with making my own using fresh, in-season tomatoes. I'm happy to report that this method worked well as a substitute in two of the soup recipes I tried so far. The only thing I found was that I needed to add more salt to make up for the salt that would've been in the canned product. Also, I only recommend using in-season, über tasty tomatoes for best results.
How I substitute fresh tomatoes for canned diced tomatoes:
1. I use about 1.8 pounds of fresh tomatoes to replace one 28-ounce can. Many sources online suggest 2 pounds, so I wouldn't go much more than that or you are probably adding too many.
2. Using a paring knife, create an "X" slit in the bottom of each tomato. This will make the skin easier to peel off after blanching.
3. Bring a large pot of water to a boil. Carefully drop the tomatoes into the boiling water with a ladle. Reduce heat to medium-high and turn the timer on for about 1 minute. When you see the skins start to peel away from the tomato, remove and plunge directly into a bowl of cold ice water.
4. Once cool to touch, remove tomatoes from water and peel off the skin. Core and dice tomatoes. Reserve the juice and be sure to add all the juices into the pot along with the tomatoes (unless of course the recipe calls for drained canned tomatoes).
You now have an easy, fresh substitute for canned diced tomatoes! Yippee.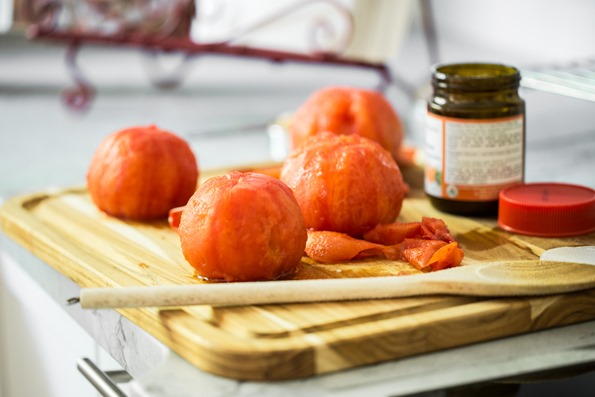 When I don't have fresh, in-season tomatoes on hand, my go-to brand for BPA-free canned tomatoes is Ontario Natural Food Co-op – they are organic, sourced from Ontario, and use BPA-free cans. Another alternative is buying them in glass containers.
Now onto this creamy, spicy, vegetable-packed soup!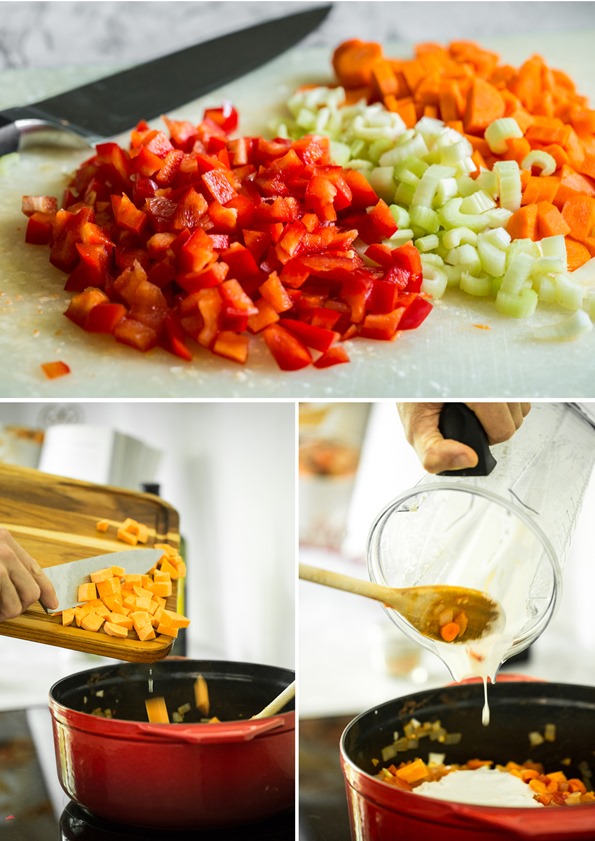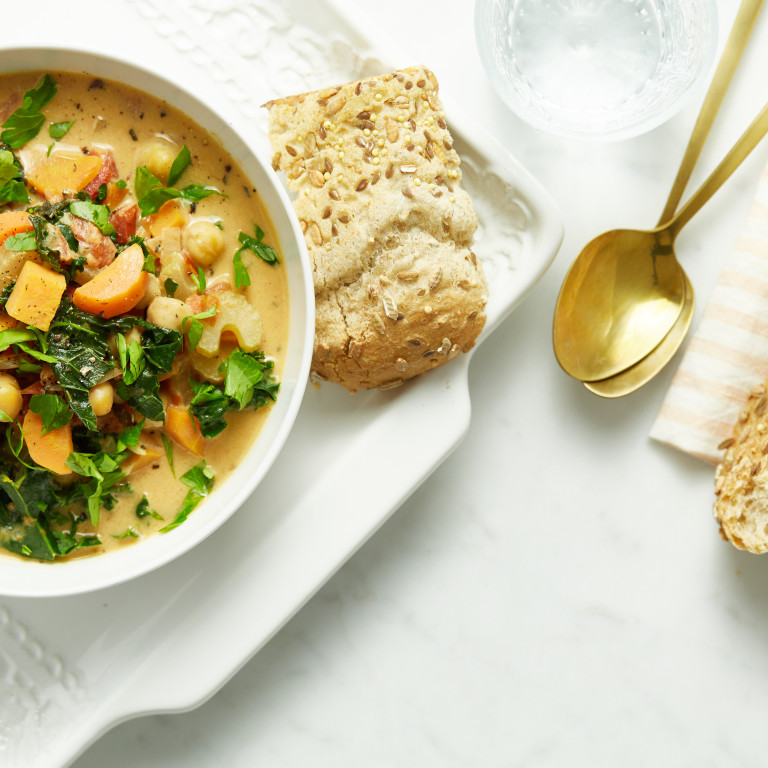 10-Spice Vegetable Soup
Vegan, gluten-free, grain-free, refined sugar-free, soy-free

Yield

10-12 cups
Soak time

2-8 hours (for cashews)
Prep time

Cook time

Total time

This is the ultimate bowl of comfort food, made with a decadent creamy broth and loaded with an array of health-boosting spices and vegetables. Be sure to soak the cashews in water the night before (or see my 30 to 60 minute quick-soak method) so they are ready when you plan to make the soup. Recipe is lightly adapted from The Oh She Glows Cookbook (page 237).
Ingredients
For the soup:
3/4 cup raw cashews, soaked
6 cups (1.5L) vegetable broth, divided
1 tablespoon (15 mL) extra-virgin olive oil
3 large garlic cloves, minced
2 cups diced sweet onion (about 1 medium)
1 heaping cup peeled and chopped carrots (about 3 medium)
1 red bell pepper or 1 cup jarred roasted red pepper, chopped
1 1/2 cups peeled and chopped sweet potato, regular potato, or butternut squash
1 heaping cup chopped celery (about 2 stalks)
1 (28-ounce/796 mL) can diced tomatoes, with their juices
1 to 2 tablespoons Homemade 10-Spice Mix, to taste
Fine-grain sea salt and freshly ground black pepper, to taste
2 to 3 cups baby spinach or destemmed torn kale leaves
1 (14-ounce/398 mL) can chickpeas or other beans, drained and rinsed
Homemade 10-Spice Mix (makes 1/2 cup):
2 tablespoons smoked paprika
1 tablespoon garlic powder
1 tablespoon dried oregano
1 tablespoon onion powder
1 tablespoon dried basil
2 teaspoons dried thyme
1 1/2 teaspoons freshly ground black pepper
1 1/2 teaspoons fine grain sea salt
1 teaspoon white pepper (optional)
1 teaspoon cayenne pepper
Directions
Place cashews in a bowl and add enough water to cover. Soak the cashews overnight, or for 8 hours. For a quick-soak method, soak the cashews in boiled water for 30 to 60 minutes. Drain and rinse the cashews.

In a blender, combine the soaked and drained cashews with 1 cup of vegetable broth and blend on the highest speed until smooth. Set aside.
In a large pot, heat the oil over medium heat. Add the garlic and onion and sauté for 3 to 5 minutes, or until the onion is translucent. Season generously with Herbamare or sea salt.
Add the carrots, bell pepper, potato, celery, and diced tomatoes with their juices, the remaining 5 cups broth, and 1 to 2 tablespoons 10-Spice Mix (to taste). Stir well to combine . Bring the mixture to a boil and then reduce the heat to medium-low. Season with salt and black pepper.
Simmer the soup uncovered for at least 20 minutes, stirring occasionally, until the vegetables are tender. Season with salt and black pepper. During the last 5 minutes of cooking, stir in the cashew cream, spinach (or kale), and drained beans. Add more 10-Spice Mix, to taste.
To freeze, ladle the soup into containers (leaving 1 inch for expansion), cool completely, secure lid, and place in the freezer for up to 6 weeks.
Tip:
If you don't wish to make the 10-Spice Mix, feel free to use your favorite store-bought Cajun or Creole seasoning mix and add to taste.
You will have leftover spice blend. Store it in a container and keep it handy anytime you want to spice up a dish! It's great in pasta sauces, soup, as a tofu seasoning, in a stir-fry, and more.
When thawed, this soup's broth looks a bit grainy, but rest assured when it's heated up again it will return to its former smoothness. Regardless, it'll taste just as good!
Nutrition Information
(click to expand)
The Oh She Glows Cookbook now sold in Australia!
I'm thrilled to announce that The Oh She Glows Cookbook is now officially published in Australia by Penguin Books Australia!
You can find the cookbook at the following retailers: