Triple Almond Energy Balls
Vegan, gluten-free, grain-free, no bake/raw, oil-free, refined sugar-free, soy-free
By Angela Liddon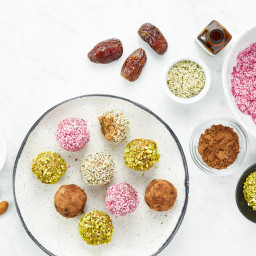 I love energy balls because they're infinitely customizable and so easy to take on the go. I like to grab a couple straight from the freezer and pop them into a small glass jar to throw in my purse on busy days. They're perfect for for tiding you over until mealtime, and this Triple Almond Energy Ball recipe is toddler-approved, too—just be sure to cut them up into small pieces as ball shapes are a choking hazard. Their rich, nutty  flavour comes from using whole almonds, roasted almond butter, and almond extract. A true triple threat!! You may recognize the flavour from my Triple Almond Thumbprint Cookies in Oh She Glows Every Day. I just can't get enough of almond extract—I find it really heightens the flavour in almond-based recipes!
Yield

11 to 12 balls
Prep time

Cook time

0 Minutes
Chill time

60 Minutes (optional)
Total time

Ingredients:
1 cup (155 g) raw almonds

1/2 cup (75 g) raw cashews

1/2 cup (115 g) tightly packed pitted Medjool dates*

2 tablespoons (30 mL) roasted almond butter or raw cashew butter

1/2 teaspoon cinnamon

1/4 teaspoon fine sea salt, or to taste

1/4 teaspoon almond extract, or to taste

5 teaspoons (25 mL) water, or as needed**

Shredded coconut, hemp hearts, ground shelled pistachios, or cocoa powder, for rolling
Directions:
Add the almonds and cashews to a food processor and process into a coarse crumb. Be sure not to overprocess the nuts into butter.

To the nut mixture, add the pitted dates. Process again until the dates are finely chopped.

Next, add the roasted almond butter (or raw cashew butter, if using), cinnamon, salt, almond extract, and water (starting with a couple teaspoons) to the processor bowl and process again until the mixture comes together into a dough. You should be able to easily roll the dough into balls without them feeling dry or crumbly. If the dough is too dry, add more water one teaspoon at a time and continue processing until the mixture moistens to desired consistency.

Roll the dough into 11 to 12 golf ball-sized balls. If using, roll each ball in your garnish of choice: shredded coconut, hemp hearts, ground shelled pistachios (or other nuts), or cocoa powder.

Chill the balls in the freezer for about an hour to firm up, or feel free to eat them at room temperature if you can't wait that long! Leftover balls will keep in an airtight container in the freezer for a few weeks. You can also store them in the fridge in an airtight container for several days if you prefer.
Tips:
* You'll want to make sure the dates are very well packed into the measuring cup. If your dates are very firm and dry, I also recommend soaking them in hot water for about half an hour, and then draining well before using as directed.
** The amount of water you will need will depend on how fresh and sticky your Medjool dates are.
These energy balls have a soft texture. If you prefer a crunchier consistency, you can roll the balls in ground nuts or stir some chopped nuts or chocolate into the dough itself.
To make the pink shredded coconut, I mixed unsweetened shredded coconut with a bit of beet juice.