Cheesy Lentil Bolognese Casserole
By Angela Liddon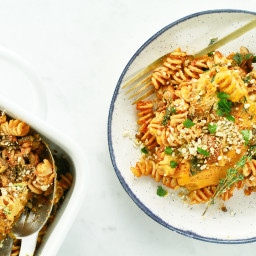 Our family is in love with this cheesy, creamy, and hearty casserole! Traditional bolognese is made with a meat-based sauce, but my version uses lentils and mushrooms for a high fibre, immune-boosting twist. It's great served with a simple salad of marinated greens (for a quick homemade dressing, try my Shake-and-Go Balsamic Vinaigrette from Oh She Glows Every Day), sautéed kale, or my Crowd-Pleasing Vegan Caesar Salad and some crusty fresh bread. Divine! Here are some time-saving tips: if you're looking for a head-start on meal prep, the cheese sauce can be made a couple days in advance and refrigerated in an airtight container. You can also prepare the entire casserole in advance: simply follow the recipe through step #9 (stop before baking!), wrap it up, refrigerate, and then cook as-is one to two days later as directed in step #10. Imagine coming home to this casserole ready to bake at the end of a long day! Nothing is better. This recipe is adapted from my Fusilli Lentil-Mushroom Bolognese in Oh She Glows Every Day.
Yield

8 servings
Prep time

Cook time

Total time

Ingredients:
1 batch All-Purpose Cheese Sauce

14 ounces (400 g) fusilli or rotini pasta (about 4 1/2 cups dry pasta)

2 tablespoons (30 mL) extra-virgin olive oil

1 medium sweet onion, diced (about 2 cups/280 g)

3 large garlic cloves, minced

1 (8-ounce/255 g) package sliced cremini mushrooms*

1 teaspoon dried oregano**

1 teaspoon dried basil**

1 teaspoon dried thyme**

3 cups (750 mL) chunky marinara sauce***

One (14-ounce/398 mL) can lentils, drained and rinsed (about 1 1/2 cups)

2 tablespoons (30 mL) runny tahini

1/4 to 3/4 teaspoon fine sea salt, to taste

1/2 teaspoon freshly ground black pepper

1/2 teaspoon red pepper flakes (optional)

1 to 2 cups (40 to 80 g) stemmed and finely chopped kale (optional)

Paprika, for garnish

Cashew-Garlic Parmesan, for garnish
Directions:
Oil a very large casserole dish (approx. 10" x 14") and set aside. Preheat the oven to 400

°

F (200

°

C).

Prepare the cheese sauce. While the potatoes and carrots simmer for the cheese sauce, start on steps 3 and 4.

Bring a large pot of water to a boil and cook the pasta according to package instructions. Be sure not to overcook it. Drain and set aside.

Meanwhile, in a large dutch oven or pot (about 5 quarts), add the oil, onion, and garlic. Stir and add a pinch of salt. Sauté over medium heat for about 3 to 5 minutes, until the onion is softened and translucent.

Stir in the mushrooms, oregano, basil, and thyme, and cook for another 7 to 9 minutes over medium-high heat until the water cooks off.

Add the marinara sauce, drained lentils, and tahini. Stir until combined. Now add the cooked pasta and continue stirring until it's coated in the lentil-veggie mixture.

Taste and season with salt, pepper, and red pepper flakes (if using). Stir in the kale, if desired. Turn off the heat.

Spoon all of the pasta mixture into the prepared casserole dish and spread it out evenly.

Pour the cheese sauce over top and spread it out with the back of a spoon until it covers the entire surface. Garnish with paprika (it adds a beautiful pop of red), more herbs, and black pepper, if desired.

Bake the casserole uncovered for 15 to 20 minutes, until heated through. (If you're baking the casserole straight from the fridge, bake it for 25 to 30 minutes as it'll take longer to heat up). Serve immediately with a generous sprinkle of Cashew-Garlic Parmesan on top of each portion. Leftovers can be refrigerated in an airtight container for up to 5 days. The leftovers are just as delicious chilled!
Tips:
* If your sliced mushrooms are on the thicker side, dice them up before adding to the pot—they'll cook faster. The same is true if you're using whole mushrooms: the smaller you slice them the quicker they'll cook. If you are a big mushroom fan like I am, you may want to consider doubling the amount listed above.
** If using fresh herbs, measure 2 teaspoons (10 g) of each.
*** If the casserole is going to sit in the fridge for a couple days before you cook it, feel free to stir in an extra 1/2 (125 mL) to 3/4 cup (180 mL) of marinara sauce. This isn't absolutely necessary, but helps counteract any moisture loss while sitting in the fridge.
Make it gluten-free: use gluten-free pasta and cook as directed.
Make it kid-friendly: process the mushrooms in a food processor until minced. The mushrooms will be virtually undetectable, but your meal will still retain their immune boosting benefits!