Grain-Free Pumpkin Spice Granola Clusters
Vegan, gluten-free, grain-free, refined sugar-free, soy-free
By Angela Liddon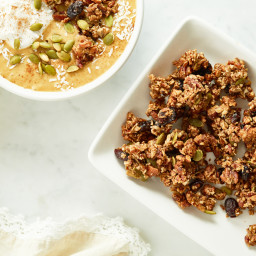 Get ready for a fall-inspired granola that is going to rock your world! Pecans, almonds, dried cranberries, coconut, and pepita and sunflower seeds are combined with a delicious pumpkin pie spice mix, pure maple syrup, coconut oil, and vanilla for a granola that's naturally grain-free and incredibly tasty. Your fall and winter breakfasts will never be the same again! Since nuts can burn so easily, I love to slow bake this granola at a low temperature (275°F/135°C) to ensure that it doesn't brown too quickly.
Yield

7 to 8 cups
Prep time

Cook time

Total time

Ingredients:
For the dry ingredients:
1 1/2 cups (180 g) pecan halves

1 1/4 cups (195 g) whole almonds

2/3 cup (80 g) dried cranberries*

1/2 cup (45 g) unsweetened shredded coconut

1/3 cup (53 g) pepita seeds

1/4 cup (38 g) sunflower seeds

2 teaspoons cinnamon

1 teaspoon ground ginger

1 teaspoon freshly grated nutmeg

1/2 teaspoon ground allspice

1/4 teaspoon pink Himalayan salt or fine sea salt
For the wet ingredients:
1/2 cup (125 mL) pure maple syrup

1/4 cup (60 mL) virgin coconut oil, melted

2 teaspoons (10 mL) pure vanilla extract
Directions:
Preheat the oven to 275°F (135°C) and line an extra-large (or two standard-sized) baking sheet(s) with parchment paper.

Add the almonds into a food processor. Process for about 5 seconds, until the almonds are chopped. There will be quite a bit of "almond powder" but this is normal.
Add the pecans into the food processor along with the almonds. Process for just a few seconds more, until the pecans are chopped. Spoon the almond-pecan mixture into a large mixing bowl. You'll have a mix of chopped nuts and powder; add it all into the bowl.
To the bowl with the almonds and pecans, add the rest of the dry ingredients (cranberries, coconut, pepitas, sunflower seeds, cinnamon, ginger, nutmeg, allspice, and salt). Stir well to combine.
To the dry ingredients, add the maple syrup, melted oil, and vanilla. Stir very well, until the nut mixture is thoroughly coated and "wet looking". Keep stirring until there are no dry patches at the bottom of the bowl.
Spoon the granola onto the prepared baking sheet(s) and spread it out into a thin layer (no more than 1/4-inch width).
Bake the granola for 20 minutes. Remove from the oven and rotate the baking sheet. Return the granola to the oven to bake for another 14 to 18 minutes, until it's lightly firm and golden (be careful not to brown it).
Place the baking sheet on a cooling rack for 20 minutes then break it apart into clusters. Allow it to cool completely on the baking sheet before storing it. Store the granola in a glass jar in the fridge for 2 to 3 weeks, or freeze it in an airtight freezer bag for 4 to 5 weeks.
Tips:
* I like Patience Fruit & Co brand of organic, naturally sweetened (with apple juice) dried cranberries. Feel free to use any kind you enjoy! For a fun twist, try swapping the dried cranberries for chopped pitted dates. (To make dates easier to chop, chill them in the fridge until firm.)