The Perfect Granola
Vegan, gluten-free, refined sugar-free, soy-free
By Angela Liddon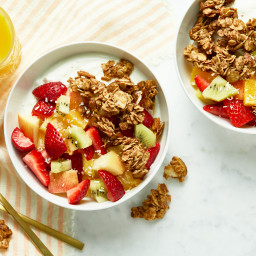 This granola will rock your world! I love granola, but I don't always love its typical oil and sugar heavy profile. This crunchy granola is lightly sweetened and lower in oil than most, resulting in a light-tasting granola perfect for every day use.
Yield

6-7 cups
Prep time

Cook time

Total time

Ingredients:
2 cups gluten-free rolled oats

1 cup sliced or chopped almonds

3 tablespoons coconut sugar or granulated sugar of choice

2 tablespoons ground flax

1 teaspoon cinnamon

2 vanilla beans, scraped or 1/2-3/4 teaspoon pure vanilla bean powder

1/2 teaspoon fine sea salt, or to taste

1/4 cup virgin coconut oil, melted

1/3 cup pure maple syrup

3 tablespoons smooth natural almond or peanut butter

1 teaspoon pure vanilla extract
Directions:
Preheat the oven to 325°F and line a large baking sheet with parchment paper.
In a large bowl, stir together the oats, almonds, sugar, ground flax, cinnamon, vanilla, and salt until combined.
In a small saucepan, melt the coconut oil over low heat. Remove from heat and stir in the maple syrup, almond butter, and vanilla until smooth.
Add the wet mixture to dry mixture and stir well until everything is thoroughly combined. The mixture will be a bit dry at first but keep mixing as it will eventually come together.
Scoop the granola onto the baking sheet and spread it out into a thin layer.
Bake for around 15 to 25 minutes, or until lightly golden, rotating the pan once half-way through baking. Be careful not to burn. Allow the granola to cool for about 30 minutes on the baking sheet, or until completely cool, and then break it apart into clusters. Store the granola in an air-tight container for a few weeks, or it can be frozen for 1 to 2 months.