Pan-Fried Garlic Croutons
Vegan, nut-free, refined sugar-free, soy-free
By Angela Liddon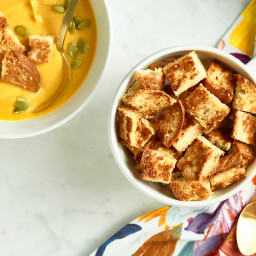 These are the easiest garlic croutons you'll ever make! Ready in just 10 minutes, they are the perfect last minute complement to homemade soups and salads.
Yield

2 cups
Prep time

Cook time

Total time

Ingredients:
3 slices bread

Vegan butter or extra-virgin olive oil

Fine sea salt

Garlic powder
Directions:
Preheat a large skillet over medium-high heat.
Spread the oil or butter over both sides of the bread.
Now, sprinkle on a generous amount of garlic powder and a light dusting of salt onto one side of the bread. Press down on it lightly with your fingers, if desired, to help it adhere.
Slice the bread into croutons

—about 1/2- to 1-inch pieces

.
Place the croutons onto a single layer onto the preheated skillet. Toast for 2 to 3 minutes until lightly golden (watch closely so you don't burn them), and then flip each piece. Toast the other side for 2 to 3 minutes until golden.
Remove from the skillet and serve immediately on top of soup or salad.