10-Spice Mix
Vegan, gluten-free, grain-free, no bake/raw, nut-free, oil-free, refined sugar-free, soy-free
By Angela Liddon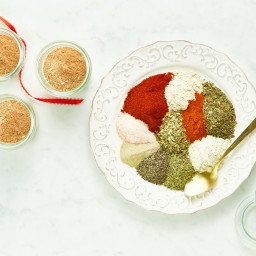 This spice blend takes less than five minutes to throw together, and it can be used in a variety of dishes, from soups and stews to baked potatoes, kale chips, tofu, beans, avocado toast, and more. Try it in my 10-Spice Vegetable Soup for a flavourful soup that's sure to dazzle your taste buds.
Yield

1/2 cup
Prep time

Cook time

0 Minutes
Total time

Ingredients:
2 tablespoons smoked paprika

1 tablespoon garlic powder

1 tablespoon dried oregano

1 tablespoon onion powder

1 tablespoon dried basil

2 teaspoons dried thyme

1 1/2 teaspoons freshly ground black pepper

1 1/2 teaspoons fine grain sea salt

1 teaspoon white pepper (optional)

1 teaspoon cayenne pepper
Directions:
Combine all of the ingredients in a medium jar. Secure the lid and shake to combine. Shake the jar before each use.