I'm preparing to host my very first Easter dinner tomorrow – a totally plant-based menu with all the fixins! Go big or go home, I say. Usually we go to my in-laws for Easter, but this year my sister-in-law had to stay close to home for an event so we offered to host. I'm making a ridiculous amount of food including many recipes from my next cookbook. So pumped. I just need to scrounge together enough chairs and pray that we all fit at our table! Ok, that is definitely not happening…but what would a big family get together be without a kids table?!
Cooking has been more fun than usual these days because I have an audience now – a 6 1/2 month old baby who loves to watch her mama in the kitchen! Adriana is very curious as to what I'm doing in there all the time and she smiles at me from the table and even laughs at all the right moments, such as when I bust out Twinkle Twinkle Little Star complete with a made up dance routine. I'm now a cook/entertainer all at once. What an ego boost, let me tell you. Did I mention I burned two desserts last weekend? I can't imagine why…

This pie, however, came together without a hitch. Sa-weet. If you're like me, you might even find you have all the ingredients on hand which makes me want to cry happy tears because I didn't need one more grocery trip on a holiday weekend. Or should I say Eric doesn't need one more grocery trip on a holiday weekend…bahaha. I don't know about you, but when I realize that I have all the ingredients for a recipe I'm like that Ikea commercial, only instead of running to the car I'm running to my kitchen… START THE OVEN, START THE OVEN!
I'm not weird, not weird at all.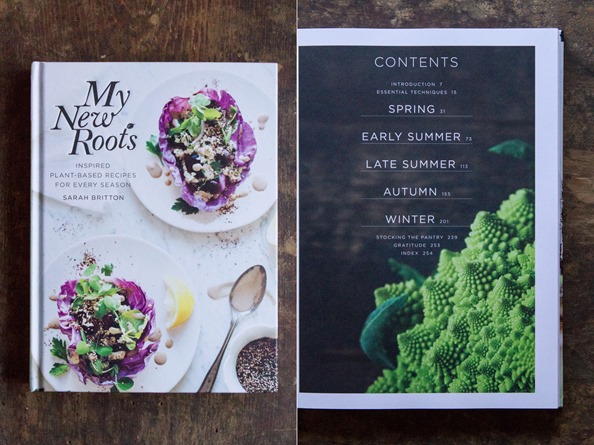 Last year I had the opportunity to preview Sarah Britton's debut cookbook, My New Roots: Inspired Plant-Based Recipes for Every Season, based on her beautiful whole foods recipe blog. I've long admired Sarah's unbridled enthusiasm for plant-based food; in fact, I don't know if I've ever come across someone who is so passionate about vegetables, not to mention, knowledgeable about how they impact our health.
This cookbook is gorgeous with beautiful food photography and interior design (I'm a bit of a cookbook nerd these days, often gushing over paper stock of all things). There are 100 creative vegetarian recipes with many vegan options. Some of the ingredients are a bit uncommon or difficult to find, but I expect if you have a solid farmer's market and health food store handy you'll be able to find many of the ingredients in the right season. Just in case you aren't sure which ingredients are in season, the cookbook is conveniently divided into 5 sections by season (spring, early summer, late summer, autumn, and winter). I love that summer is divided into two seasons; it totally makes sense because there's so much coming into season over the summer months. One thing's for sure, Sarah's recipes will help you bust out of a cooking rut and get adventurous in the kitchen.
Here is a sample of recipes from My New Roots:
Buckwheat Crepes with Creamy Purple String Bean Slaw
Roasted Red Pepper Walnut Dip
Shaved Turnip and Radish Salad with Poppyseed Dressing
Oyster Mushroom Bisque
Apricot Rhubarb Clafoutis
Caramelized Fennel on Herbed Polenta
Roasted Cauliflower with Lebanese Lentils and Kaniwa
Trippy Tie-Dye Soup
Butternut Stacks with Kale Pesto, Kasha, and Butter Beans
Today, I'm excited to share this dreamy Banoffee Pie recipe from her new cookbook. I'll be serving it tomorrow along with a few other desserts. I hope you enjoy it as much as I did (yes, I had to eat a slice before serving it tomorrow…don't judge). I'm predicting it won't last long because who on earth can resist the combo of coconut whipped cream, banana, oats, and date caramel? Anyone?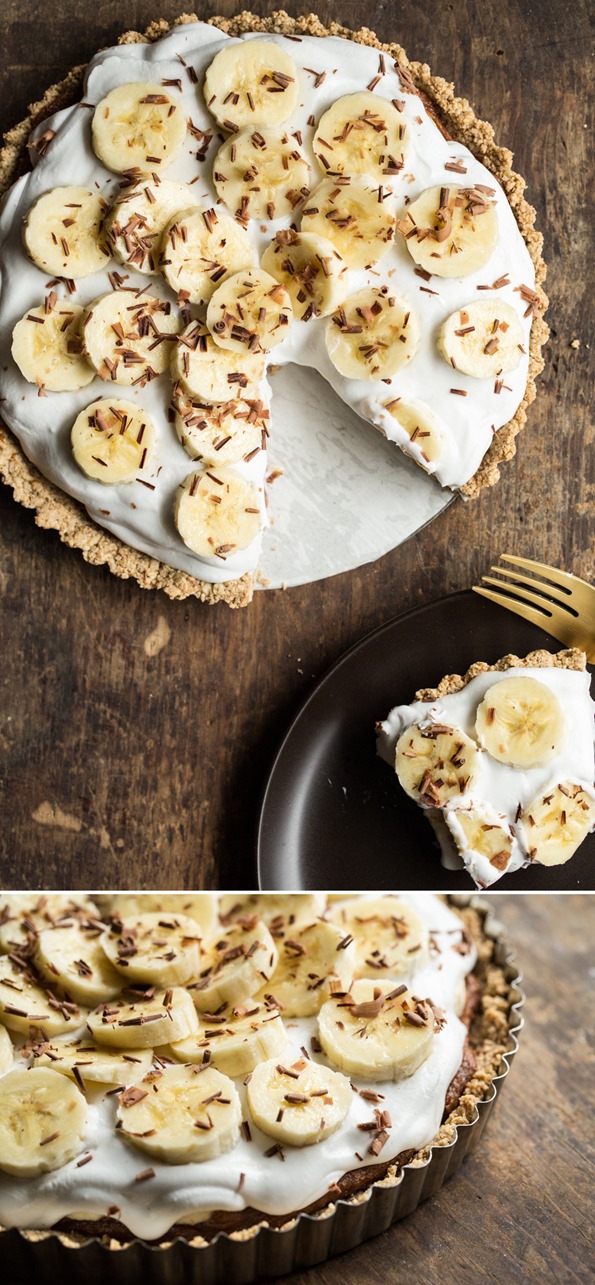 Congrats again, Sarah!
To those of you celebrating this weekend, I wish you a lovely Easter! Spring is officially in the air. ahhhh.
Let's get social! Follow Angela on Instagram @ohsheglows, Facebook, Twitter, Pinterest, Snapchat, and Google+