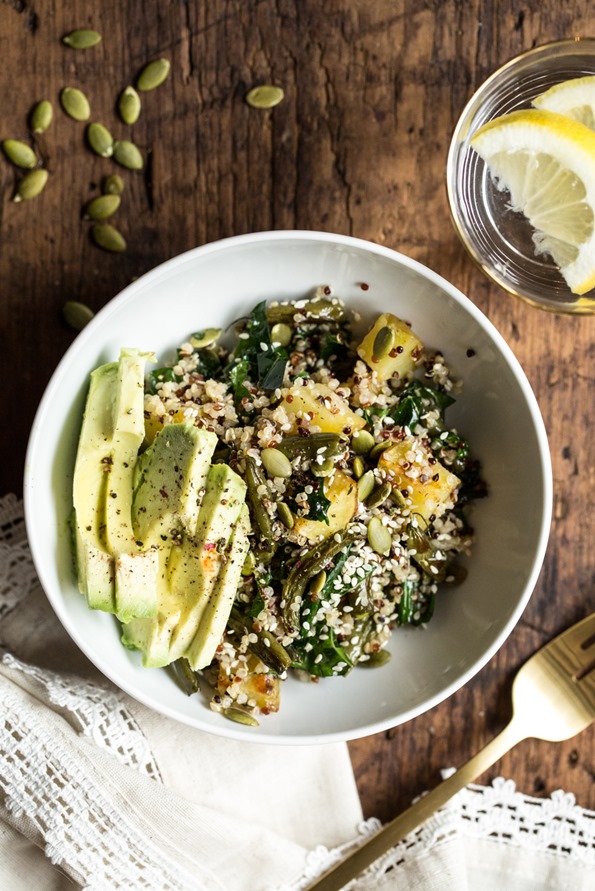 This salad is a good example of how I love my salads in the winter – warm, hearty, and bursting with nutrition. Like a big hug. I have no desire to eat a cold salad right now (unless it's this one, I suppose). It's light, but still has that "stick to your ribs" quality I crave soooo much right now. Give me all the healthy comfort food!
I started by roasting Yukon Gold potatoes (one of my all-time favourite winter comfort foods!) and crunchy green beans with a bit of olive oil and a generous seasoning of sea salt and pepper. While it's roasting, whip up a batch of quinoa (speltberries or millet might be nice too) and chop some green onion and kale. Whisk together a simple red wine vinaigrette and we'll add some freshly roasted garlic (if you are already roasting veggies, you might as well roast a few cloves of garlic too!). When the potatoes and green beans are golden and lightly charred on the bottoms, throw it into a big bowl and fold in the quinoa, dressing, green onions, and kale. Toss on a big handful of pepita seeds for crunch and my favourite salad topper – sliced avocado. It's the perfect soul-soothing, warm bowl of comfort food in the middle of January.

A huge thank you to those of you who volunteered to be a recipe tester for my second cookbook! I'm blown away by the response – I wish I could take you all up on your offer to help. If you aren't emailed by the end of next week, don't despair. There's a good chance that I will need more help in the future so I might end up emailing more volunteers down the road. I will keep your submissions on file if that's ok with you (no pressure if you can no longer volunteer, of course). PS – I haven't emailed anyone yet, but I should be sending out an email within a couple weeks once I get my testing site ready to roll. Thank you a million!
Let's get social! Follow Angela on Instagram @ohsheglows, Facebook, Twitter, Pinterest, Snapchat, and Google+