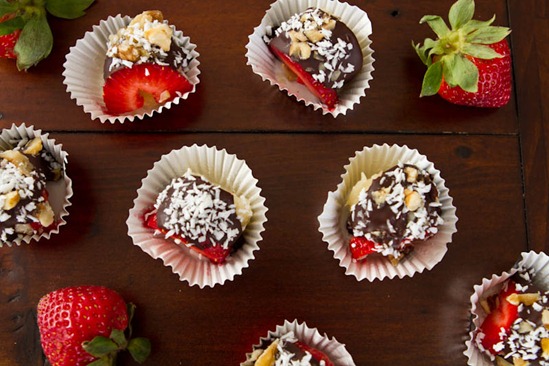 Boy do I love a good chocolate covered banana bite. I first made them a year or two ago and they've been a favourite warm-weather dessert ever since.
There's just something about the firm layer of chocolate encasing a cold, pillow-y banana that gets me every time…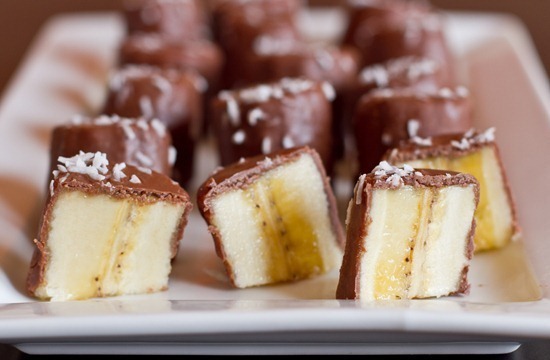 This week, I was craving chocolate banana bites, but I wanted to try something a bit different. My first idea was to just make the chocolate banana bites in mini cupcake liners (and mess-free to boot). Of course, other ingredients popped into my mind and a "banana split" was born.
I used these mini cupcake liners to contain the mess and it worked great. No more chocolate dripping everywhere!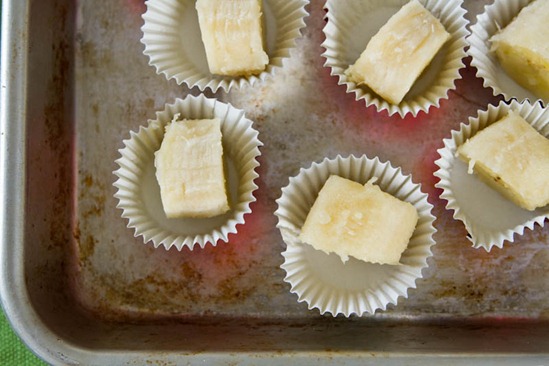 Slice a couple strawberries.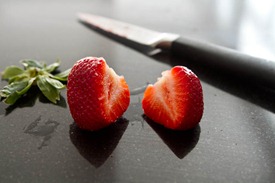 Make sure you use the sweetest strawberries you can find. Mine weren't very sweet and they tasted quite tart in the bites. I can't wait until local strawberries are in season around here!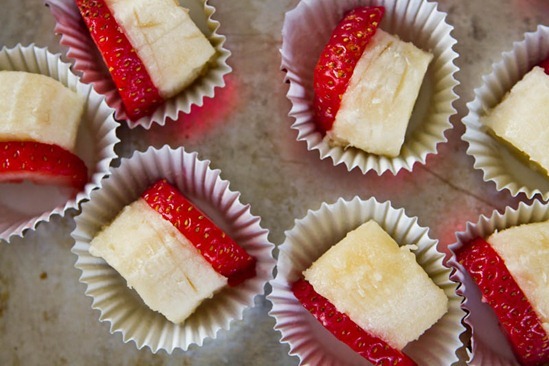 Melt the chocolate and set up a work station with coconut, finely chopped walnuts, etc: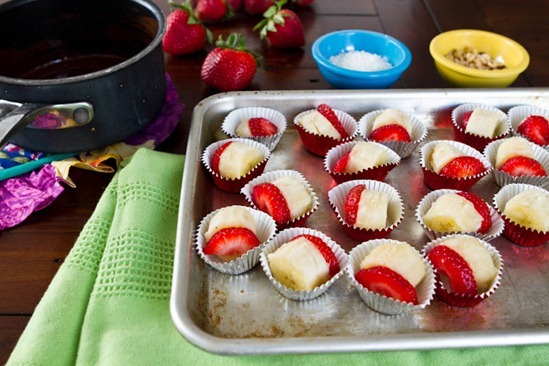 Add 1/2 a teaspoon of melted chocolate…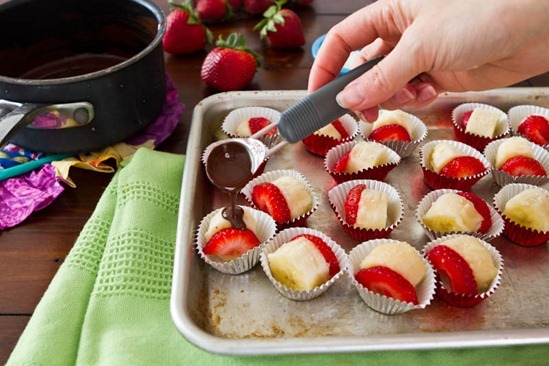 Spread it out with the back of the spoon. Add a drizzle of drippy nut butter if you'd like.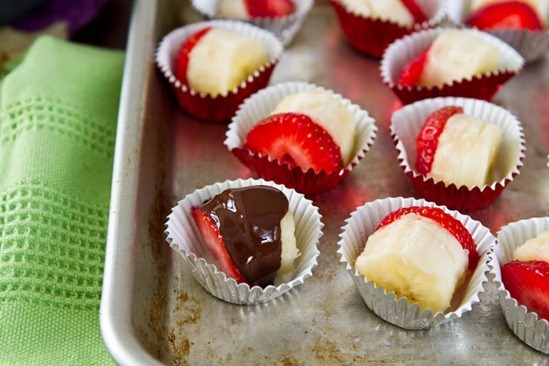 and sprinkle on the walnuts and coconut.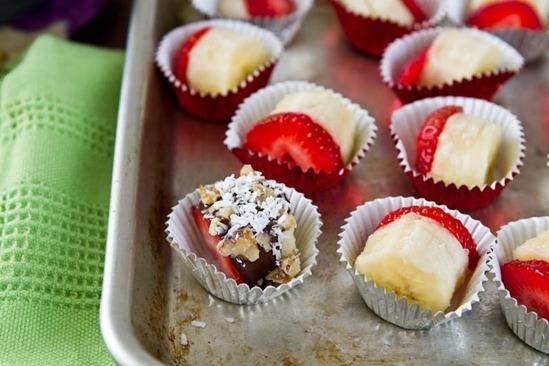 Easy as 1, 2, 3….4.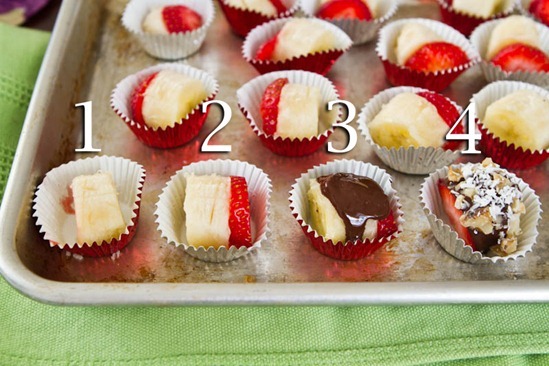 Place 'em in the freezer for about 15 minutes. Clean the bowl while you wait…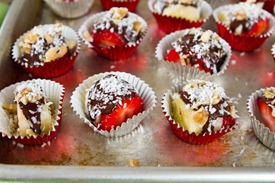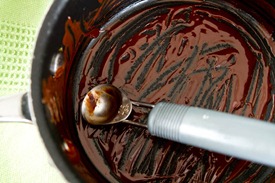 Pop it out of the liner and stuff in face. The only thing missing is some whipped coconut cream!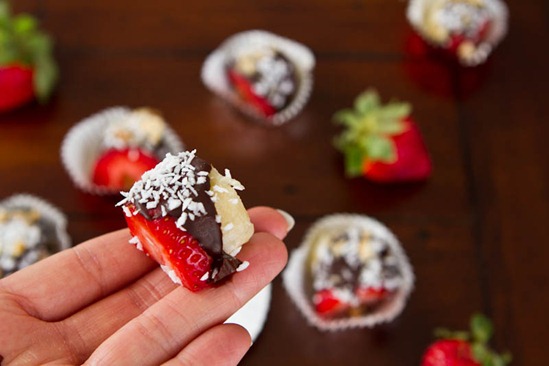 Serve on a tray for a party, make with your kids, or just keep a stash hidden away in your freezer like I did. No one ever has to know about them…they can be our little secret.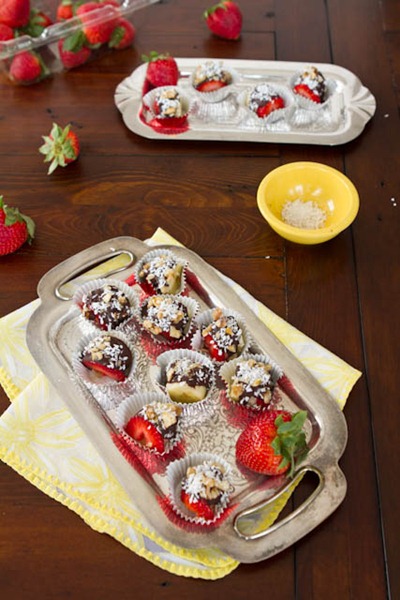 Nutritional info: (per bite, makes 20, without nut butter): 40 cals, 3 grams fat (1 g sat), 5 grams carbs, 3 grams sugar, 1 gram protein.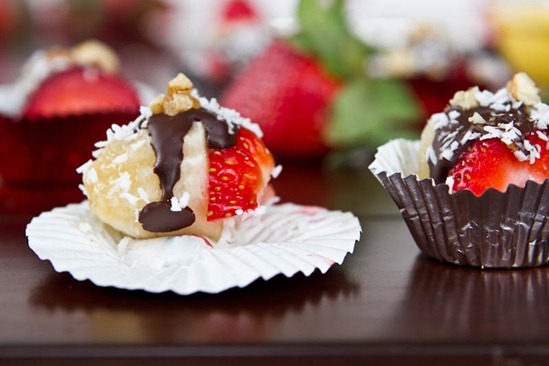 Tips & Tricks:
Yellow, just ripened bananas work best here. You don't want to use really spotted, mushy bananas.
The coconut oil serves two purposes in the melted chocolate: 1) It helps thin out the chocolate, making it easier to spread, and 2) it hardens the chocolate a bit faster, making that nice chocolate shell on top. You can get away with omitting it, but you will need to melt more chocolate chips so you have enough to spread on.
Use the sweetest strawberries you can get your hands on for the best overall taste. Mine were quite tart and not the best in these bites.
Feel free to use any toppings you wish! Get creative with it. You can also double the chocolate if you want a really chocolaty bite.
Not surprisingly, these become SOLID when in the freezer for a long time. Leave them on the counter to soften for about 15 minutes before enjoying.
Don't want to use bananas? Try a small spoonful of dairy-free ice cream into each liner instead.
Well, I'm off to do some major updates to the online vegan shopping guide. Thanks for all your great suggestions yesterday! I will be adding them in soon.
Let's get social! Follow Angela on Instagram @ohsheglows, Facebook, Twitter, Pinterest, Snapchat, and Google+