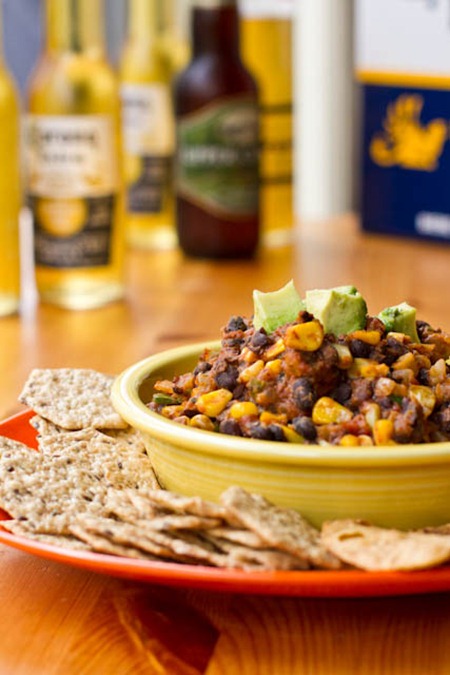 There was once a time in my life when I sat through long, cold football games pretending to know what the hell was going on. After uprooting my life in New Brunswick and moving to Ontario with my mom, I was the new girl at a new high school where I met the man I would someday marry. But first, I would avoid him like the plague.
"He's cute." I gushed to a new friend while pointing to this tall, confident guy walking out of class.
"Tell anyone and I'll kill you." I added.
The next day, the entire school heard about the new girl's crush on Eric.
I did what any mortified girl would do and avoided all eye contact while hiding down random staircases whenever he was within 100 feet of me. Or I would suddenly, urgently, need to go to the washroom. Libraries also made good hiding spots. I was willing to keep this up for the entire year if I had to. I only had a year until I graduated anyways.
That morning, Eric was in the locker room getting ready for football practice when his teammates told him about my rumoured crush. He didn't believe them. "Why would she go after someone like me?" he asked. "You guys are messing with me."
When my girlfriend confirmed to him it was true, Eric decided to mortify me even more by approaching me during student photos later that afternoon. I was stuck in a line up, going nowhere fast. Shoot me, he's coming over!
"Hey Angela…" he said with a quivering smile.
My face turned the shade of a beet…no, make that a fire truck.
"Hey," I replied casually.
"I'm Eric"
Awkward shaking of hands. Very awkward.
"Nice to meet you."
"Waiting to get your photo taken…?"
"Yup…"
"You…?"
"Same…"
"Cool…"
"Cool."
……….
……….
"Hey, are you going to the party on Friday night? I think someone mentioned you are going with the girls…" he asked
"I think so. It should be fun to meet some people. Are you…?"
"Yup, I'll be there. Hopefully we can talk at the party…"
"Ok, see you then…"
"Thanks…I mean, bye…"
Whew he's finally gone, I thought to myself.
Then it was time for my photo op.
Does my face look a bit flushed to you in this photo?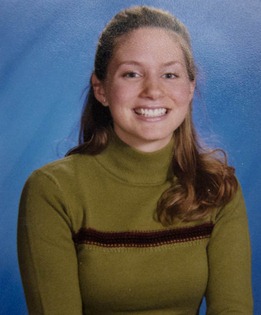 That's what I thought. Thanks for flustering me Eric.
We played this awkward cat and mouse charade for a couple months. I showed up to his football games half watching, half ignoring him, as he tried to show off for me like guys often do. I was really there to examine his butt in spandex and talk with friends, though. He showed up at my locker every morning and waited for me after class. Sometimes he even drove me to Subway for lunch.
Two months later, we had our official first date on October 27, 2001. Football season also came to a close soon enough, and later, my confession that I had zero interest in football. I was a hockey girl through and through. Thankfully, he didn't seem to mind. He does, however, refuse to give away his stinky football jersey hanging up in our closet. I decided to let him win that battle.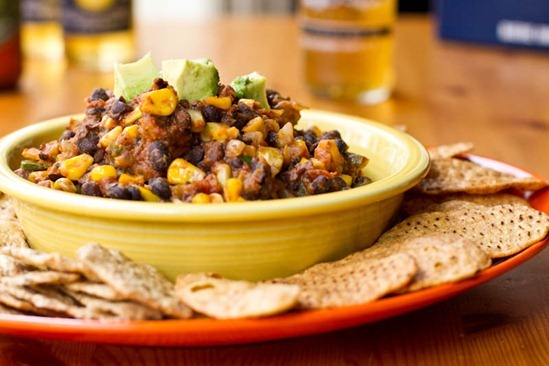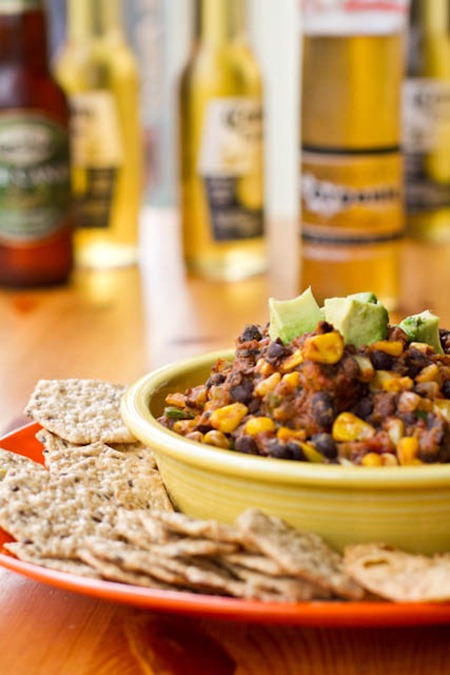 I love easy appetizers like this one. I was done in 20 minutes and didn't have to dirty a bunch of dishes or food processor. Touch down!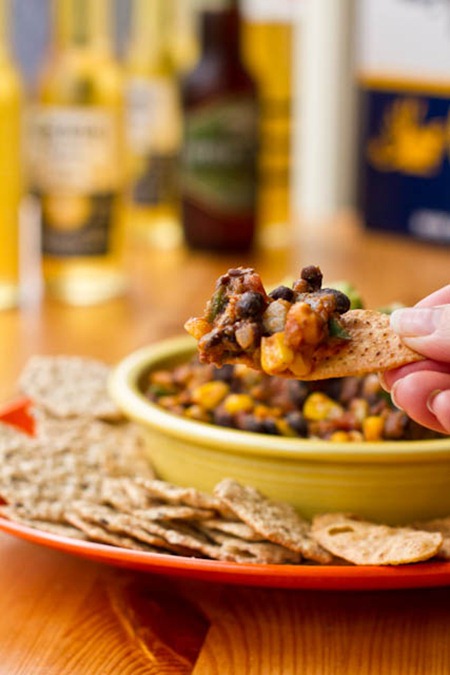 I'm also working on some crispy cornbread crackers…but they need some work.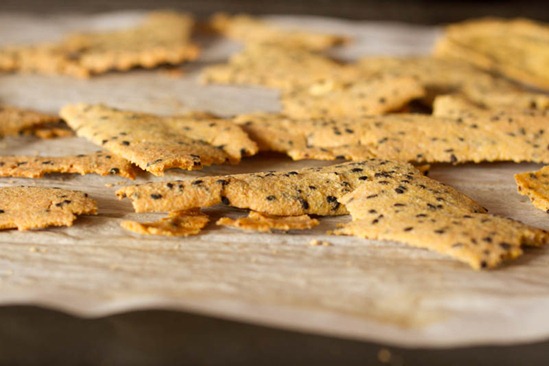 If you need me, I'll be hogging the black bean chili dip, wrapped in a warm blanket reading my book.
Just be sure to let me know when the halftime show begins. Then I'm all over it.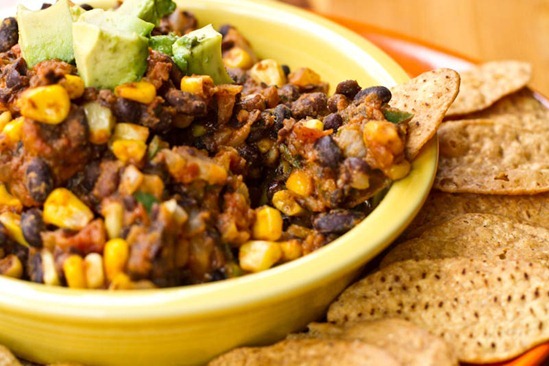 You can also email me the best Super Bowl commercials on Monday. I'll watch those too.
Let's get social! Follow Angela on Instagram @ohsheglows, Facebook, Twitter, Pinterest, Snapchat, and Google+