Eric, Steve, Dan, Shayne, and Steve worked on the deck this weekend and they got so much accomplished!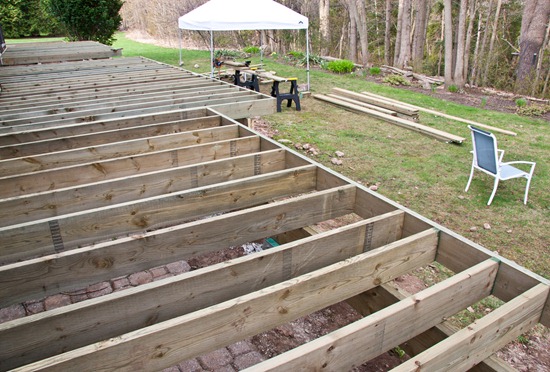 It almost looks like a deck now. :)
The weather was what the boys called, 'Deck Building Weather'. Sunny and just warm enough to be comfortable.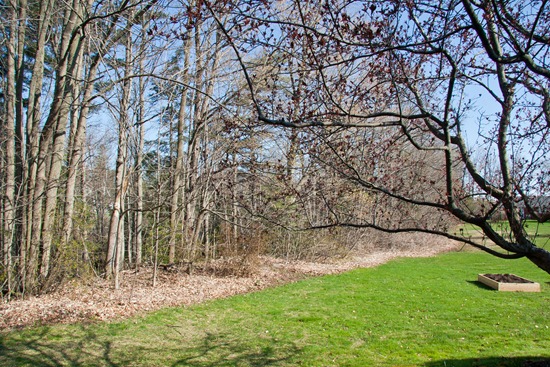 The workstation Eric set up…heh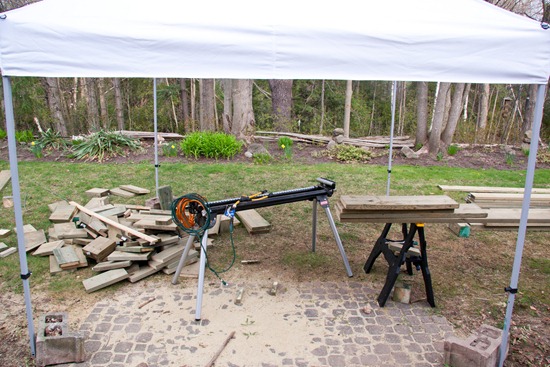 View from other end: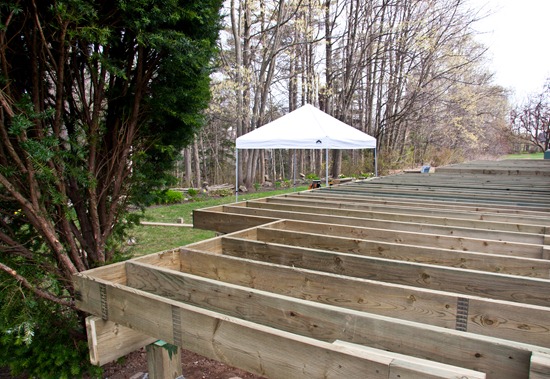 This is the view from our back door: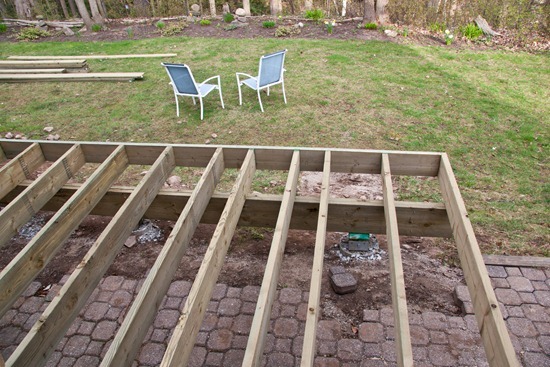 Our old deck didn't extend this far, but we thought it would be really nice to walk straight out onto the deck so we extended the deck about 7 feet or so. I'm very happy about this extension because it will be much easier for me to carry my camera and food to the deck!
If you recall, it used to look like this…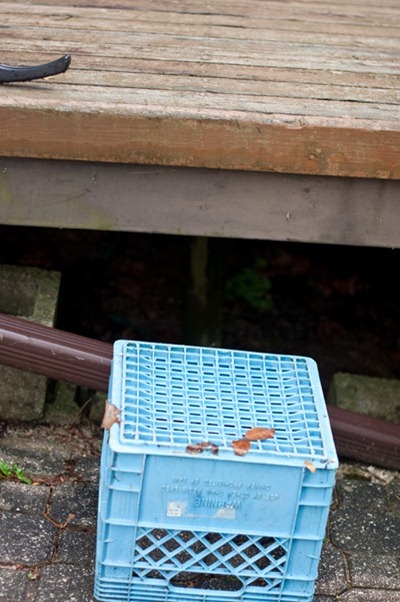 On Sunday night, I treated Eric to a fancy smancy dinner as a thank you for all his hard work- Vegan Yum Yum's Tomato Basil Cream Pasta dish that I have been meaning to try for a while now. This dish tastes so much like a traditional cream pasta, you could fool even the toughest critic!
Easy Tomato Basil Cream Pasta
Lightly adapted from Vegan Yum Yum.
Yield: 2-3 servings
Ingredients:
2 servings uncooked spaghetti (I used Kamut)
1 large ripe tomato or two smaller tomatoes
1/2 cup raw cashews
1/4 cup water
1 tbsp tomato paste
1 tbsp olive oil
2-4 garlic cloves, minced (I used 3)
1 tsp salt, or to taste
3-4 tbsp water or wine, (optional)
1-2 tsp freshly ground black pepper
1 cup packed fresh basil, finely chopped
Directions:
1. Bring a large pot of water to boil. Chop tomato and add it to the blender (including skin and seeds). Now add the cashews, water, and tomato paste. Blend until smooth.
2. Add your pasta to boiling water and cook pasta according to package directions.
3. Meanwhile, add olive oil to a large skillet and heat to low. Add the minced garlic and sauté for a few minutes being careful not to burn it.
4. Pour the sauce from the blender into the skillet, stir, and bring to a simmer. Add the salt and let it cook for 4-5 minutes, watching closely. You may add water or wine to thin out the sauce to you desired consistency, but this is not necessary.
5. Remove sauce from heat and stir in the chopped basil and pepper. Once the pasta is done cooking, rinse and drain it. Add the drained pasta back in the pot and now gradually add pasta sauce until your desired amount is achieved. Stir and serve immediately. Makes 2 servings, likely with sauce leftover.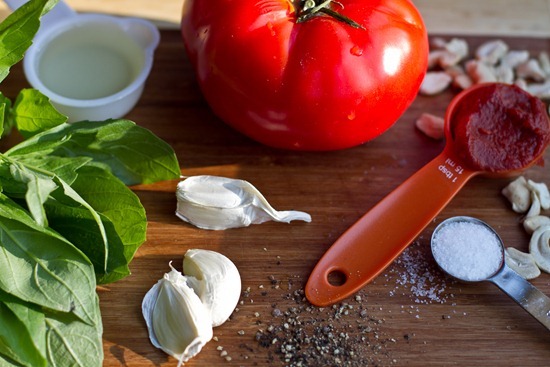 I love making pasta sauces because with just a few ingredients you can create something that tastes so gourmet and special.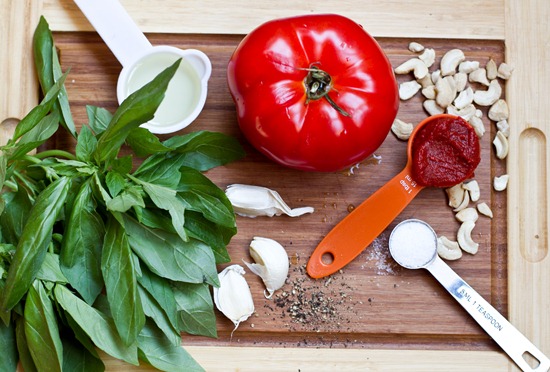 And this was one of the best creamy pasta sauces I have ever tasted, vegan or otherwise. It is right up there with 15 minute Creamy Avocado Pasta!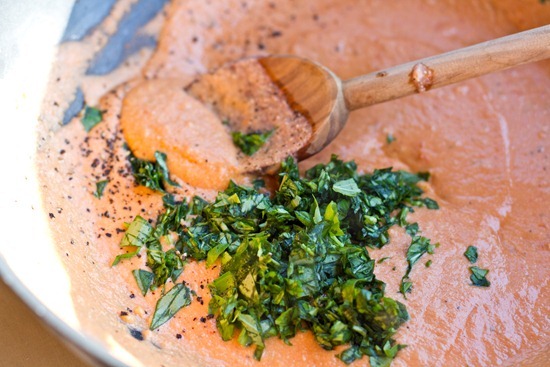 This was also one of those moments when Eric and I looked at each other and said, 'Can you believe this is vegan?' I find that cashew cream sauces can be a bit bland, but this one was fantastic (probably due to the basil, tomato, and garlic trio adding so much flavaaaa).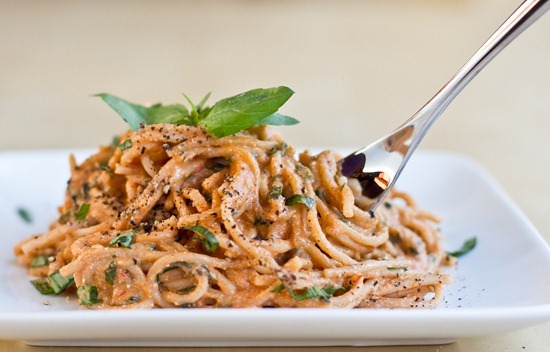 Time to get to work and then I'm off to another Moksha hot yoga class at lunchtime. Ange took me to my first hot yoga class on the weekend and I loved it. Many of you have been telling me for a long time now that a class is so different from a DVD and I must say you are 100% right! I will give a recap of my experience on the blog shortly.
Have a great day

Let's get social! Follow Angela on Instagram @ohsheglows, Facebook, Twitter, Pinterest, Snapchat, and Google+