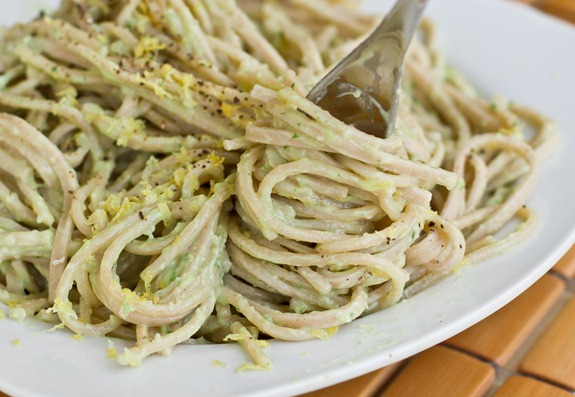 Oh…my….gosh.
Alert the grocery store because there is going to be an avocado shortage in my town. Well, more than usual that is.
[And yes, I said 'store'. As in singular…We're small town folk.]
You can whip up this pasta dish in under 15 minutes flat! I know I will be making it again and again, especially for those dinners when we are strapped for time…or just plain old tired after a long day.
I used some fun pasta to increase the nutrition factor- first, 1 serving (3oz) of spelt pasta.
Spelt pasta has a great nutritional profile with 12 grams of protein and 3 grams of fibre per serving.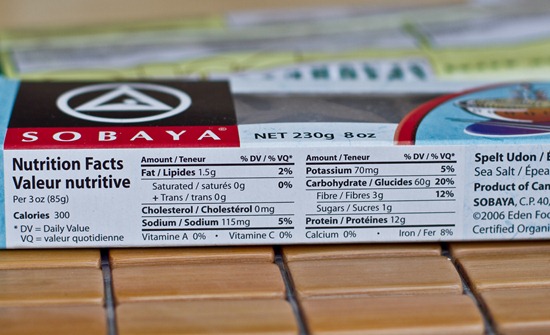 I also used one 3oz serving of Kamut pasta.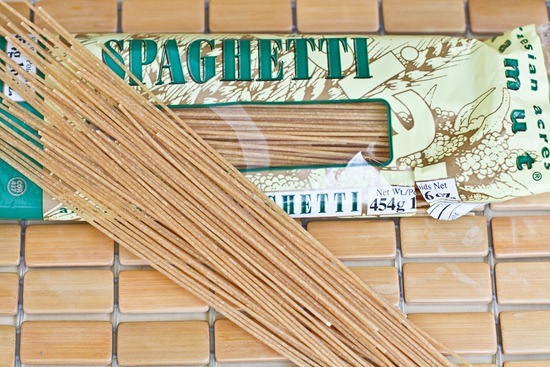 Kamut pasta has 13 grams of protein and 8 grams of fibre per serving. Niiiiice.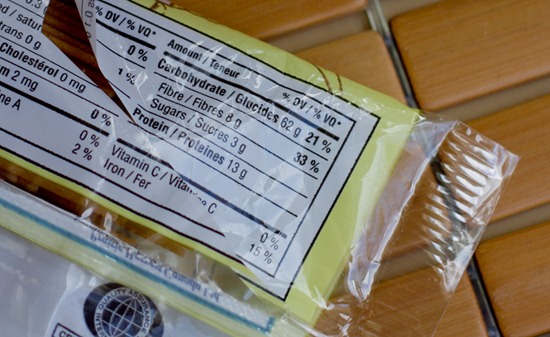 They both taste AMAZING and are very easy on the digestive system. I purchased both of them in the natural food section of Loblaws/Superstore. Regular white spaghetti has only 1.7 grams of fibre and 4 grams of protein per serving.  Eric and I actually prefer the nutty flavour of the ancient grains over the white pasta so it is an easy switch.
If you don't have a scale or pasta measuring device, one serving of pasta (3oz) is about the diameter of a quarter!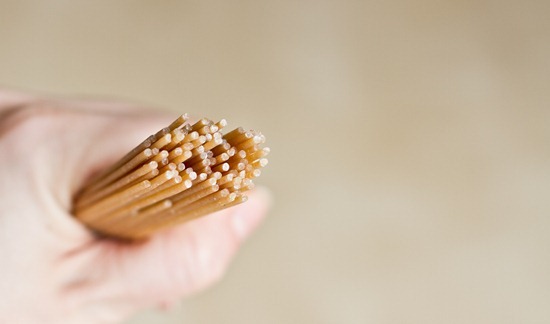 PS- That picture above took me 6 tries to get in focus! lol
A couple of the out of focus ones…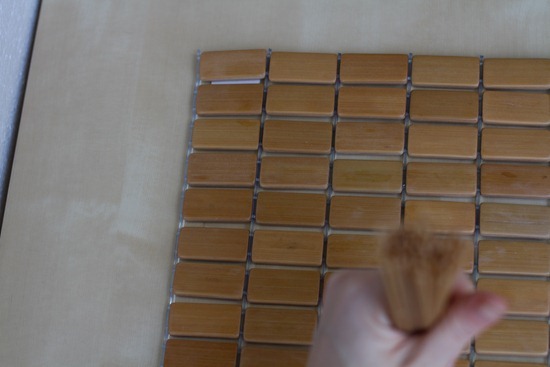 Whoops!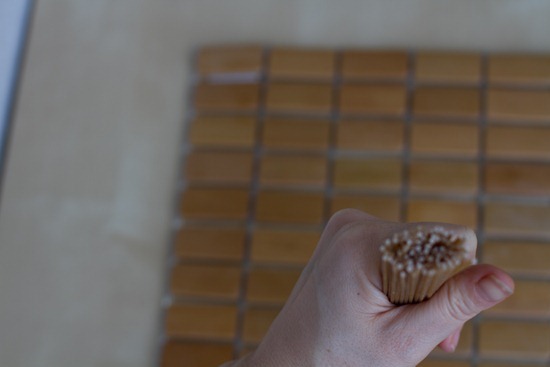 Oh the joys of amateur photography. ;)
While the pasta is cooking away, prepare the 'cream' sauce in a food processor. I used 3 cloves of garlic and it was quite garlicky, so if you are not a big fan of garlic I would suggest using 1-2 cloves.
I love that avocado can be used as a substitute for cream in this recipe. The healthy fats in avocado make our skin glow and hair shine as an added bonus. :)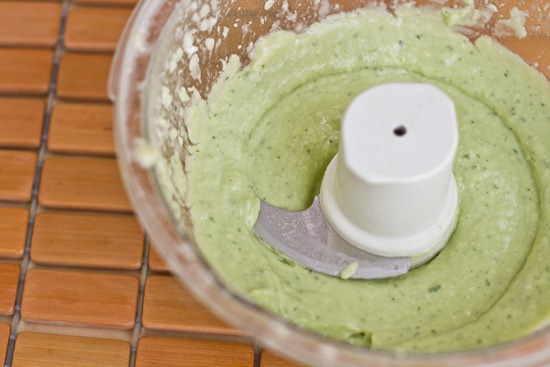 Strain and rinse the cooked pasta.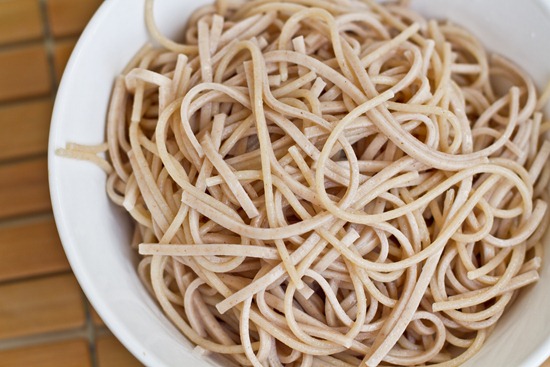 Add the sauce and mix well.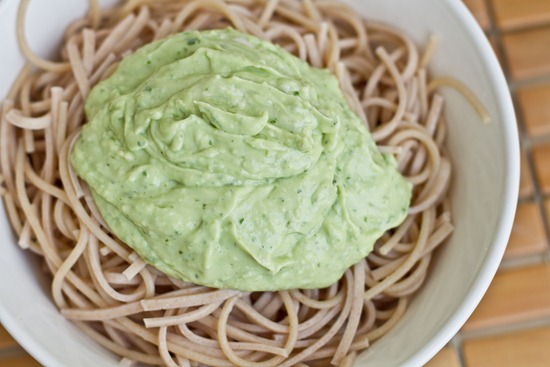 Garnish with lemon zest and freshly ground black pepper.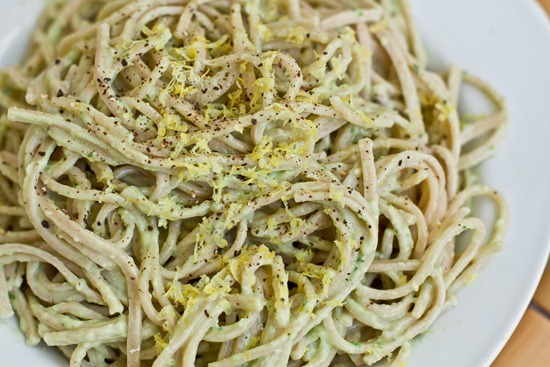 I fell in love.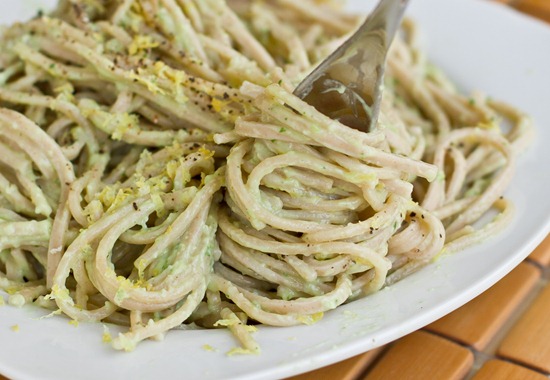 So did Eric.
We are now married to this pasta.
And I'm actually going through withdrawal just looking at these pictures.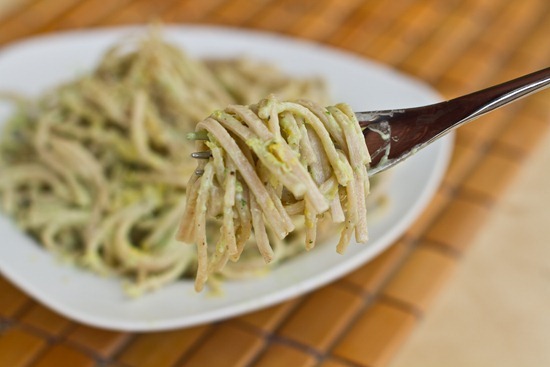 Looking for other pasta recipes that I enjoy? Try these recipes below:
* Lightened Up Sundried Tomato Pasta
In other news, it's Monday and I woke up in a haze today. That is, until I watched this video below! It made my entire day, so I thought I would spread the joy. Animals are just the most fascinating and intelligent creatures and I'm always blown away by stories like this.
I can't decide what I like more about the video:
1) It has a date of '1999', but it is clearly circa 1980's, 2) the old married couple that I want to adopt, 3) The crow scaring the cat (minute 3:44),  4) The cat scaring the crow (minute 5:00), 5) The crow squawking at the cat to 'get off the road' (minute 4:40), or 6) Is that ALAN THICKE from Growing Pains?!
It kills me, it really does.
Let's get social! Follow Angela on Instagram @ohsheglows, Facebook, Twitter, Pinterest, Snapchat, and Google+