Do I ever have a delicious vegan meal for you to kick off 2011!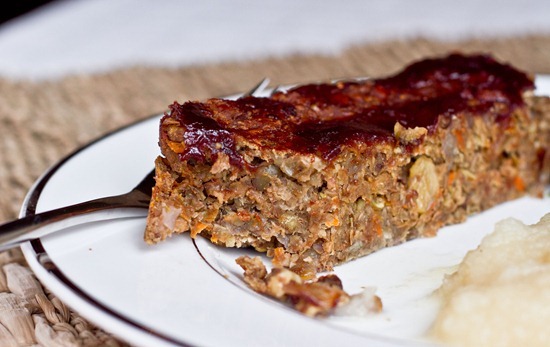 I must admit, this lentil loaf gave me a few grey hairs over the past couple days.
I made 4 trials of this lentil loaf.
I tried the Lentil Apple Walnut Loaf from Clean Food cookbook and also the old-fashioned Lentil Loaf from The Vegan Table Cookbook, in addition to a couple others. I was on a mission to find my perfect lentil loaf!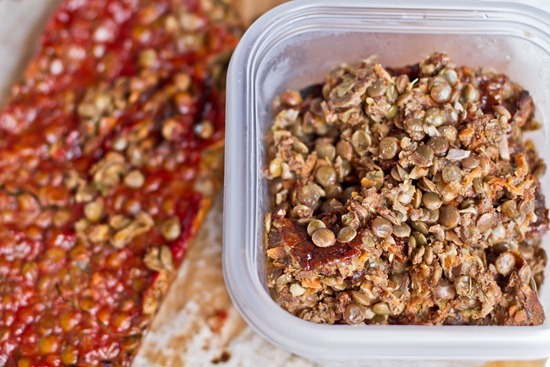 This one below is from The Vegan Table: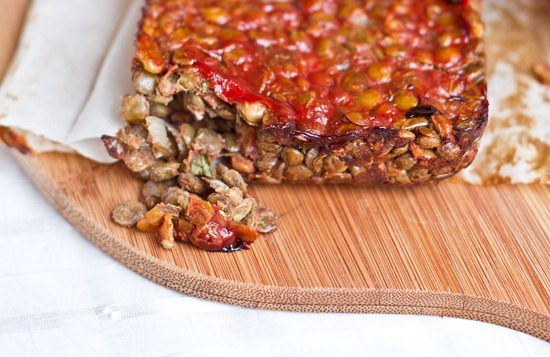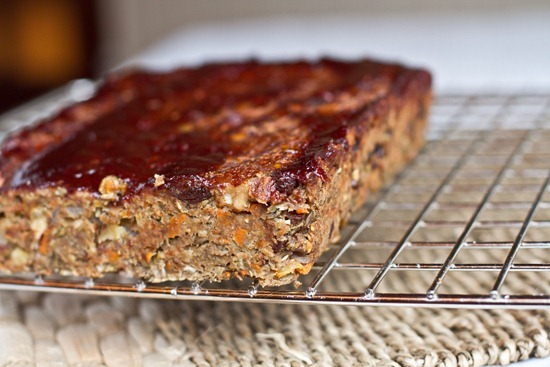 I had problems with binding, so I decided to process (in food processor) 75% of the cooked lentils to help it stick together. I also ground up some oats to make oat flour and added some flax in addition to some other modifications. Good things happened!
Note: This recipe below has been updated and improved! Feb. 2016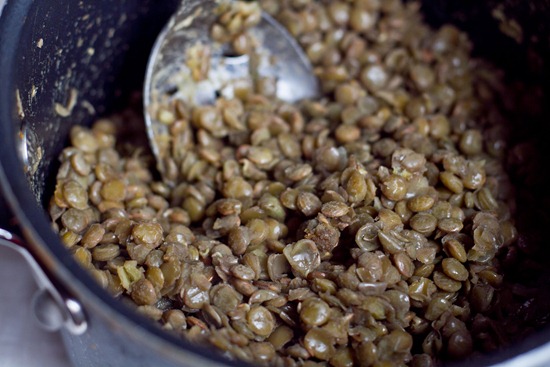 When the lentils are finished cooking (and cooling), take 75% of the lentils and process them in a food processor until almost smooth.
While the lentils are cooking, prepare the rest of the recipe. Mix your flax egg and set aside.
Sautee your garlic and onion.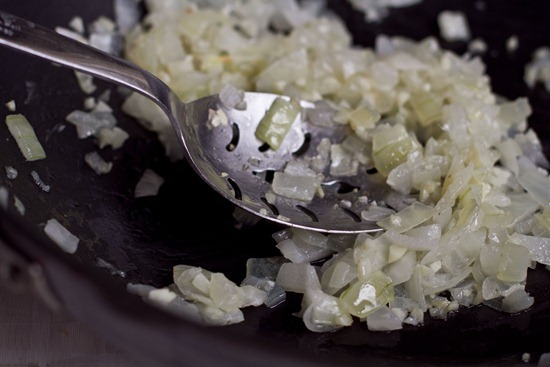 Add in the grated carrot and optional celery or green onion.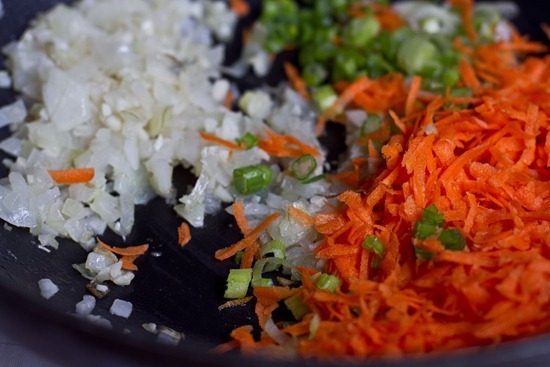 Mix well and cook over low heat for several minutes.
Add in the grated apple, raisins, and chopped walnuts (do not chop the walnuts as small as shown below- it was from an earlier trial).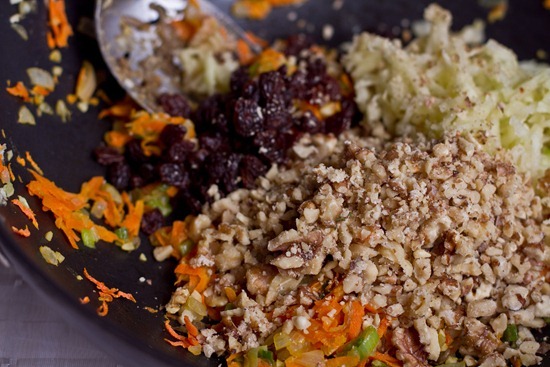 Cook for a couple minutes.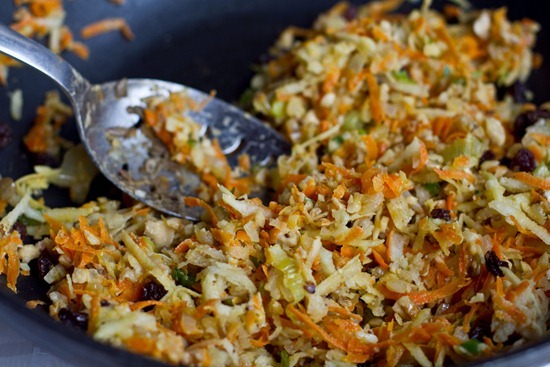 Add in kosher salt, Thyme, and black pepper.
In a large mixing bowl, mix the flax egg, lentils (processed and non-processed), breadcrumbs, veggie mixture, oat flour (I processed 1/2 cup regular oats), and ground flax. Stir well.
It will look like this:
Press firmly into a loaf pan lined with parchment paper.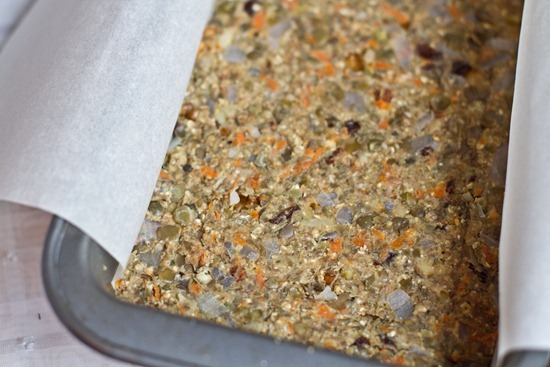 When I pressed it into the pan, I immediately knew that this loaf would hold together thanks to the ground oats, flax seed, and processed lentils.
It was much different than the previous trials…(note how crumbly it looks even in the pan before baking)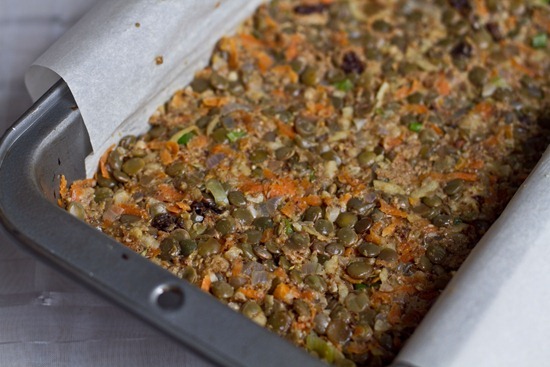 Now spread on the glaze: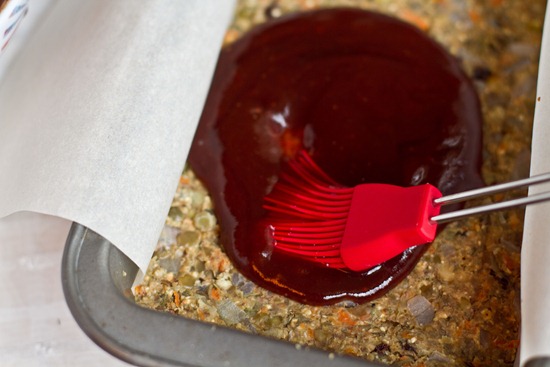 Perfecto!
Now bake for 45 minutes at 350F, uncovered.
Cool for 10 minutes.
Makes about 8 thick, mouth-watering slices. I knew that this loaf was a crowd pleaser when Eric got really excited over it! He said he would take this over meatloaf any day.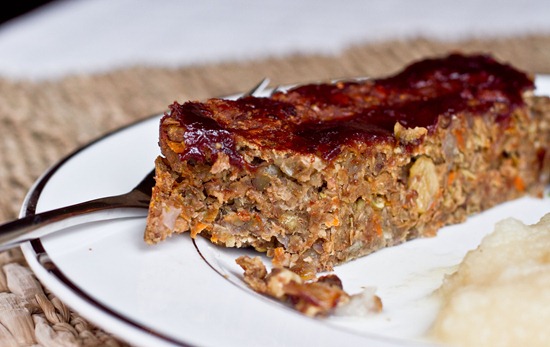 We enjoyed our lentil loaf with sautéed spinach greens and applesauce! Quick, easy, and delicious.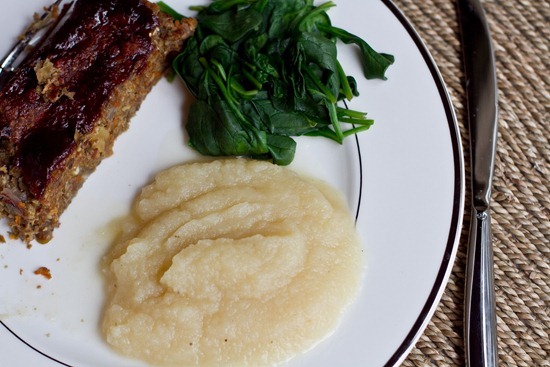 I did a HUGE happy dance when this lentil loaf turned out. Eric and I both agreed that it is the best vegan loaf we've ever tried. I hope you enjoy it too! It makes a wonderful New Year's meal if you aren't feeling the Black Eyed Peas.
It is delicious, chewy, crunchy, and topped with the most addicting sweet glaze.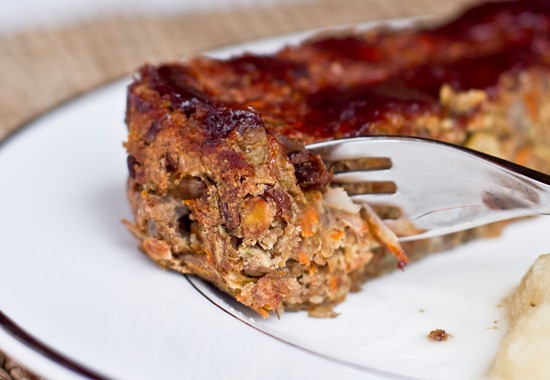 As for the crumbly leftovers from the previous 3 trials?
Eric suggested they would make a great vegan taco filling! I think that is a great idea. I'm going to freeze a bunch of it too.
Have a great start to 2011!
Let's get social! Follow Angela on Instagram @ohsheglows, Facebook, Twitter, Pinterest, Snapchat, and Google+